Almond-Crusted Baked Chicken Strips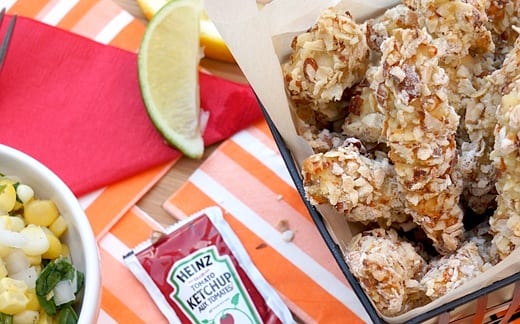 Almond- and oat-crusted chicken strips baked in the oven are a healthier and crunchier take on the tired chicken fingers.
By Ariel Rebel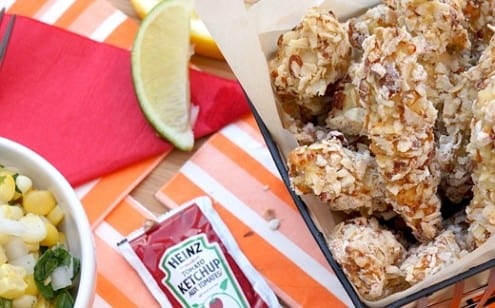 Let's jazz up those good old chicken fingers with this super crunchy almond and oats crust. Use the same crust on a full breast, slice it and it's perfect for a salad! I usually prepare a pot in advance and use the crust mix when I need it. It's like having my own pimped out shake and bake ready to use in my pantry. If you want to make a big batch in advance and keep it for a long time, place your mix in the fridge and use it when you need it.
I've also had interesting result with fish fingers using this same mixture.
Almond-Crusted Baked Chicken Strips
Almond- and oat-crusted chicken strips baked in the oven are a healthier and crunchier take on the tired chicken fingers.
Ingredients
½ cup of quick oats
¼ cup of all purpose flour (or any other flour you prefer)
¼ teaspoon of salt
½ cup of whole almonds, finely chopped
2 eggs
1 tablespoon of sunflower oil
1 chicken breasts, cut in strips
Instructions
Pre-heat your oven at 350, line a parchment paper on a baking sheet. Reserve.
In a mixing bowl, mix together the oats, flour, salt, and chopped almonds. Reserve
In another bowl, whisk together the 2 eggs with 1 tablespoon of sun flour oil. Reserve.
Dip your chicken strip and dip them in the eggs/oil mixture before tossing them in the almonds/oats mix. Place them on the baking sheet and cook the chicken fingers for 25 minutes, turning them half way in the baking process.
Serve with your favorite dipping sauce
Ariel Rebel
Canadian food blogger, model and web designer Ariel Rebel was born in Montreal in 1985. Her love for food started at a young age by looking at her grand mother cooking pie after pie while she was trying to steal some uncooked dough from the counter. Ariel inspiration for recipes comes from her French Canadian roots mix with all her traveling memories and the countless hours she spent running around Montreal to taste all the different culinary cultures. Her passion for cooking big dinners for her friends and family never ceases to increase every year and that's what motivate her to keep learning new skills while experimenting in her kitchen at much as she can. On her blog (ZestyandSpicy.com) Ariel shares with the world her passion for flavorful and healthy recipes while blogging small pieces of her life as a model and a web entrepreneur.