It's time to learn about moringa. The leafy tree, dehydrated to a powder form, that is a complete plant protein with even more nutrients than kale. Plus, learn how to make moringa chocolates.
Have you ever heard of moringa? We hadn't really until we were introduced to it by Kuli Kuli. Moringa is a leafy tree that grows in hot, arid climates and it is packed with surprising amounts of nutrients. In a dried, powder form, the leaves retain their high nutritional value and bring a boost to your smoothies, dressings, dips and more. Here are a few fun moringa facts: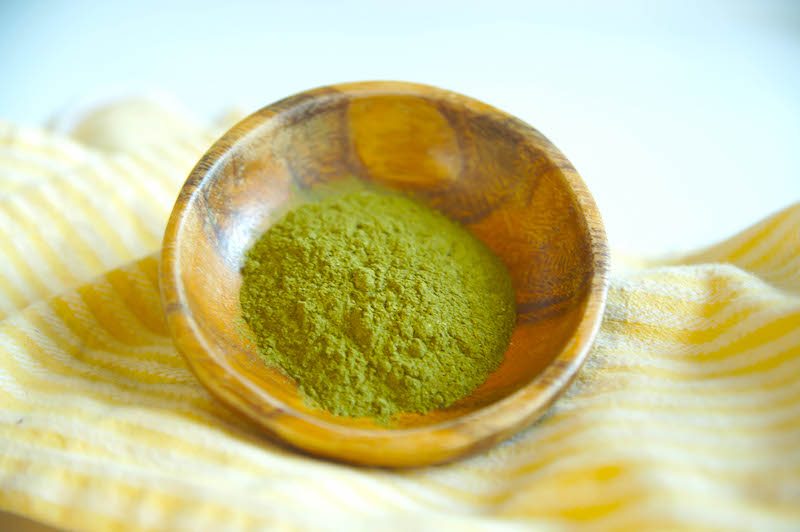 Moringa is a Complete Plant Protein
Containing all nine essential amino acids, moringa is a perfect protein source without any animal products.
Moringa is More Nutrient-Dense than Kale
We thought kale had it all. Then, we though spirulina powder was the magical green thing. Nope, moringa blows both out of the water with two times more protein, four times more calcium, six times more iron, one and a half times more fiber (and the list goes on) than kale.

Moringa is an Anti-Inflammatory Agent
Each moringa leaf contains properties and nutrients that help your body's immune system. Whether is is antioxidants of anti-inflammatory agents, this green powder can helps with chronic diseases, cardiovascular health, overall gut health, obesity and more.
Moringa and Lactation
A recent study has shown that moringa can help nursing moms increase their amount of breast milk and helped make the milk more nutritious.
Kuli Kuli makes delicious morniga superfood bars, energy shots and also sells the pure moringa vegetable powder. We tried the bars and shots and found them both to be delicious, but we really fell for the pure powder. It was so easy to blend it into our sweet morning smoothie, whisk it into our savory salad dressing or sprinkle it into our guacamole.
Check out the recipe for these moringa chocolates we created. They're delicious enough to be dessert, but with enough protein to serve as a snack. The moringa adds a subtle earthiness to the flavor of the chocolate and nut butter that we really love.

Moringa Nut Butter Chocolate
Ingredients
½ cup coconut oil
¼ cup honey
⅓ peanut butter (also try another favorite nut butter, we love it made with almond butter)
⅓ cup cocoa powder
a pinch of salt
¼ cup Kuli Kuli moringa powder (If this is your first time trying moringa, start with ½ this amount, taste and add more as you see fit)
Garnish
Sea salt
Moringa powder
Instructions
Combine coconut oil, honey and nut butter in a sauce pan. As it melts, stir to combine.
Remove from heat and stir in cocoa powder, salt and moringa powder.
Pour into molds or into a pan lined with baking paper so it does not stick.
Place in freezer for about 1 hour.
Remove from molds or pan and cut into smaller squares if desired.
Top with morning and sea salt for a garnish. Enjoy! Store in the freezer when not eating.
Disclosure: We were not compensated for this post. We were however provided free Kuli Kuli product, but we genuinely loved learning about moringa. All of our opinions are our own.