Mitch Weinstein tries out newly opened gastro pub Alder, in New York City.
By Mitch Weinstein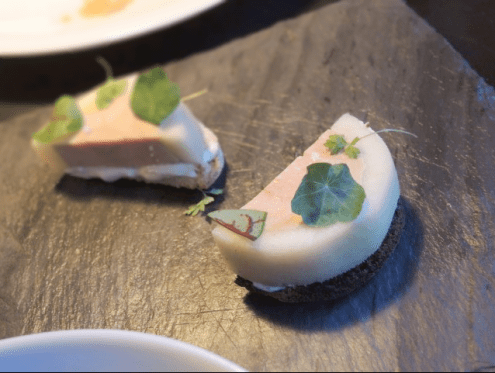 Congrats are definitely in order for any number of NYC chefs/food people who won Beard awards in early may. But my tip of the hat goes to Wylie Dufresne, who won Best Chef NYC (and of course his whole team, because a chef doesn't win unless he or she has a great team).
You know why? Sure – there's wd~50 – which opened about a decade ago; but right now, it's because of Alder, which opened only a few weeks ago. And though I've only been twice, I've tasted a lot of dishes, and I'm convinced it's my favorite new place and that we will be finding ourselves here often on weekend nights. Cocktails are good too, and the fact that you can enjoy a fine cocktail along with eating this cool food is what has moved Alder right up to the top of my list.
Of course, I was also pretty excited about Montmartre and Tien Ho at the range again, but I have no idea what the fuck is going on over there. I sure liked the food (a lot) the first time I ate there, and the second, but the reviews which came about shortly thereafter certainly suggested a less-than-fine dining experience. Then the menu was being changed. And all of a sudden, can you say: "cluster fuck?" (Late update is that Adam Platt at NY Mag has given Montmartre 2 stars and likes the reworking of the menu).
But back to Alder, where on our second visit the front and back of house staff had the place humming like a well-oiled machine. Significant Eater and I plowed through a good 6 or 8 dishes, including some repeats for me because they were so good I had to have them again. Talk about perfect bar food – start with these Pigs In A Blanket…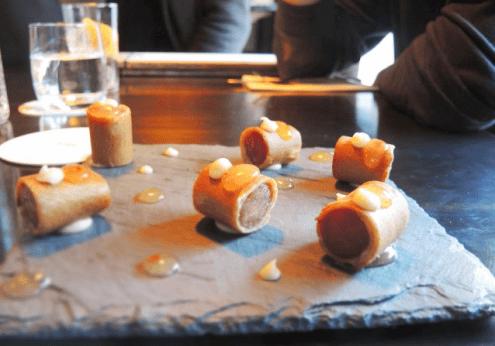 Which are enhanced by the droplets of mustard and chili sauce. The Pub Cheese is weird and colorful, the best version of cracker barrel we've ever tasted and, no, there was nothing left…
The chips served with that cheese are made from Martin's potato rolls (which are the best roll to serve a burger on), in a bit of wizardry. How about the Caesar Nigiri, a one-bite Caesar salad, topped (this time) with a slice of super-fresh hamachi.
When we tried it on my first visit, it was mackerel and I don't know which I liked more, the mackerel or the hamachi. Moving down the menu, Sig Eater and I loved the New England Clam Chowder. She's an NE chowder aficionado, whereas I prefer Manhattan style, but what made this dish so good was the oyster crackers – a lot modernist and a lot tasty…it is Wylie (and Jon, and etc.) after all.
What else? Oh yeah, the Chicken Liver Toast. The Foie Gras Terrine. More fun with food…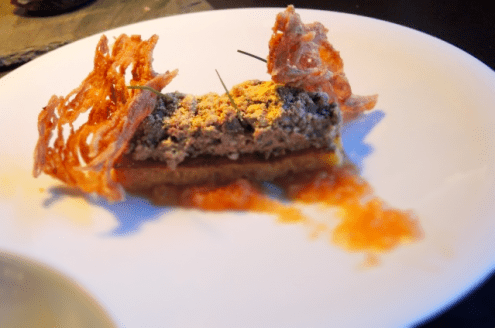 And a dish simply named Pork Rib, which actually tastes like those fine little nuggets of pig that you get when you pick the meat off of a smoked pork hock. Served with saffron spaetzle and a celeriac/green apple hash – yes, I'm a sucker for spaetzle…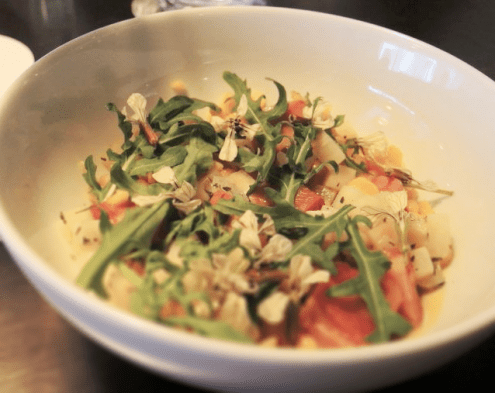 You know, after only two visits, it's not fair to make any pronouncements about a restaurant. But wd~50 has been around for 10 years and really is NYC's temple to, dare I say it, molecular cuisine (oy with that term) slash modernist cooking. And to many people, wd~50 is inaccesible due to the tab, even though you can sit at the bar and try any 2 items fromt he menu for $25 – a great deal. Now, Wylie and his team have opened a "pub" that really takes the best of what wd~50 has to offer, in terms of ingredients, cooking technique, etc. and democratized the experience. There are no reservations. There are no hushed whispers while dissecting the food. There's no attitude. There's good booze. There's great food. And I can't wait to go back.
Alder
157 Second Avenue, NYC
(212) 539-1900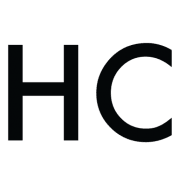 Mitch Weinstein
Mitch Weinstein is an avid seeker of good food, culinary school grad and writer of the blog Tasty Travails. When not cooking at home, he is on the hunt for that next delicious restaurant meal, great market or maybe even a cocktail. He regularly contributes to the food and drink forums on mouthfulsfood.com, eGullet.org, Chowhound.com and others.