These fish and chips are baked in a beerbatter which gives it a lovely crispy outside layer. Delicious with a homemade tartar sauce.
By Simone Van Den Berg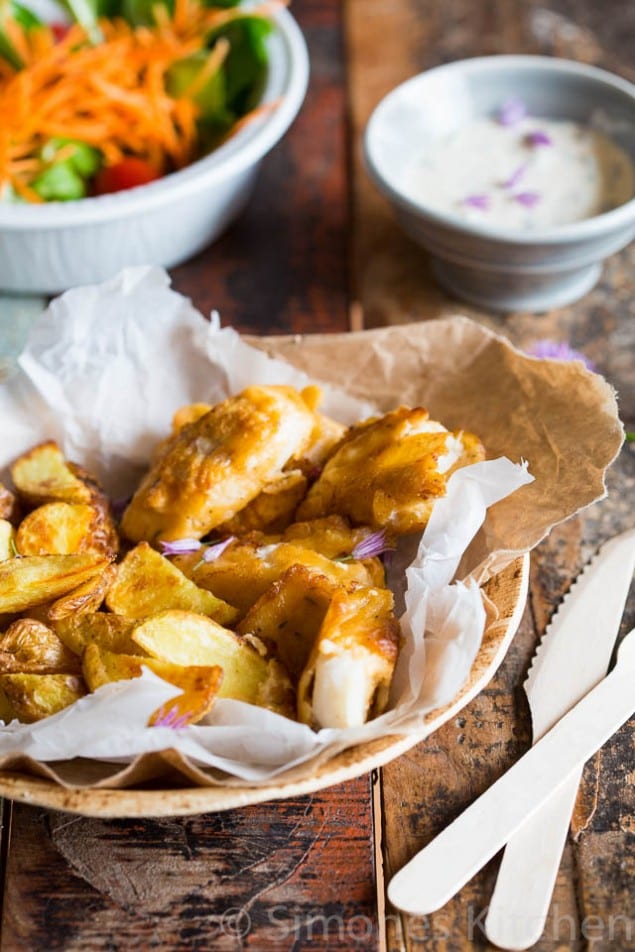 There is a lot going on lately around fish and for a very good reason too. The amount of commercial fishing has huge consequences for the ecosystem and fishing with large nets usually means a lot of fish is caught that is not of any commercial value. Young tiny fish or species that are not edible at all and the list goes on. These often just get discarded. And I am not even talking about the damage that the nets cause to the coral reef.
Enough reason in any case to try and eat as much sustainable fish as you can.
But what are the things you need to look at when buying fish? And how do you know if a fish was caught in a sustainable way?
For starters you would probably like a fresh fish. And since I always pay special attention to that fact I have come to the shocking conclusion that a lot of the fish in the store is really not fresh anymore. It is quite easy to recognize a fresh fish, once you know what to look for and that is easiest in a whole fish. So with skin and head still on. So what to look out for?
1. The easiest is to look at the eyes of the fish. These need to be clear. If the eyes are cloudy it is definitely not a fresh fish anymore.
2. Secondly the layer of slime on top of the skin; a fresh fish has slime on it (and while that doesn't sound attractive, it is what you want!)
3. The gills need to be fresh and bright red. If they are damaged and brown you can be sure that the fish is not fresh .
4. If you choose to buy fish filets, choose if they are smooth and if the filets look strong. If you buy filets it is advisable to buy them with the skin still on. It will keep the fish compact and it will be easier when baking the fish as the skin will keep the delicate flesh.
Ask your fishmonger how and where the fish is caught. Theoretically you can assume that the fishmonger sells sustainable fish, but in reality that might not be the case. Also pay attention to the RFM-quality label and also check the guides for sustainable fish that will be available in most countries. Here in the Netherlands we have the Viswijzer; which is a very handy tool to quickly check if you're fish is ok. They also have an app to go along with it.
See Also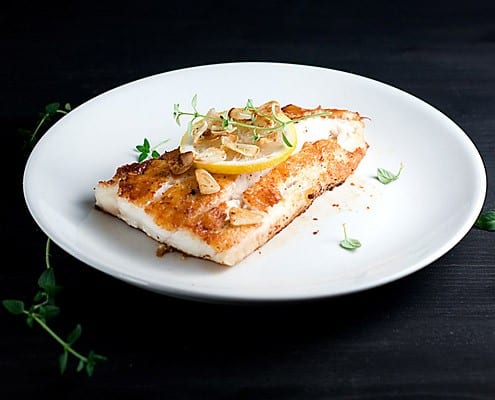 These fish and chips are baked in a beerbatter which gives it a lovely crispy outside layer. Delicious with a homemade tartar sauce.
Print

Alaskan Fish and Chips and Seafood Buying Tips
---
Author:

Simone Van Den Berg

Yield:

4

1

x
Description
These fish and chips are baked in a beerbatter which gives it a lovely crispy outside layer. Delicious with a homemade tartar sauce.
---
900

gr new potatoes, cut into wedges (I left the skin on) always precook them briefly for about 5 minutes, drain and leave to dry a bit
oliveoil

125

gr all purpose flour

1

egg

1 tsp

ground garlic

1/2

to

1

tsp chili powder and some extra for the potatoes

1 tsp

smoked paprika
pepper
salt

1/2 tsp

dried thyme

150

ml Mexican beer
A few good pieces of wild Alaskan cod filets

4 tbsp

mayonaise

4 tbsp

Greek yoghurt
few gherkins, chopped finely

2 tbsp

of capers, chopped
handful of chives, chopped
splash of chipotle tabasco
---
Instructions
Preheat the oven at 200 C. Put the potato wedges on a baking tray and spread them out. Sprinkle the oliveoil over the top and mix them well so each potato wedge has some oil on it. Sprinkle with pepper, salt and a bit of chili powder.
Bake the potatos in the oven for about 40 minutes or until golden and crispy. Turn halfway through
Make your batter in the meantime by mixing the flour and the salt in a large bowl. Add to this the spices (chili, paprika, garlic, thyme, pepper and salt) and the egg and the beer. Whisk to a smooth batter
Heat oil in a large frying pan.
Spread a little bit of flour on the cod filets and drag them through the batter. .
Bake for 5-6 minutes on each side until golden and crispy
Make your tartarsauce by mixing the mayonaise with the yogurt, gherkins, capers and the herbs. Add chipotle tabasco to taste.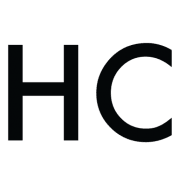 Simone Van Den Berg
Simone van den Berg is a Netherlands based freelance food photographer and food blogger. She has a passion for cooking, food and travel, which she shares on her blog Simone's Kitchen and of course right here on Honest Cooking.