This delicious African chicken soup is full of spices and thickened with peanut butter.
By Bowen Close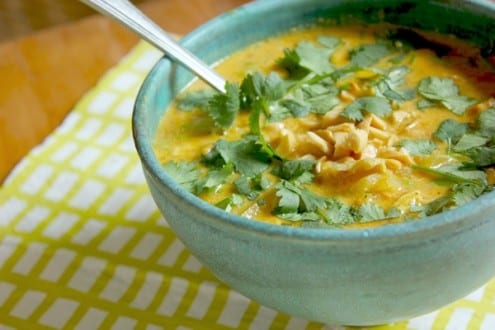 African chicken soup is certainly something different, full of spices and thickened with peanut butter. I've had it at restaurants and cafes a few times over the years, but none have been as good as this homemade version. It calls for cooked chicken, which makes it great when you have leftover roasted chicken around the house. I made it a few weeks back the night after we had roasted a chicken. We saved the breasts for the soup pot, and I used the remaining chicken parts to make a ton of broth, most of which we froze and have used for other things.
African Chicken Peanut Soup
This delicious African chicken soup is thickened with peanut butter.
Ingredients
Olive oil
1 large onion, diced
2 cloves garlic, minced
Salt, to taste
2 Tbsp. curry powder
1 tsp. cayenne pepper
2 tsp. ground coriander
5 cups chicken broth
16 ounces or 2 cups tomato puree or sauce (canned or homemade)
16 ounces or 2 cups crushed tomatoes (canned or homemade)
½ cup peanut butter, preferably natural
1 lb. cooked chicken or turkey, roughly chopped or shredded into bite-size pieces
1 cup scallions, thinly sliced on the bias
1 large handful cilantro, stems and leaves roughly chopped, for serving
1 cup peanuts (toast first, if raw), chopped, for serving
Instructions
Start your flavor base: Heat a large, heavy soup or stock pot over medium high heat. Add a few glugs of olive oil and sweat the diced onion until soft. Taste and salt as needed. Add garlic and cook for 1-2 minutes, until fragrant. Add curry powder, cayenne, and coriander and cook for another 2 minutes.
Add the liquid and simmer: Add the chicken broth, tomato puree, and crushed tomatoes, and another healthy dose of salt. Stir everything together, making sure nothing is stuck to the bottom of the pot. Simmer for 30 minutes, keeping the soup below a boil.
Thicken: Put 1 cup of soup and the peanut butter in a blender and puree. Add back into the soup and stir until combined.
Finish and serve: Add chopped chicken and sliced scallions to the soup while still on the heat. When ready to serve, remove from the heat. Ladle into bowls and top each with chopped peanuts and cilantro.
Bowen Close
Bowen Close believes that food should make people happy and healthy, and loves bringing together people with creative, delicious food made from the heart. She loves making farm-inspired, flavorful dishes with sustainable ingredients - whether that's a big plate of roasted veggies, a towering chocolate layer cake, or a cocktail utilizing backyard ingredients - and collects recipes and other food-related stories on her website, Bowen Appétit. She is a chef, cooking instructor, and food writer living in Southern California with her husband and fully stocked pantry.