Try the famous Swizzle Cocktail from Cafe Adelaide in New Orleans.
By Michelle M. Winner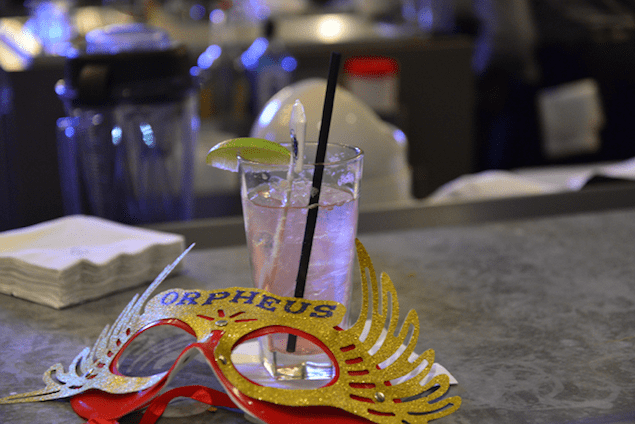 Right on the introduction page of Ti Adelaide Martin and Lally Brennan's book  In the Land of Cocktails the cousins admonish you to try something new. And the " something" refers, of course, to cocktails.
Their little cocktail book, a compendium of recipes is a fun read but also contains the wonderful history and lore of their famous Brennan restaurateur family and hometown, New Orleans … and boy is New Orleans a cocktail town.
Their restaurant Café Adelaide (the other is Commander's Palace) is located inside Lowes New Orleans Hotel on Poydras. And inside Café Adelaide is the famous Swizzle Stick Bar named for Aunt Adelaide who has been referred to by the cousins as their "very own Auntie Mame". So full of life and living it to the full, Lally and Ti say she wore a gold swizzle stick necklace and "every once in a while she would lean over her drink and swizzle her drink with her necklace."  Get the picture?
To honor Aunt Adelaide we want to celebrate with Ti and Lally, the Cocktail Chicks, at their delicious Café Adelaide perhaps you'll join us with one of The Adelaide Swizzles from the Swizzle Stick Bar? Their cocktail book is available via  HarperCollins.
The Adelaide Swizzle Cocktail From Cafe Adelaide NOLA
Although Ti and Lally share this recipe via their book " In The Land Of Cocktails". They say they left out the "secret ingredient" so to find out what it is you'll have to try one at The Swizzle Stick Bar In New Orleans.
Author:
Ti Adelaide Martin and Lally Brennan
Ingredients
1½ ounces amber rum
juice of 1 lime wedge
3 dashes Peychaud's bitters
¼ ounce simple syrup
Secret- ingredient ( when you discover it!)
Club soda
Lime wedge for garnish
Instructions
Combine rum, lime juice, bitters, simple syrup and the secret ingredient in a cocktail shaker filled with ice and shake vigorously.
Strain over ice into a highball glass, top with club soda, garnish with line wedge and serve.
Michelle M. Winner
Michelle was born with a fork in her hand. As a culinary travel writer and confirmed foodophile she delights in the world-wide discovery of new flavor profiles, spices, salts and herbs. Based in one of the world's foodie meccas; Portland, Oregon, not far from "Pinot Noir Heaven" Michelle shares culinary travel and chef's recipes. Her photography has appeared in Saveur Magazine and she has contributed culinary travel articles to Forbes online, WSJ online, Business Insider, Condé Nast Digital Media, Islands magazine and many others. A confirmed globetrotter, she still keeps her bags packed and fork in hand (well . . . except through airport security.)