Chefs Fredrik Johnsson and Peter Andersson are keeping the food scene in Stockholm fresh, simple, and delectable. "We are just honest to the ingredients," writes Swedish Fredrik, of Restaurant Volt, when asked about the minimalistic approach he and his partner utilize in their cooking.
By Ashley Smith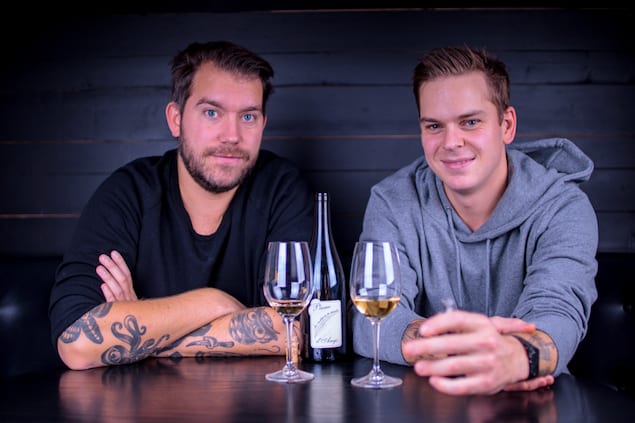 Johan Sjöstedt
The two young, chefs run, cook, and serve all the food at their restaurant in Stockholm, Restaurant Volt. Fredrik and Peter are unique in this aspect of choosing to do it all, however it's no surprise. It's clear that the fast-paced lifestyle of the food industry is what attracted them to the kitchen in the first place. The duo grew up on the West Coast of Sweden and went to culinary school together. They "planned everything [that would go into their restaurant] except the details." Before the restaurant had even opened, they knew what they wanted out of Volt: a dining establishment that offered "mid-price, high quality service, and food and wine with a kind of laid-back atmosphere." The two desired a place where they could "create [their] own rules and ideas."
Fredrik and Peter have done just that, along with the help of co-owner Johan Bengtsson. Volt is now one of the top restaurants in Stockholm. What's exciting about the co-chefs is not only their team work, but the way they embark on a journey with food from forage to plate. The menu is distinct and the dishes served are always seasonal; Fredrik and Peter are attuned to nature whether a product is coming from the forest, sea, or fields. The two choose to progress with wildlife, which results in food with the freshest of ingredients. The foraging process gives the chefs a chance to be a part of the environment and allow themselves to be consumed by the seasonal changes.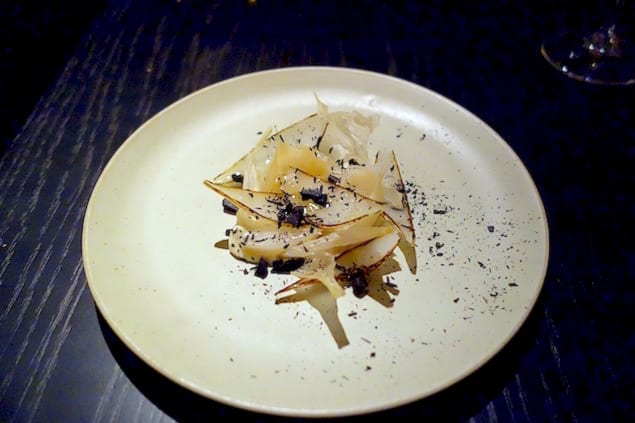 Garlic, Cod roe, and sour cream Starfood Scout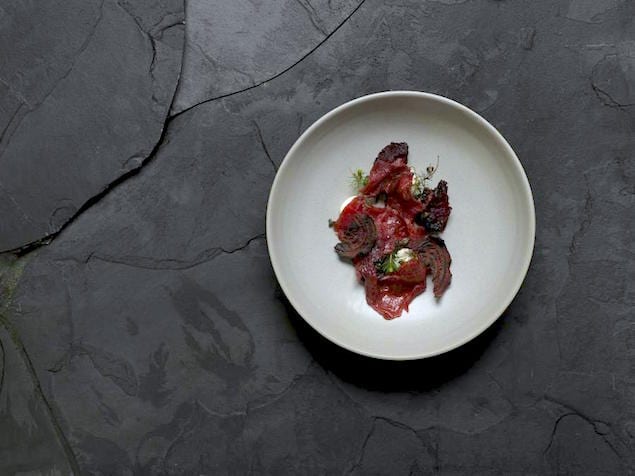 White-Guide Nordic
Melding herbs, meat, and produce together with fervor, technique, and flavor, the chefs proceed to plate their food in a clever yet simplistic way. Each component of a dish is mindfully layered; the outcome of particular combinations of flavors that will stimulate the tastebuds, is contemplated beforehand. Fredrik and Peter work quietly, focusing on each dish equally. Once they are finished plating their appetizing and creative cuisine, the two enter the dining room to serve their customers. Here's a short clip of them plating.
When asked what they wanted customers to walk away with after eating at Volt, Fredrik said that, "the moment they leave, they should think about when to [come] here again…" While the unique restaurant is located in Sweden, New York City is lucky enough to get a visit from the mastermind co-chefs. Fredrik and Peter will be at NORTH Festival, hosting a pop-up dinner this September. The chefs are excited to be traveling all this way; they're most anxious to "visit farmer's markets and see what NYC's late summer season has to offer."
The two will make dishes that resemble their current menu. Don't miss out on an incredible opportunity to taste authentic Swedish delicacies, fresh ingredients, and an unusual quality of art.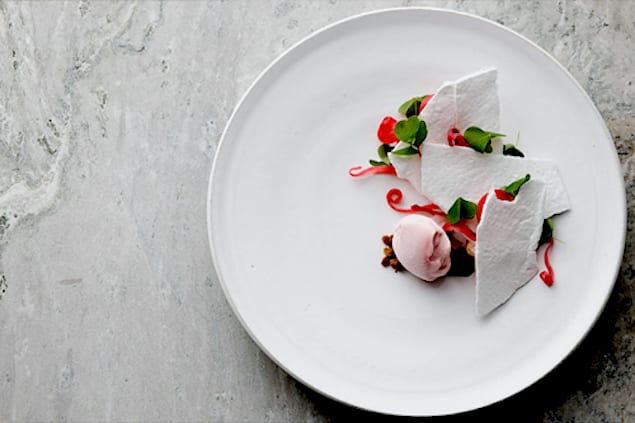 Places We Know
Ashley Smith
Ashley was raised on Guatemalan and West Indian cuisine; both backgrounds are filled with vibrant flavors and spices. Working at a French bakery in the past--and getting introduced to craft beers and cheeses during her time at the University of Vermont--has piqued her interest in experimenting with food.