A Summer Refreshment – Pineapple, Mango and Avocado Salsa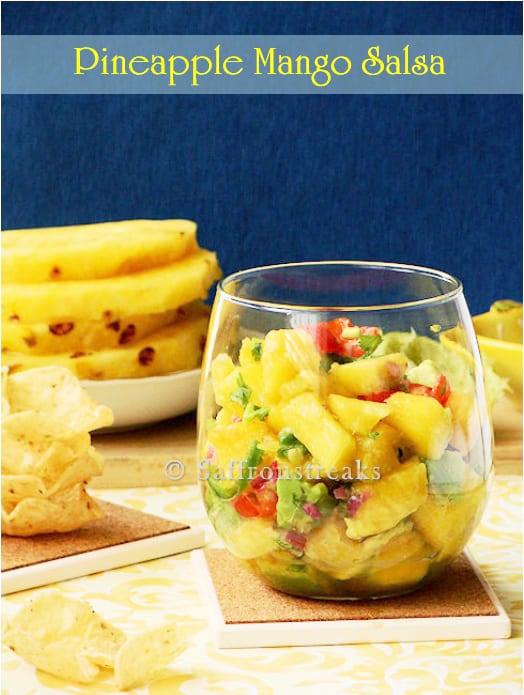 Pineapple, mango and avocado salsa with crunch from the red onions, a little heat from minced jalapeno and a generous drizzle of lemon juice.
By Sukanya Ghosh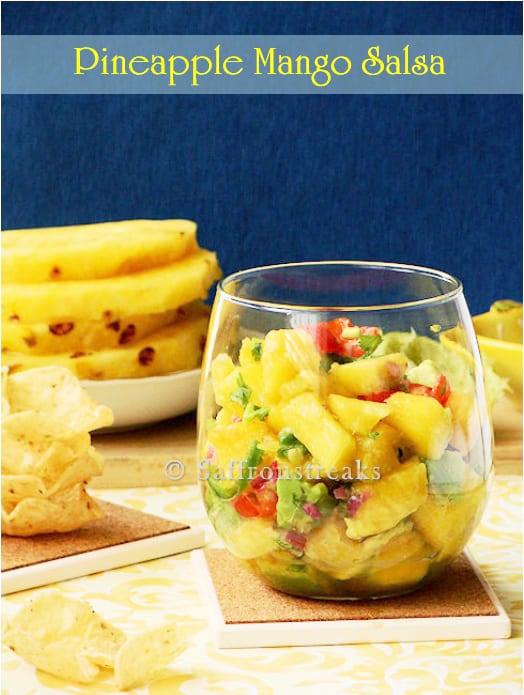 It is colorful and vibrant, it speaks of warm sunshine and light summery days and going by the rules of color therapy, you should dig into it right away because it is good for you, and for your mind, body and soul.

A Summer Refreshment - Pineapple, Mango and Avocado Salsa
Pineapple, mango and avocado salsa with crunch from the red onions, a little heat from minced jalapeno and a generous drizzle of lemon juice.
Ingredients
1 : Pineapple (peeled, cored, chopped into bits)
1 : Mango (sweet and tart; peeled, pitted and chopped)
1: Avocado (peeled, pitted and chopped)
1: jalapeno (seed removed; minced)
½ cup : Red onion (minced or very finely chopped)
5-6 : Grape tomatoes (seed removed; chopped)
1: Lemon
½ cup: Cilantro (chopped)
Salt and black pepper to taste
Instructions
Wash and cut all the fruits as mentioned. For a nice presentation and uniform texture, try to cut all the fruits in equal dimensions.
In a big bowl, add the cut fruits, the minced jalapeno, minced onions, chopped tomatoes and cilantro.
Squeeze a generous drizzle of lemon juice. I have used half lemon for the recipe.
Dash of salt and pepper if you wish so.
Give it a gentle stir and cover. Let the flavors to mingle with each other.
Serve at room temperature or chilled on your favourite tortilla chips.
This salsa is also a good accompaniment for any meat dishes, try it with chicken or lamb burgers.
Notes
you do not want to use tomatoes at all, then replace it with red bell pepper. Pineapple was sweet, so there was no sugar added. But depends upon your taste, you can add it. Salt and pepper are not mandatory. Avocado should be at perfect ripe stage.
Sukanya Ghosh
Sukanya writes the blog Saffronstreaks, a food and travel blog where she experiments in the kitchen spiced up with interesting food stories and gourmet travelogues. She loves to cook with fresh produce, enjoy both spicy and sweet and her many dining out experiences become cherished memories. Sukanya is from India but now lives in North Carolina, USA.