Sarah Kenney takes us on an enchanting photo tour of The Froberg Strawberry Farm in Alvin, Texas.
By Sarah Kenney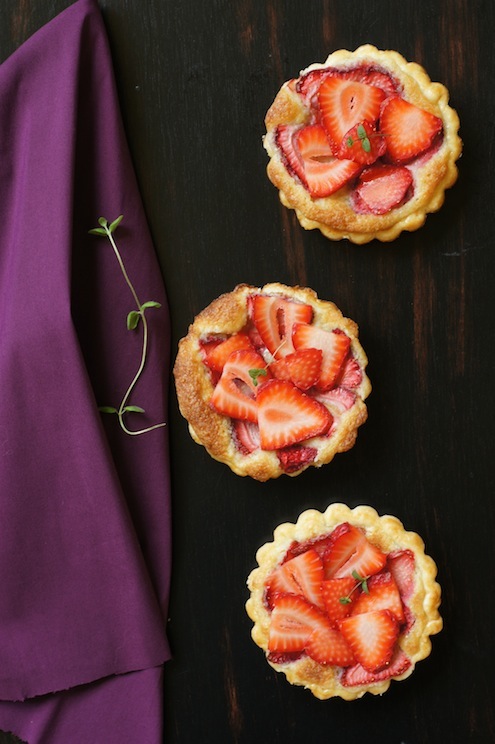 It wasn't long after we moved to Texas that I began to hear about "Froberg Strawberry Farm".  As spring began to slip into summer, at the mere mention of strawberries or blackberries, this farm, southwest of Houston, Texas would spring into conversation.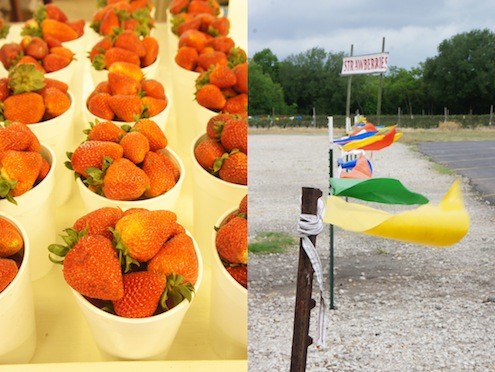 Going to Froberg Farm was like stepping back in time and catching a glimpse of what true farmers' markets were like.  Strawberries are just one of their highlights.  This farm rotates fresh fruits and vegetables throughout the year.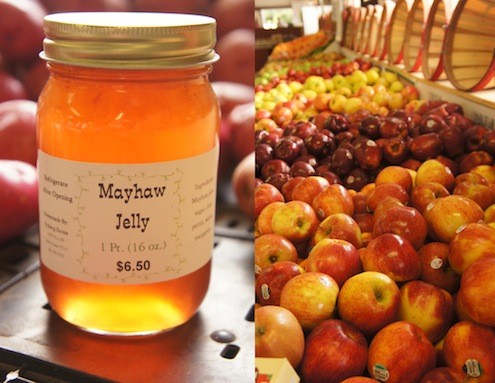 The drive out into the country was soothing and quiet – just what I craved  that day.  What fresh produce would I find?  What kinds of dishes would I make?  What in the world is "Mayhaw Jelly"? Go here and you can learn about it. Snippet:  It is a very southern plant that was collected in the springtime to make into jelly.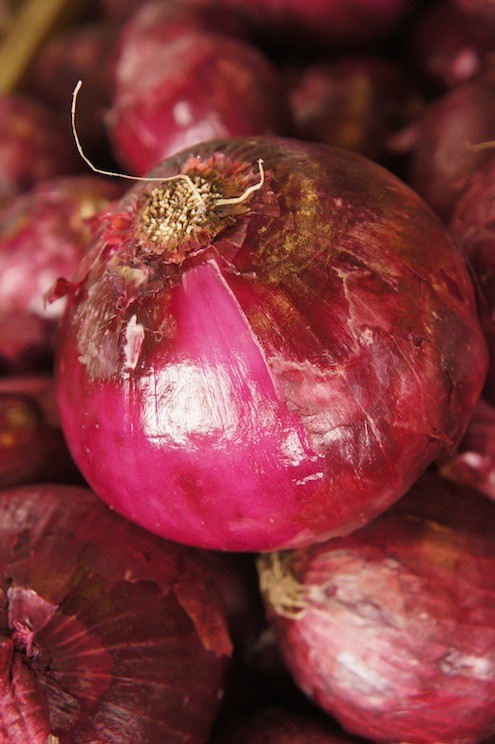 Only a few rickety signs guide you to this reputable farm.  I love that.  Simple.  Unpretentious.  As I crossed over a long lonely stretch of train tracks, my car crunched over the little gravel road winding its way up to the farm.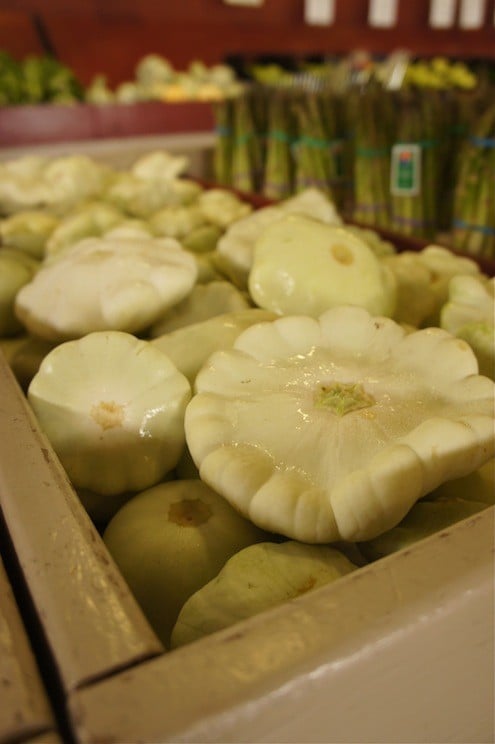 An old screen door creaked open and I felt transported to some other time.  The produce looked amazing.  I wanted to capture some photos.  Fruits and vegetables are so beautiful to photograph, but I couldn't wait to fill my baskets with some of what I was seeing.  An apple tart?    I should make that.  No wait, look at that jar of fig preserves.  Figs are a childhood favorite of mine.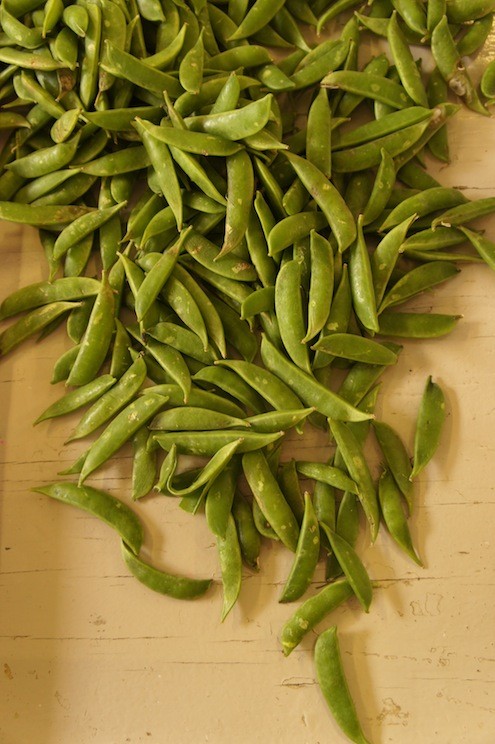 Look at the fresh sugar snap peas and the just-cut asparagus.  They looked like they had just been brought in and spilled into the many wooden bins inside Froberg that morning.
This sweet little tot was so cute holding her huge strawberry.  She was dressed in a bright little outfit that had strawberries all over it.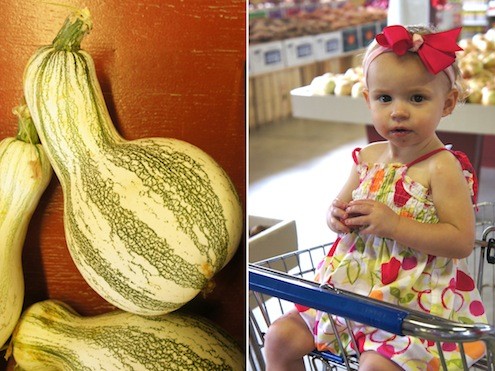 Strawberries. I was definitely stuck on strawberries.  I wanted to make something with strawberries.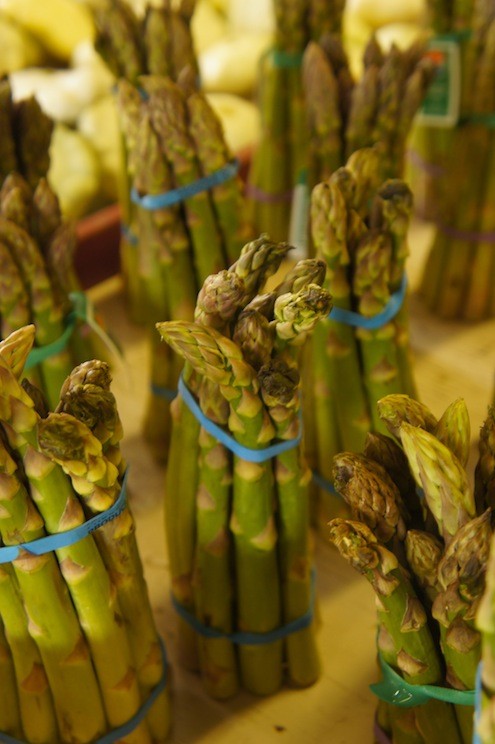 I scooped up pails of strawberries dreaming of many different recipes I could make, when one of the farm workers asked if I had seen the blackberry fields outside.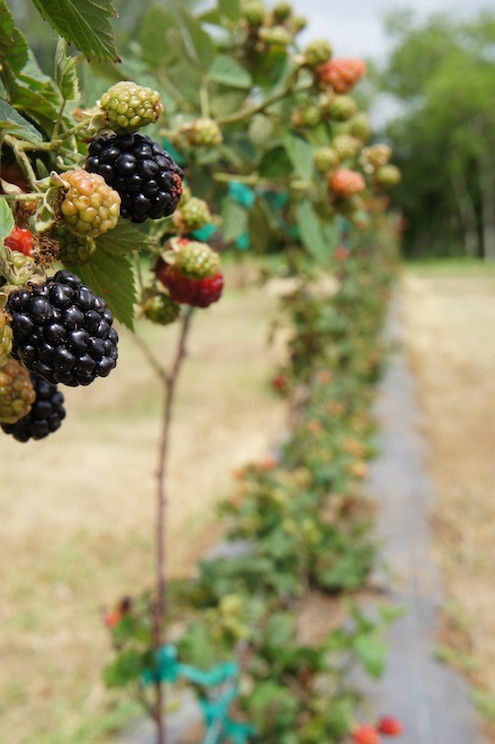 Blackberries? Fields of blackberries?  I had to take a peek.  People aren't really allowed in the blackberry patches but she said it was o.k.  They would be picking some that afternoon for sale the next day.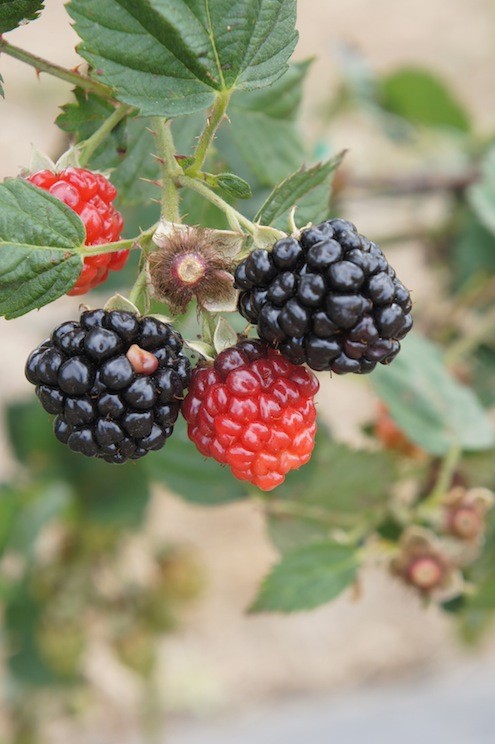 I walked way out to the blackberry fields and could tell this was going to be a treat.  The fields were nothing short of delightful…magical even.  It was morning and no one was outside.  I felt like I was transported back to France where I would beseech my husband to stop randomly along a country road so I could roam up and down the grape vineyards.  He always shakes his head but smiles obligingly, knowing my quirky ways.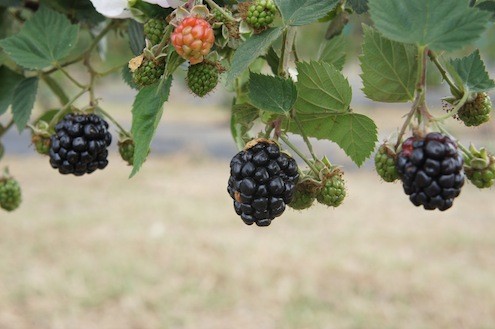 Blackberries are beautiful growing on their dainty vines, plump and juicy.  The deep dusky purple contrasts so playfully with the pop of bright pink blackberries yet to ripen.  The winding green leaves fluttered and swayed in the breeze and little flowers that were tucked here and there seemed to finish off this captivating scene.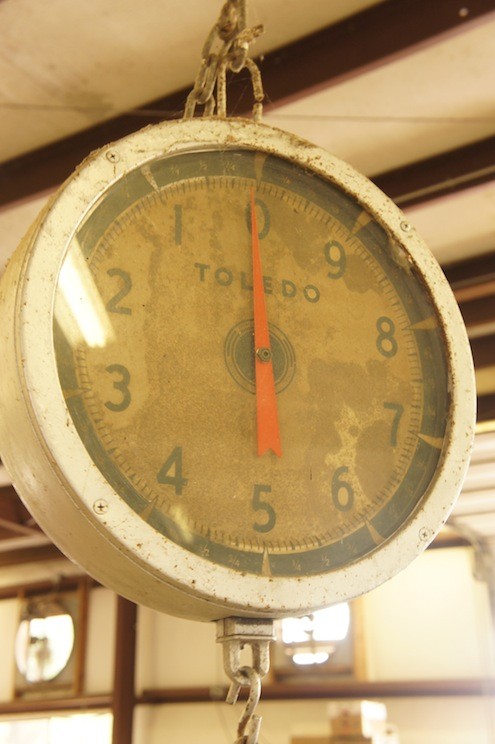 I went to a very southern school in the deep countryside of Louisiana. Our religion teacher, Sr. Smith, would look at us at the beginning of class, close her book and say "Go out girls! Go run, go be free, that is my religious teaching for today!".  We would scramble outside lickety-split, eager for every precious minute of being outdoors.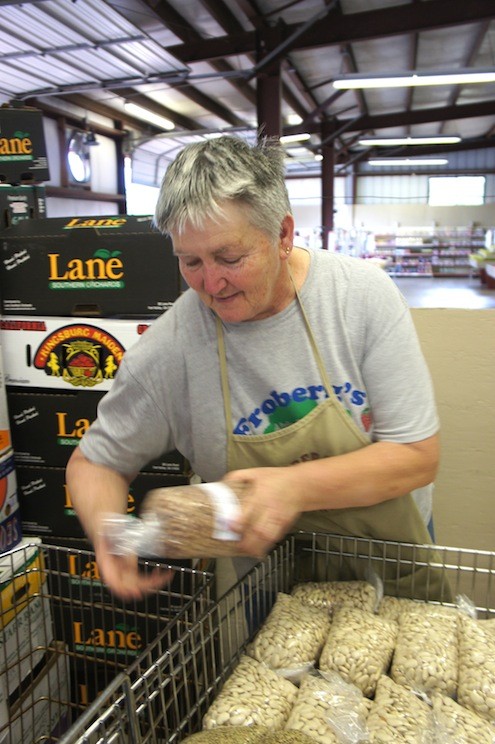 Often, we went straight to the blackberry brambles if it was springtime.  Our skirts became the bowls and they filled up with this delicious fruit.  We would run to the cafeteria, holding those skirts tightly, to get little bowls from the cafeteria, dump sprinkle sugar onto the blackberries, smash them up into the sugar, and taste a little bit of heaven.  Sr. Smith knew what she was doing.  She was teaching us to live freely and enjoy nature first-hand, not always read about it in books.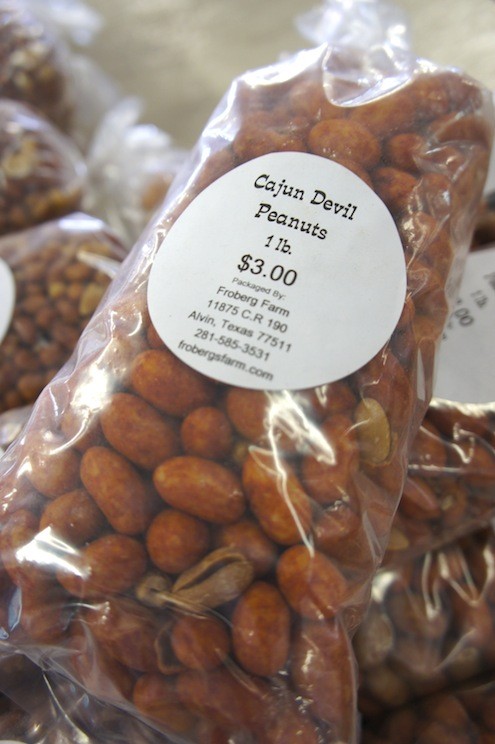 After wandering slowly and admiring the vast blackberry patch, my quiet reverie was abruptly interrupted.  This huge bright red train came barreling down the tracks right in front of the farm!  The ground shook and  the blackberry vines swayed more as the clickety-clack got louder and louder.  The scene was jarring but it  just seemed to fit somehow into this country landscape.  I thought of all of the little boys and girls who would think this a terrific sight while munching on their juicy strawberries and blackberries.
See Also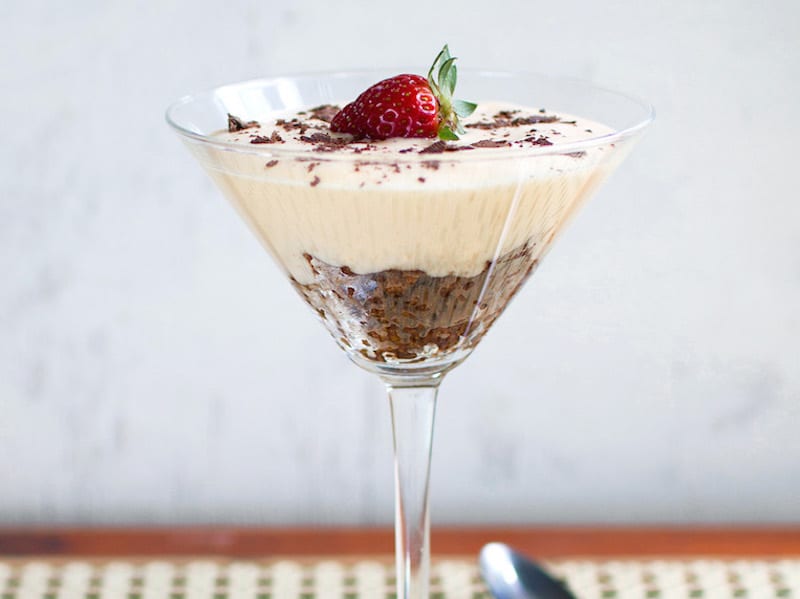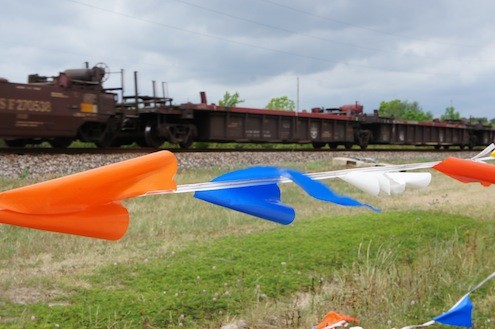 The train disappeared with a huff and a whistle and the air and ground settled right back to its peaceful aura.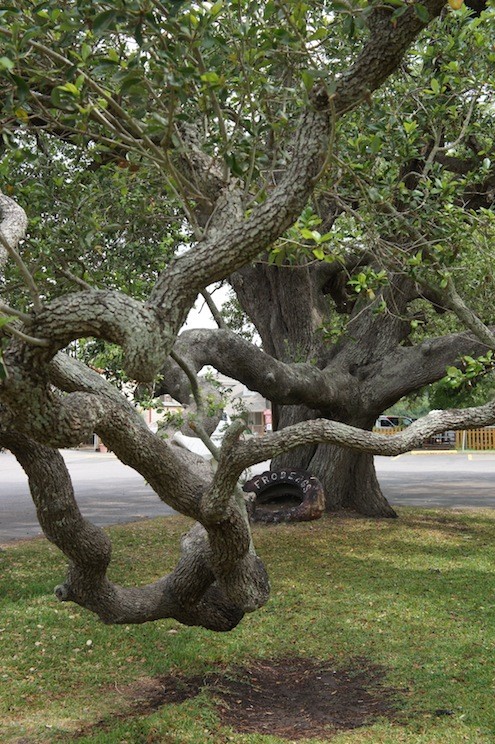 I noticed this huge, rambling tree stretching its ancient limbs almost to the ground.  An old battered tire with the worn out letters of "Froberg" were painted on its side.  How long has that tire been laying there?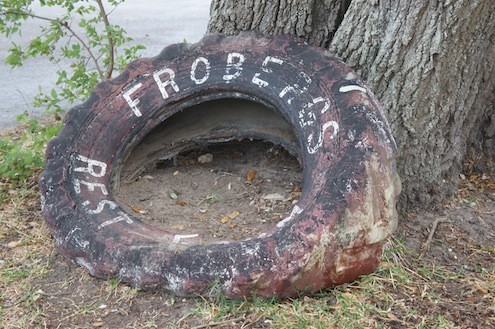 Strawberries. They were still on my mind.  It was getting warm and my car was scented with all of my fruity baskets.  I saw some adorable little tartlets on the popular food blog Cannelle et Vanille the other day.  There was a photo of her sweet little girl delighting in her own little tartlet.  Each time we have travelled to Europe, my  kids point first to the petite individual tartlets in the patisserie windows.  I'll give it a try – strawberry tartlets.
The filling Aran (of Cannelle et Vanille) used is called frangipane.  It is made with ground almond flour.  We were truly delighted with this light and sweet flavor and texture.  I baked some strawberries on top of the tartlets but then added more slices after they cooled because they were more vibrant and fresh-looking.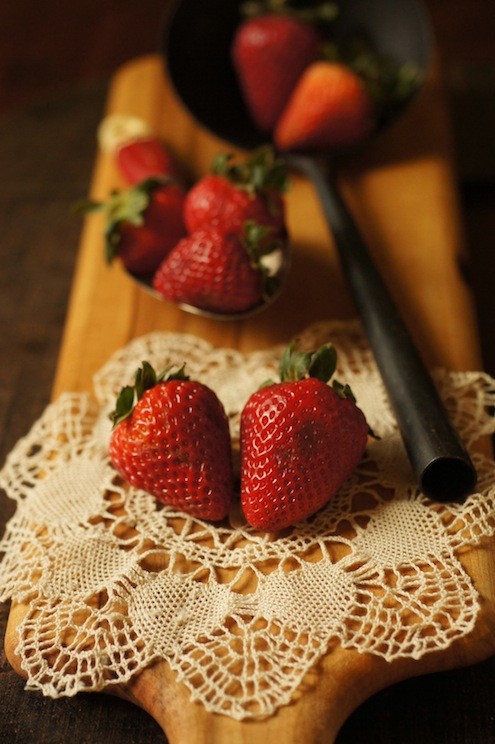 What a wonderful morning I spent wandering those enchanting blackberry fields.   The breeze was cool, the mood was relaxed…the entire farm seemed to be snuggled in the countryside truly lost in the past.  Lost?  No, not lost.  It seems perennial…waiting to be found by others; to give others the pleasure it gave me that spring morning.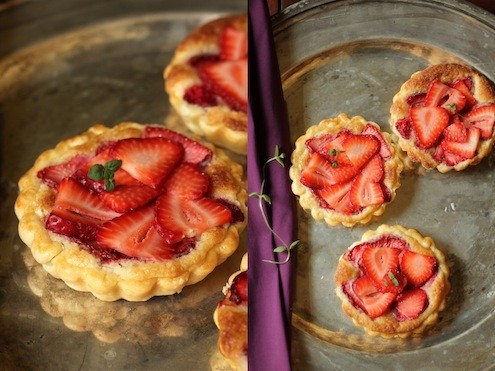 Strawberry Fields Forever
Strawberry tartlets with frangipane could just be the perfect summer treat. Beautiful in color and delicious in flavor, these little tartlets will delight summer picnics and get togethers.
Author:
Sarah Kenney, Adapted From Cannelle Et Vanille
Ingredients
Pie crust of your choice
cup (110 g) unsalted butter, room temperature
cup (110 g) natural cane sugar
1 egg
tsp almond extract
1 cup (110 g) almond flour
1 Tbs (10 g) tapioca starch
tsp salt
2 cups sliced strawberries
Instructions
Pre-heat oven to 400F.
In a stand mixer, cream the butter and sugar with the paddle attachment until light.
Add the egg and almond extract and mix until combined.
Add the dry ingredients and mix.
Roll out the pie dough to ¼-inch thickness.
Cut 6 4-inch disks and fill tart molds with them. Cut off excess dough.
Fill the tart molds with frangipane and arrange the sliced strawberries on top.
Bake for 20 to 25 minutes until crust golden. (Snippets notes: I added more fresh strawberry slices on top after they came out of the oven just because it looked so pretty!)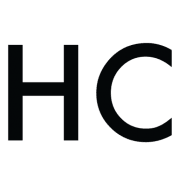 Sarah Kenney
Sarah is an adventurous food photographer and writer who has moved six times with her family from the U.S. to Wales, Japan and back. They are affectionately known as "The Rolling Stones". She is a passionate chef who thinks that their experiences living in Louisiana, Michigan, New York, Missouri, Kansas, and now Texas culminate in shared meals and tales around the table as her family experiences each regions offerings of cuisine and culture. Texas is her current stop and good food and good times are a passion of this southern state. She writes about her foodie adventures in her blog "Snippets of Thyme".