Eric Sohl found a little gem of a hideaway on the island of Öland, in Eastern Sweden.
By Eric Sohl
Just before the main town of the island of Öland, Borgholm, you can find the wonderful Drottning Viktoria's Vilohem lodging.
It's basically a former retirement home with strong links to the Royal Swedish family. The summer residence of the Swedish royals is just next door: Solliden.
You actually have the possibility to get a key for the side gate, to pop out and take a short cut into the Solliden estate, which is a plus of course.
For the dinner arrangement, you need to be present at 5,30pm (!). Yes, this being Sweden, they do tend to eat rather early. The guests for the dinner all assemble in the reception area and then are swiftly shown through to the dining room. We were one of the 'youngest' guests, to the amusement of the dear elderly ladies staying at the the Vilohem. Although their age far exceeded ours, the ladies were quite quick at storming through to get the best seats next to the window.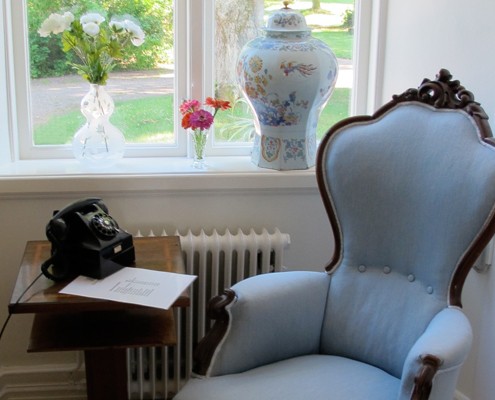 In the pristine white dining area (from candles to table cloth), your dinner is then announced. During that part of the ceremony, you are supposed to stay standing behind your seat, and not sit down yet. Of course, I had already nestled myself in my seat, but was promptly asked to stand up again. The dinner was quite good, you are presented with a main course and dessert, no choice there, apart from a small but refined wine list. The main course was pork with green beans and the dessert a luscious red berry soup on top of which you pour a little double cream. A Swedish must-try!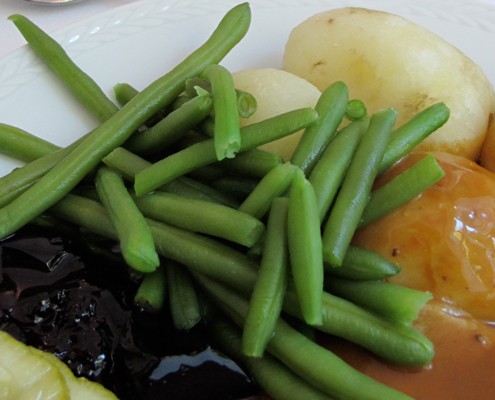 The lodgings here are quite splendid, especially if you have a penchant for Swedish Royals. There are signed pictures of many of them dotted around the premises,  a testimony to the legacy of the house.
The furniture in pale blue is exquisite and the white wooden floor boards give a fresh and airy note to the feeling of this place.
Drottning Viktoria's Vilohem
Södra vägen 2, 387 94 Borgholm
Tel/fax: 0485 – 100 25
Eric Sohl
Eric Sohl is Editor in Chief of Tasting and Living.com He has a strong appetite for international food and travel. Together with a team of bloggers based in Brussels, Belgium, he scouts the world to report back on all things foodie.