Sarah Lambersky discovers an American-style diner in Oslo, Norway.
By Sarah Lambersky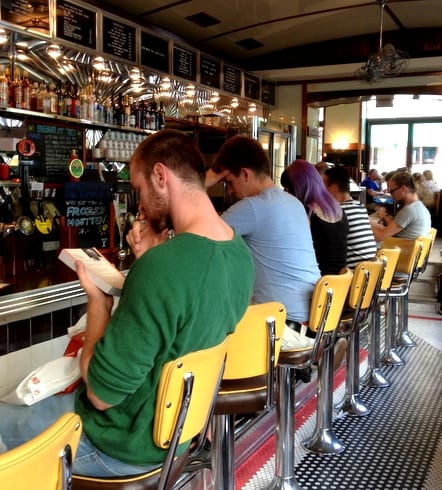 In follow up to my last diner themed post, I am adding another diner experience to the list. This time I was in Oslo and the diner was in fact, modeled after its American counterpart.  My interest in diner food is purely comfort driven.  For me, it is a means to indulge in familiar food and give my brain a brake from analyzing foreign ingredients, dishes and cooking methods that go hand in hand with living abroad.
My diner-visiting ritual started in 2003 while I was living in Hong Kong and attending a semester of philosophy classes at HKU.  It was a time where I frequented The Flying Pan, a diner opened by a woman from New York which was located in the Mid Levels (also Wan Chai). The Flying Pan made a mean stack of pancakes and their kitchen sink omelette was to die for; how could I resist eating pancakes while reading Plato?  Previously, I equated the French cafe to the European equivalent of an American diner maintaining that the ubiquitous nature of a French cafe, its lively atmosphere, and predictable yet location adapted menu was like the diners around the US. I am aware that there are a few American style diners in Europe (Paris, Berlin and Prague have) but I didn't expect to see a diner in norther Europe.  Surprise! In Phaidon's 'Where Chefs Eat' book that I like to consult before I hit the road, I read about an American diner located in a hip neighbourhood in Oslo that came with praise from the author.  I decided to give the Norwegian-American diner a try and give new Nordic cuisine a break.
On the main tram street of Oslo's Grünerløkka neighbourhood, and located within walking distance from Tim Wendelboe's scrumptious coffee shop (part of Oslo tourism these days) is the Nighthawk Diner.  I kid you not, stepping inside the Nighthawk Diner was like crossing the Atlantic Ocean back into America.  They had the interior spot on!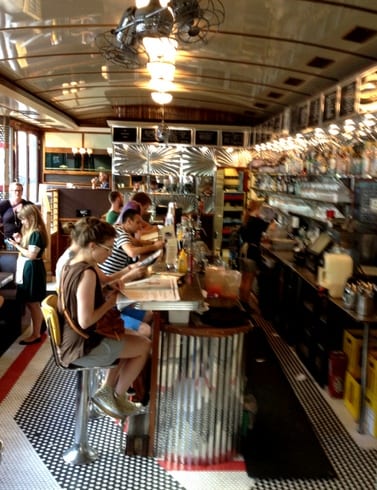 The tiled floor restaurant, situated in a corner property includes a smaller front section with yellow leather bar seating, a larger dining area in the back with booths and outdoor patio seating.  This place was packed with locals waiting for their milkshakes, burgers, salads, eggs, sandwiches and pie to be served by waiters and waitresses dressed in diner attire.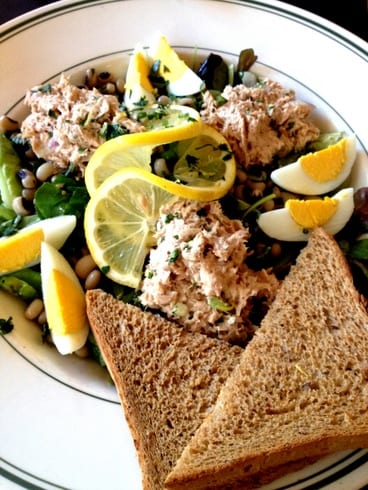 My tuna salad with whole wheat toast was so good, I returned again the next morning and waited in line for nearly 40 minutes so I could have a plate of blueberry pancakes that went by over my head the night before.  My dining partner opted for the pulled pork and was equally satisfied with the tangy-sweet marinade on the meat.  Aside from the good food, I liked that The Nighthawk Diner made an effort to call attention to their intentions of working towards becoming a 100% organic diner and shared the names of their suppliers. They get their organic beef from Halstenov farm.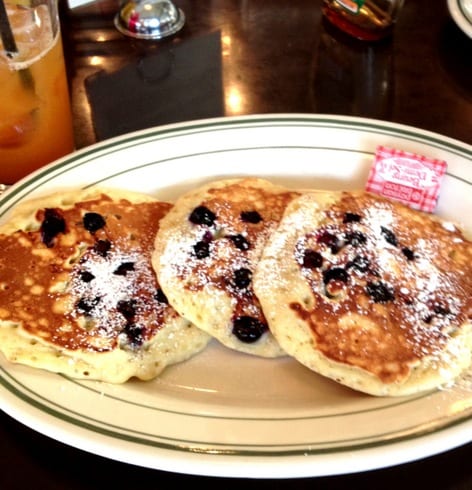 By diner standards, do not expect this to be a cheap meal.  I repeat: Nothing is cheap in Oslo, not even a meal at a diner.  As long as you can put 'affordable meal' out of your mind when eating in this city and block out the temptation to compare the cost of a plate of pancakes in the US with the cost of your blueberry stack  in Oslo, you will more than enjoy your meal here.  It's the real deal!
Sarah Lambersky
Sarah Lambersky was born in Toronto, Canada and caught the travel bug early on in life. She has had the opportunity to live in Hong Kong, Shanghai, Beijing, New York, Prague and currently resides in Copenhagen, Denmark. Sarah is the co-founder and editor of Countlan, a quarterly digital magazine dedicated to exploring how people all over the world entertain at home and lectures undergraduate marketing strategy courses.