A Post-Election Pumpkin Loaf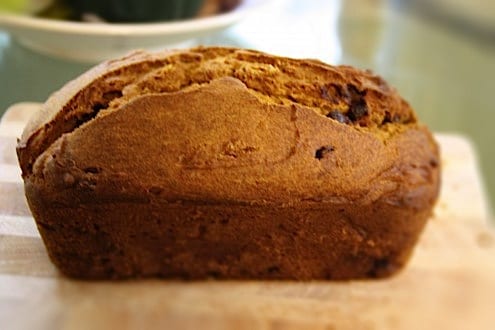 Gilda Claudine Karasik's election night bake was saved by a box of rice flour.
By Gilda Claudine Karasik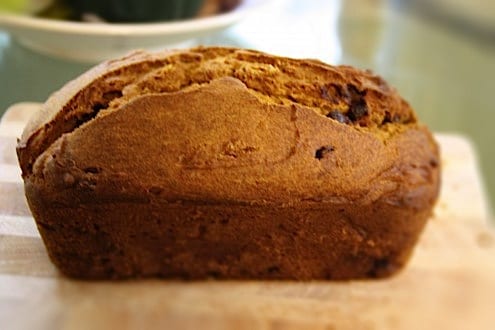 I get nervous on election days. I eat. I drink. I bake bread.
I wasn't prepared for Election Day 2012, though. Not for what I feared would be the outcome of some political contests. Not for baking bread.
I'd forgotten to buy the ingredients I needed to bake a loaf. I stood in my kitchen, scanning the pantry like a candidate at the podium combing a crowd for followers.
And, suddenly, there it was: an unopened box of rice flour, staring back at me like a last-minute campaign donor. I'd bought it "just in case".
So, I turned on the radio, whistled a little as I listened to political projections, and searched the shelves for a bit of this and that. In no time flat, I was whipping up a chocolate chip pumpkin loaf and working out my election day jitters.
And I spent the evening glued to the television, focused on fancy computer graphics and electoral math. I sipped tea and nibbled on the bread, savoring each triumphant bite.

Post-Election Pumpkin Loaf
Author:
Gilda Claudine Karasik
Ingredients
2 cups/240g rice flour (or quinoa flour)
½ cup/120g butter
1 teaspoon/5ml baking soda
½ teaspoon/2.5ml salt
½ teaspoon/2.5ml pumpkin spice
3 eggs
15 oz/425g of pureed pumpkin
1 cup/240ml of milk
1 teaspoon/5ml vanilla extract
1½ cups/270g packed brown sugar
1 cup/150g chocolate chips (optional)
Instructions
Pre-heat oven to 350 degrees.
Grease a 1.25 quart loaf pan.
Mix dry ingredients and set side.
Cream the butter and add the sugar in a food processor or similar.
Add eggs, one at a time.
Add vanilla.
Add pumpkin pureé.
Slowly add the dry mixture.
Add milk.
Add chocolate chips.
Add dough to the pan.
Bake at 350 degrees for 1 hour to 1½ hours or until done in the center.
Gilda Claudine Karasik
Gilda Claudine is a lawyer and freelance writer. She blogs about Mexican food and culture at www.dosgildas.com and about writing at www.dkwritings.wordpress.com. She is currently working on a her first novel.