This dish came about after a trip to the farmers market where Laura Bednarski found English peas. They are scarce in the Midwest so when she finds them she's gleeful.
By Laura Bednarski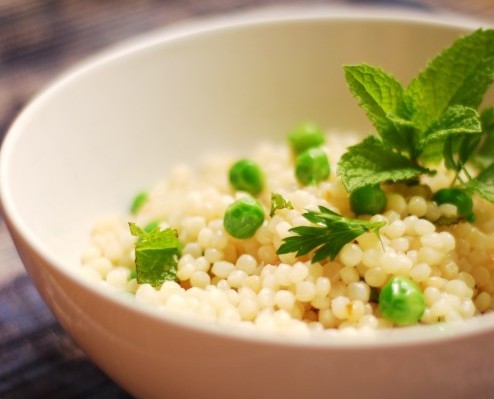 Cooking dinner for father's day I had steak on the grill, potatoes roasting, farm fresh tomatoes sliced and peas from the market. Now what to do with those peas?  The first thing that came to mind was risotto. No that would not quite go with the menu and too hot a dish for a summer meal. After scouring the cupboards I found a box of Israeli couscous. This became my inspiration for the recipe that follows.
Israeli couscous is sometimes called pearl or maftoul. It is larger than Moroccan couscous and it's pearly round shape reminds me of tapioca although the taste is nothing like it.
Israeli Couscous with Fresh Peas
1 box Israeli couscous, prepared as package directs
2 Tbsps (14.78 ml) extra virgin olive oil
½ large shallot, diced
1 cup (227 g) fresh English peas, blanched
salt and pepper to taste
mint and Italian parsley, chopped
1. Saute shallot in olive oil until translucent. Add cooked couscous and blanched peas. Season to taste with coarse salt and pepper and chopped herbs.
2. When you have fresh ingredients at the peak of their freshness there is little you need to do to make a winning dish.
3. This couscous is easy and is a perfect side for summer meals. Would travel well so great for picnics too.
Laura Bednarski
Laura Bednarski is a regular contributor to Honest Cooking. Laura has always had a love and passion for both food and photography. She pursued a degree from Purdue University in Food Science and then went on to work as a commercial food stylist in Chicago for many years. While raising her two children and cooking at home for a family she picked up her camera and found some great light and created a food blog "a suburban kitchen". In her suburban kitchen she creates seasonal food for her family and takes photographs. Her love of photography has been rekindled and her Nikon gets a workout on a daily basis as she searches for the perfect light to photograph all that she cooks/bakes.