A favorite childhood breakfast made with fresh fruit from a local farmers market. A treat that can be gluten free, vegan, dairy-free, and sugar-free.
By Terra Baltosiewich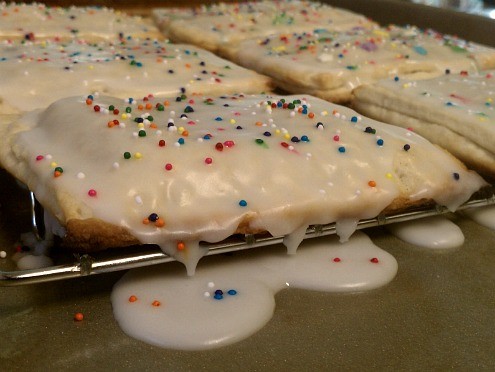 As a child a simple, sugary breakfast was always top choice. A pop-tart, cereal, or maybe a giant cinnamon roll right before all your classes start.  Then half-way through your first class you feel like just curling up in a corner and sleeping for the rest of the day.  Those were some great childhood memories.  Pop-tarts were the top choice, more flavors have emerged, and even a carrying case has been created for them.
Instead of eating a processed, high sugar breakfast in a box, grab a homemade pop-tart instead.  You can choose how much sugar will be added, and even make it gluten-free.  The fruit in the center will be real fruit, maybe fruit you just picked up at a farmers market.  You can add glaze to the pop-tart, or keep it plain.  The options are endless.  More people will be able to enjoy them, and you may stay awake through that first class.
These homemade peach pop-tarts were inspired from a trip to a local farmers market in Savannah, GA.  Instead of the normal jam that is used in the center of the pop-tart, cook down your fruit of choice.  You could cook down rhubarb, or apples, or even some apples with butternut squash.  Sneak those vegetables wherever you can for your child.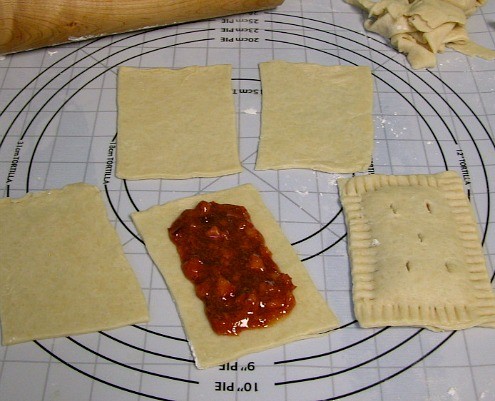 A favorite childhood breakfast made with fresh fruit from a local farmers market. A treat that can be gluten free, vegan, dairy-free, and sugar-free. Perfect for any palette!
Author:
Terra Baltosiewich
Ingredients
Crust (Recipe adapted from Chef2Chef.net)
2 cups (500g) of flour
tsp salt
⅔ cup (141.8g) unsalted butter, cut into small cubes
6-8 Tbsp cold water
4 Tbsp sugar (optional)
Fruit compote:
3 fresh peaches, chopped (or any fruit/vegetable of choice)
4 Tbsp brown sugar
tsp vanilla
tsp cinnamon
1 Tbsp cornstarch
Pinch of salt
Optional Glaze-
1 cup powdered sugar
2-3 tsp almond milk
Instructions
In large bowl, mix flour, salt, and sugar together, add cubed butter, with pastry mixer, or your hands, mix butter into flour mixture. Once mixed, add water, bring dough into a ball, cover and let chill for about 2 hours. This dough can be refrigerated for up to 5 days.
In small sauce pot, add peaches, brown sugar, vanilla, cinnamon, cornstarch, and salt. On medium heat, cook down mixture, do not let mixture boil. Let cool in separate bowl. This peach compote can be held in refrigerator for up to a week. Depending on which fruit you use, the compote may look like a thick sauce, or a chunky sauce.
Preheat oven to 425 degrees Fahrenheit
Spread out a small amount of flour, roll out half of dough ball paper thin, cut edges off, measure and cut rectangle squares, about six rectangles. Roll out second half of dough, and repeat process.
Take a heaping teaspoon of fruit compote on one rectangle of dough, top with second rectangle, use fork and mark edges of pop-tart, make about three to five slits in top of pop-tart. Place on greased baking sheet. Bake for about 7-8 minutes depending on oven, bake until golden brown.
Drizzle glaze on top of pop-tart, then decorate with colored sprinkles. Let glaze harden.
Notes
Cook time depends on oven - bake poptart for about 7-9 minutes.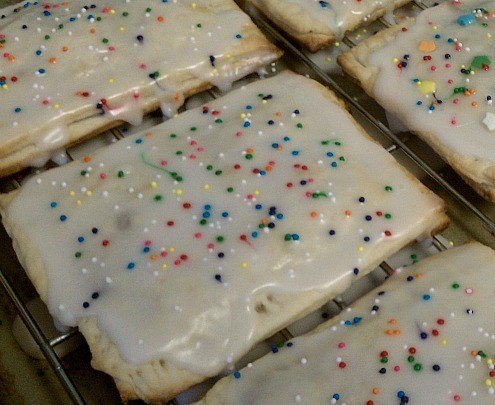 Terra Baltosiewich
Terra is the author of the food blog "CafeTerraBlog." She shares healthy recipes, along with a few "unhealthy" treats. Not only is she a food blogger, she is also a romance author. In each romance book she shares recipes made by the characters, you can find out more about her romance books at TerraKelly.com. She and her husband live in Charlotte, NC with two cats and a dog that loves leftovers.