Ruby Moukli serves her own take on her Nan's fantastic Easter Trifle.
By Ruby Moukli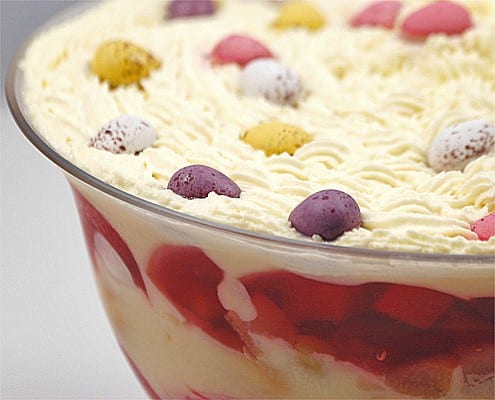 Do you remember that episode of 'Friends' where Rachel makes a 'Traditional English Trifle' with a layer of ground beef because she confused the recipe with Shepherd's Pie? Luckily we're not all as ditzy as Rachel and, when recipes cross borders, most people do get it right.
My British grandmother brought this trifle recipe over to America from England when they emigrated in the early 1960s. The recipe has the stamp of post-war rationing all over it. Full of store cupboard finds, the only fresh ingredient is the whipping cream on top. Over the years I think the original ingredients were replaced with American ones, such as instant 'Jell-o'. The result is a cheap and cheerful, and very easy, dessert that looks deceptively difficult to the untrained eye. Perfect for occasions when you want to impress, but have a million other things to be doing than slaving over one dessert all day.
I suppose I could try and recreate the original from scratch, in a misguided search for purity. I say misguided because I know the result wouldn't taste anything like what I'm used to from Nanny's trifle. Let's face it, when I make Nan's trifle I want Nan's trifle. I want to relive the combination of flavours, textures and sensations that is unique to her recipe and that brings back floods of memories of gleeful childish gourmandise.
So I make this hybrid recipe every year. It wouldn't pass muster with the food police, full as it is of processed and prepared ingredients. But you know what? There's a time and place for everything, even guilty pleasures like this one. I serve it once a year, often at Easter rather than Christmas (as is traditional in the UK) because, to me anyway, it feels a lot more like spring than winter. And it is consumed in grateful silence by family and friends, even the gourmets among them. Come to think of it, they're probably just glad I left out the ground beef.
See Also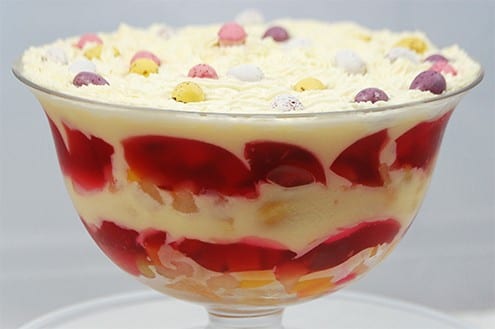 Makes one large trifle (as pictured). All measurements are very relaxed, as much will depend on the size of your serving dish and whether you're making one large trifle or individual ones (in wine glasses or champagne flutes for example).
Ingredients
Sponge cake to cover bottom of dish twice (plain angel cake or lady fingers work well)
A few large spoonfuls of raspberry jam
Generous splash of sherry
2 large cans fruit cocktail (save juice for jello)
2 packets instant raspberry gelatine (Jell-o or similar)
2 cups (500 ml) prepared vanilla custard (such as Bird's) or pudding
1 cup (250 ml) fresh whipping cream, whipped
Handful of small, candy-coated chocolate eggs, to decorate
Instructions
Line bottom of dish with slices of sponge cake.
Spread jam over cake.
Cover and soak in sherry (the more the better, said Granddad as he nudged Nan's pouring arm, but this can be left out if you prefer)
Add a layer of fruit.
Pour jello mix (made with the juice from the fruit in lieu of water) on top.
Refrigerate and let jello set.
Spread prepared custard over jello layer.
Cover in plastic wrap to avoid a skin from forming and refrigerate.
Once custard is set you can either proceed to next step to finish trifle or go back to #1 to add another layer, depending on how deep your dish is. It may be easier in that case to make the jello in a separate bowl and spoon it on once almost set. (That's how I did the one pictured.)
Top with whipped cream and decorate as you wish.
Notes
1. Nanny decorates her trifles with the more traditional glacé cherry halves and slithered almonds, but I like to use the chocolate eggs (as above) for Easter, or else fresh fruit or flowers. Be creative! 2. Trifle is best when made the day before you plan to serve it, but only add the whipped cream no more than a few hours prior to serving or else it will droop and look sad. 3. Yes, I serve this to my kids complete with sherry. What little there is in each portion is negligible (no more than cough syrup anyway) but if you're uncomfortable with that then by all means leave it out (or make two - one with booze and one teetotal).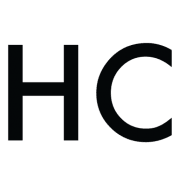 Ruby Rasa
Curious about her British mother's seemingly bizarre love of cheese & onion sandwiches, Ruby moved to England and discovered an island full of people eating them. She now lives among them, works as a freelance writer and photographer and yes, occasionally enjoys a good cheese & onion.