Try this British spin on a San Francisco classic: cockle chowder in a Bread Bowl
By Ruby Rasa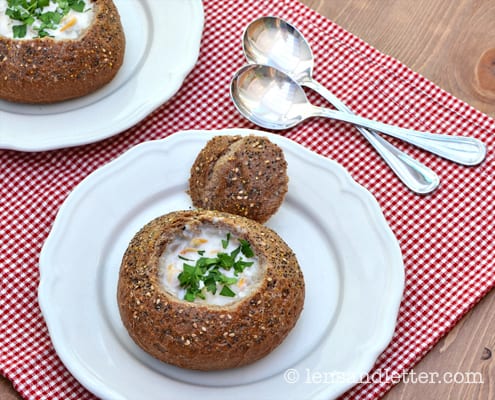 When the sun comes out, I start thinking about road trips. Every time I gas up my car, and the display tells me I can now travel 500 miles before having to stop again, my mind runs wild with the possibilities. I can't help it – road trips are in my blood.
Growing up, our favourite (and mine still) was to drive the snaking coastal Highway 101 all the way from Seattle to Los Angeles. Day 3 was always a gastronomic wonder, starting with a lumberjack breakfast in the Northern California redwoods, lunching picnic-style among the vineyards north of Napa and, finally, crossing the Golden Gate Bridge in time for a sunset dinner at Fisherman's Wharf. The San Francisco classic: clam chowder in a bread bowl.
I have recreated it here in the UK, with a few regional substitutions. Sourdough bread bowls are hard to find, so I take what I can get. Instead of clams I use more local cockles. And finally, instead of sitting 'on the dock of the bay', I carry a flask of chowder, a bread bowl and a rug to the top of the Chiltern Hills, where I am consoled by the sweeping view over the soft-focus English countryside.
But with every spoonful, if I close my eyes, I swear I can hear the foghorns in the distance.

A Bite of Britain: Cockle Chowder in Bread Bowls
A British take on a San Francisco classic
Cuisine:
British/American
Ingredients
3 sticks celery
1 onion
3 cloves garlic
½kg / 1 lb new potatoes
2 rashers streaky bacon (optional)
500ml / 2 cups stock (fish, vegetable or chicken)
100g / ¾ cup butter
75g / ¾ cup plain flour
600ml / 2½ cups single cream (half and half)
100ml / ½ cup semi-skimmed milk
100ml / ½ cup dry white wine
300g / 10oz shelled cockles (or 3 standard jars, drained)
2 tsp salt
½ tsp pepper
1 round, crusty bread roll per person
Handful of parsley, chopped, to garnish
Instructions
In a food processor, finely chop the celery, onion, garlic and potatoes put them into a large saucepan.
Cut the bacon into short strips and add to the pot, then cover with the stock and boil gently for 20 minutes.
In another saucepan, melt the butter then add the flour, stirring it into a nutty brown roux. Slowly whisk in the cream and milk, then the wine.
Stir the sauce into the vegetable pot, add the cockles and season to taste.
Carefully cut off the tops of the bread rolls and gently hollow out the insides without breaking the crust.
Ladle some chowder into each bowl, garnish with parsley and serve along with the lids for dipping.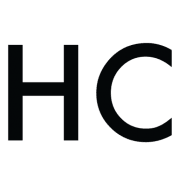 Ruby Rasa
Curious about her British mother's seemingly bizarre love of cheese & onion sandwiches, Ruby moved to England and discovered an island full of people eating them. She now lives among them, works as a freelance writer and photographer and yes, occasionally enjoys a good cheese & onion.