Although some beer purist maintain that mixing a beer with anything other than a cold glass is sheer blasphemy, the trend is catching on and the idea is being embraced and celebrated by more and more craft beer enthusiasts.
By Jackie Dodd
As the summer heats up, so does the craft beer movement. And with it, a sub-movement of creating cocktails that highlight the fantastic flavors in beer. Although some beer purist maintain that mixing a beer with anything other than a cold glass is sheer blasphemy, the trend is catching on and the idea is being embraced and celebrated by more and more craft beer enthusiasts.
Beer cocktails are being produced and explored by bars all over the country and the preoccupation breweries are showing with distilling spirits other than beer has given rise to beer mixology at brew pubs and beer festivals everywhere.
"Beer mixology is not about destroying beer. It is not an attempt to make beer better or to alter and change the quality and flavor of beer…it is about improving the cocktail." Says Ashely Routson, founder of BeerMixology.com and DrinkWithTheWench.com as well as Director of Awesomeness at Bison Brewery. With an improvement of the cocktail, and the addition of craft beer, comes new territory, larger markets and the opportunity to introduce this liquor to those who have previously shunned it.
Whether you enjoy your beer in a can, bottle, shaken or stirred, there is a larger place at the brew pub for every alcohol consuming adult with the advent of Beer Mixology.
Here are five summer beer cocktails for your enjoyment and experimentation.
Beer type: Blonde Ale, America Pale Ale
Mixologist: The Beeroness
Photo: The Beeroness
Ingredients
2 cups strawberries, hulled and chopped
1/2 cup white sugar
1/2 cup fresh squeeszed lemon juice
1 large bottle blonde or pale ale (1 pint, 6 oz)
Ice
Method:
Add the berries, sugar and lemon juice to a pitcher. Allow to stand at room temperature for 10 minutes for the sugar to dissolve and the berries to begin to break down. Add the beer and ice and stir to combine. Adjust the lemon and sugar to your taste.
*Tip: If you don't want the punch to become watered down by the ice, freeze either lemon juice or beer in ice cube trays the night before, using that in place of ice in this recipe, adding a bit more sugar to combat the bitterness/tartness that will increase as those cubes melt.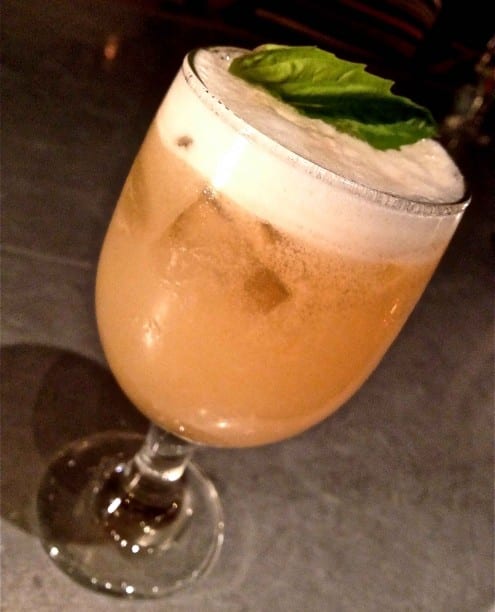 Beer type: Honey Basil Pale Ale, Bison
Mixologist: Ashley Routson
Photo: Ashley Routson
Ingredients
1.5 oz. St. George Botanivore Gin
.5 oz. fresh lemon juice
.25 oz. fresh lime juice
.25 oz. organic clover honey
2 oz. Bison Brewing Honey Basil Ale
2 fresh basil leaves
Method
1. Add the gin, juice & egg whites to a shaker pint. Place one leaf of basil in your palm and "spank" it with the fingers on your other hand. Tear basil gently and add to shaker pint.
2. Add ice to shaker pint, then pour honey on top (this prevents it from being stuck to the bottom of the pint glass). Shake all of the ingredients vigorously to emulsify the egg whites, macerate the basil, and incorporate the honey. Strain the mixture over ice into a glass. Top with the beer.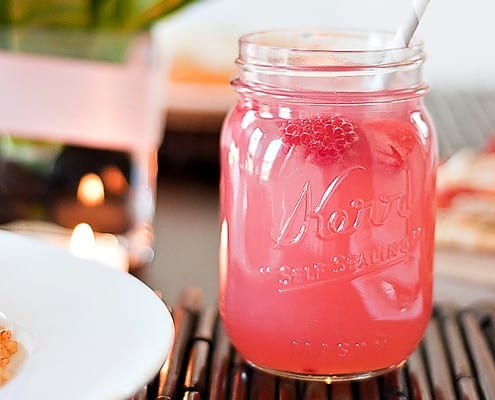 Beer type: Mexican beer, Pale Ale
Mixologist: A Cup of Mai
Photo: A Cup of Mai
Ingredients
1 cup of fresh raspberries or frozen
4 bottles of corona (12oz) beer, chilled
1 container frozen raspberry lemonade concentrate, thawed or pink lemonade
1/2 cup good quality vodka
Garnish: lemon slices, or raspberries.
adapted from Southern Living
Method
In a large container stir together the  first 4 ingredients. Serve over ice.
Garnish with raspberries.
To make ahead, stir together lemonade concentrate and vodka in a large container.    Stir in raspberries and beer just before serving. Garnish, if desired.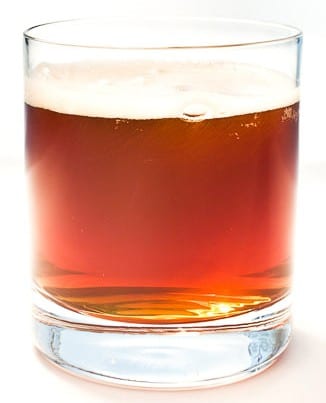 Beer type: Brown Ale
Mixologist: Virtue Feed & Grain Via Bon Appetite 
Photo: Zach DeSart
Ingredients
1/4 cup Brown Ale (such as Brooklyn Brown Ale)
2 tablespoons bourbon (such as Maker's Mark)
1 teaspoon Southern Comfort
1 teaspoon pure maple syrup
Method:
Combine all ingredients in a cocktail shaker. Fill with ice; stir gently for 10 seconds. Strain into an Old Fashioned glass.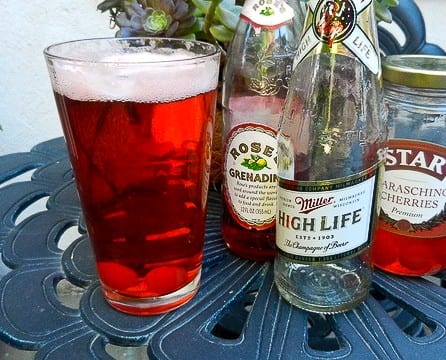 Beer type: American Pale Ale
Mixologist: Sarah Sprague
Photo: Sarah Sprague
Ingredients:
1 shot (1 1/2 ounces) grenadine
1-2 maraschino cherries
12 oz. Beer
Method:
Add the grenadine and the cherries to the bottom of a pint glass, add the beer. If you want, you can fool around and make it a bit more sour with kirschwasser or cherry bitters, but I found that they took away from the traditional Shirley Temple profile.
Jackie Dodd
Jackie Dodd is a California based food blogger who's passion for local ingredients began during her years growing up on farm in Eastern Washington surrounded by apple orchards and peach trees. She is now happy to focus on California produce, and has a passion for baking. Along with her websites, www.domesticfits.com and www.thebeeroness.com, she also writes a column for the Glendale Examiner.