An Interview with 5 Star Michelin Woman Carme Ruscadella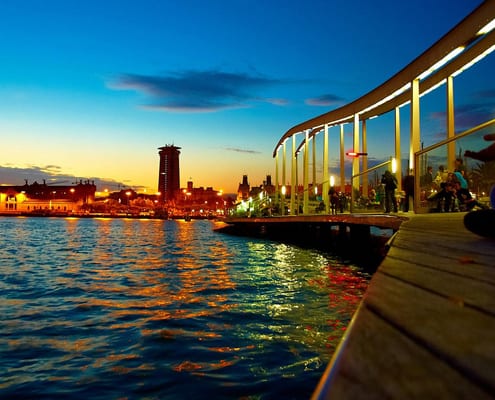 Carme Ruscadella´s Maresme Restaurant Sant Pau, is both global and true to its roots. Charismatic, and charming, Carme is a woman who talks about many of life´s vital aspects utilizing food as a metaphor.
By Margaux Alexandria Cintrano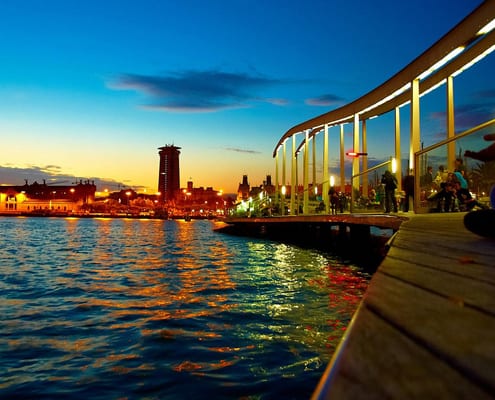 Carme Ruscadella´s Maresme Restaurant Sant Pau, is both global and true to its roots. Charismatic, and charming, Carme is a woman who talks about many of life´s vital aspects utilizing food as a metaphor. What´s more, she is a firm believer in the legendary Roman saying;  "Adage a tavola si sta sempre", which denotes, "At the table, one is always happy". She should know what she is talking about, she is Spain´s only female chef with 5 Michelin Stars, three in Barcelona, and two in Tokoyo, Japan. Far from the bustle and bright lights of the big city, Ruscadella works and creates in Sant Pol de Mar, where she was born and raised. It´s a picturesque, upscale seaside beach front town with an unusal merger of the quaint and historic and the innovative. Surrounded by the sounds, aromas and sights of the blue Mediterranean Sea, and with Carme´s own superb art collections on the walls, their restaurant has become a world class establishment. Dining at this 36 table venue, which is situated in a seafront 1881 renovated townhouse villa with lovely herbal gardens, is an event suitable for a truly special occasion. This extraordinaire place, and starting with Carme´s hand drawn, water color cartes, and moving through her amazing dishes from beginning to end, one senses the breath of her creativity and ingenuity.
Tell me about your Michelin Star Status.
Carme: In 1989, my husband and I had a humble seaside bar and specialized in organically grown vegetables, fruits and local gastronomic fare, long before it had become fashionable on the Iberian Peninsula. Locals raved and then, visiting tourists. The 1st Michelin inspectors arrived in 1991. After their visit, we were notified, we had earned our 1st Michelin Star. Shortly afterwards, we  had  renovated the restaurant. In 2000, we refurbished the restaurant, expanded the wine cellar and hired additional staff. That was followed by a 2nd Michelin Star. Little by little, we climbed the ladder, and made the necessary improvements for the ever growing business. In November 2005, we received a long distance phone call, while on vacation, and  were told, Restaurant Sant Pau was awarded its 3rd Michelin Star. To date, we have 36 tables, and 35 employees.
You have stated, that you present your dishes as if they were contemporary paintings.

Carme: I love to draw and paint in watercolors, and am an enthusiast of Catalan painters Reira Arago, Joan Miró and Tàpies to name a few. They are very inspirational for a culinary artist. The bright sunflower yellows and Mediterranean blues for example, the colors of the exterior of our restaurant, resemble Artist Frida Kahlo´s indigenious Mexican flowers. I draw and paint over a total of 60 lunch cartes and 60 dinner menus a year, and 12 monthly cheese bill of fares.
Tell me about your other restaurants.
Carme: I have a two star Michelin venue, Restaurant Sant Pau in Tokoyo, Japan. I am enchanted by the Japanese esthetic, their culinary presentations and their raw materials. The visual is first, then the taste, followed by aftertaste or post bite and then, the textures.
What do you recommend for first timers visiting Sant Pau ?

Carme: We recommend our seasonal, changing Catalan, Mediterranean and international taster´s menu with expertly paired wines and liqueurs from the world´s best appellations.
How would you describe yourself both professionally and as a woman?

Carme: I am extraordinarely detail-oriented and a non conformist. Very regimented professionally.
And the Restaurant´s ambiance and formula?

Carme: The perfect formula for an unforgettable meal is a few delicious hours at our bewitching candle lit venue, with sea views and then, sharing dessert and café in our herbal garden facing the sea.
Margaux Alexandria Cintrano
Margaux Cintrano is a publishing journalist since her 1st article appeared in the Star Weekly, August 8th, 1978. Since, Margaux has published articles and columns throughout the USA, Paris, and Spain, where she is the Food and Wine Editor of the oldest English language Magazine in print and recently blogs, in: The Guidepost www.guidepost.es and her older daughter´s own website, www.internationaltravel.ws - Margaux was born in Manhattan, and she is of French Swiss descent on her maternal side, and northern Italian on her paternal. Her grandmother owned and operated a trattoria, and influenced her great love of gastronomy, wine and travelling at a very early age. She is presently living in Spain for professional commitments and owns a small condo on the Adriatic in Italy.