The perfect itinerary for a quick trip to Seoul.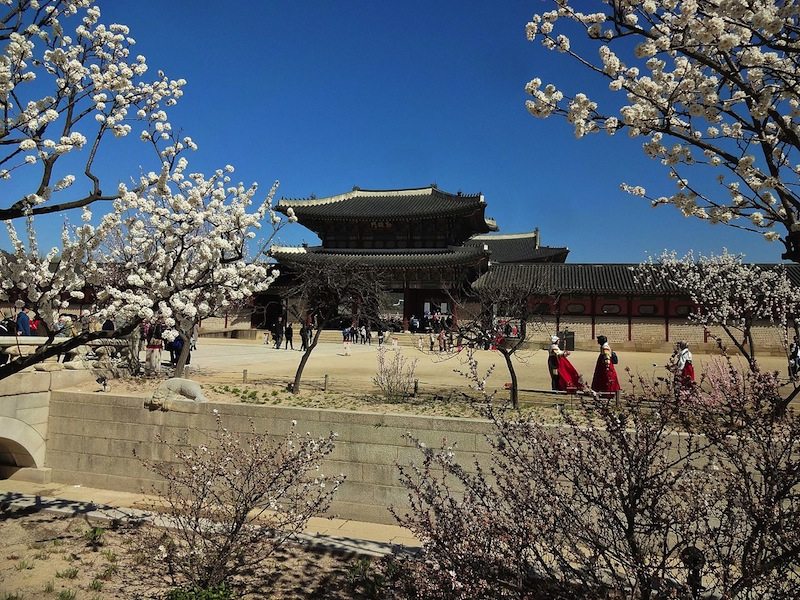 After years of flying to Asia from the west coast I was intimately aware of every square inch of South Korea's Incheon International Airport since most flights include a lengthy stop over here. However, in all those trips I never stepped foot out of the airport to explore Seoul. My only excuse is that Incheon is an incredible airport, complete with a top spa, skating rink, golf course, casino, and a plethora of international restaurants. Last month, while doing some research for an upcoming trip to China for a fabulous Viking River Cruise, I read that Asian tourists rank Seoul as their favorite world city! They obviously knew something I didn't, so I decided that this time I was going to include a weekend stopover to see for myself what this capital city has to offer.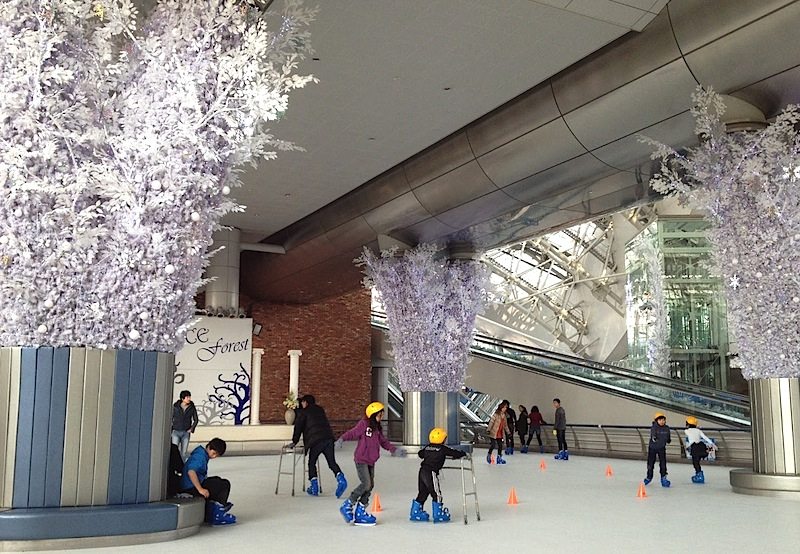 All I really knew about Seoul was that this modern looking city is over 600 years old, they really like kimchi, it will be the site of the 2018 Winter Olympics, and with Trump's finger hovering over the Twitter button I had no interest in going to the DMZ. Also, since Seoul is the world's second largest metropolitan area, has over ten million people, and few, if any, English street signs, I knew that if left to my own geographically-challenged devices, I would spend my two days stay there hopelessly wandering in circles.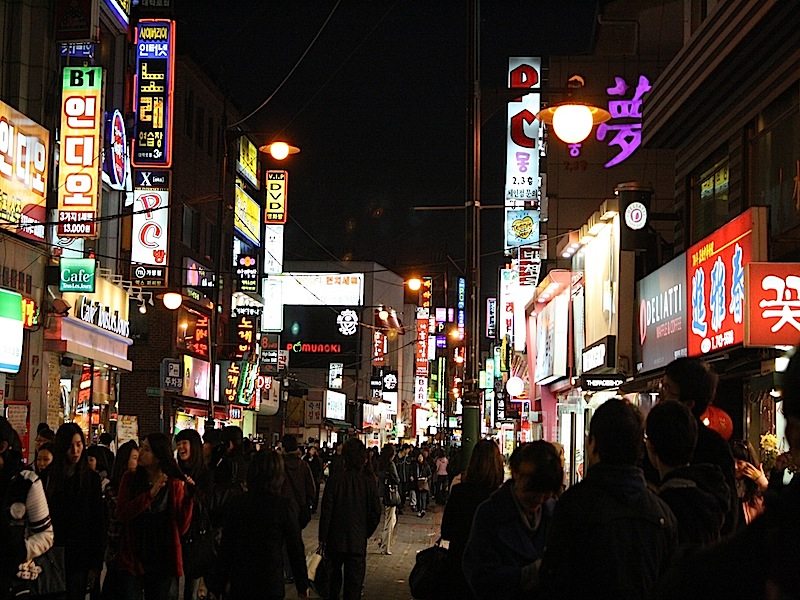 Enter Remote Lands, an Asia-focused, bespoke travel designer to save the day. I contacted them explaining that I would sleep on the flight over so to please pack my short stay as full as possible. I was only interested in seeing the very best tourist sights, and the rest with places and things that would be fun for a Girlfriend Getaway such as: outdoor food markets, cultural scene, museums, local artisans, trendy neighborhoods and since it is known as the Cosmetic Capital of the World, I also wanted to stock up on their eclectic beauty and skin care products. In other words Seoul could be the poster child for a super fun, safe, and very tasty girlfriend getaway stopover!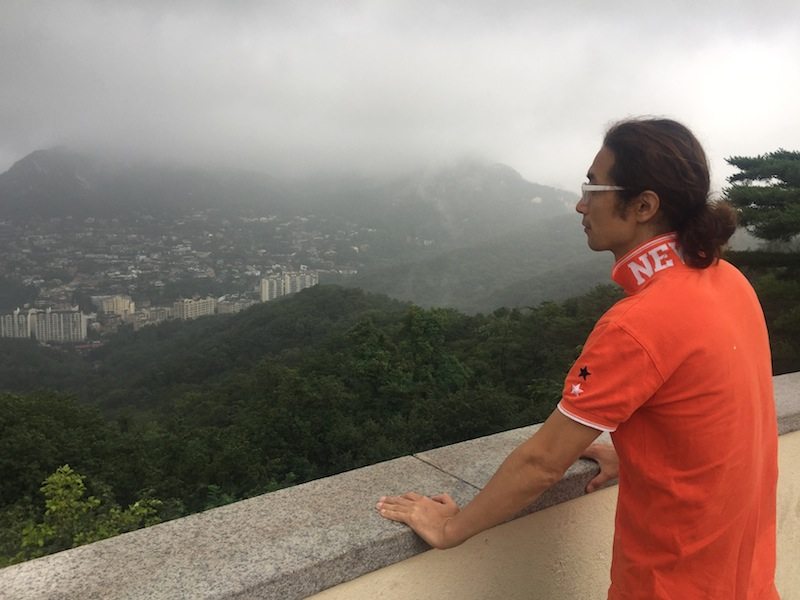 From the moment I was claimed at the airport by my guide "Elvis"(whose real name is Lee, Chung Hun) I was impressed by his enthusiasm, unlimited patience (even in horrendous traffic) and willingness to please. This was particularly evident (and hysterically funny since no guy wants to do this) when he was translating for me at the beauty store, trying to determine which facial would be best for my skin: a snail mucin (nice word for slime) skin-tightening facial mask or the placenta version, which promises to unveil baby-butt soft skin.
Day One
Fresh-faced from a massive 20-year-long restoration project, Gyeongbokgung Palace, Korea's most famous royal palace, once again proudly lives up to its name which translates to "greatly blessed by heaven". Built in 1394 and considered to be the heart of Seoul, try and plan your visit to take in the Royal Changing of the Guards ceremony, performed at 10:00 am and 2:00 pm.
Inside Tip: All five palaces offer free admission for visitors wearing a hanbok, the traditional Korean costume, which can be rented by the hour at many clothing shops nearby.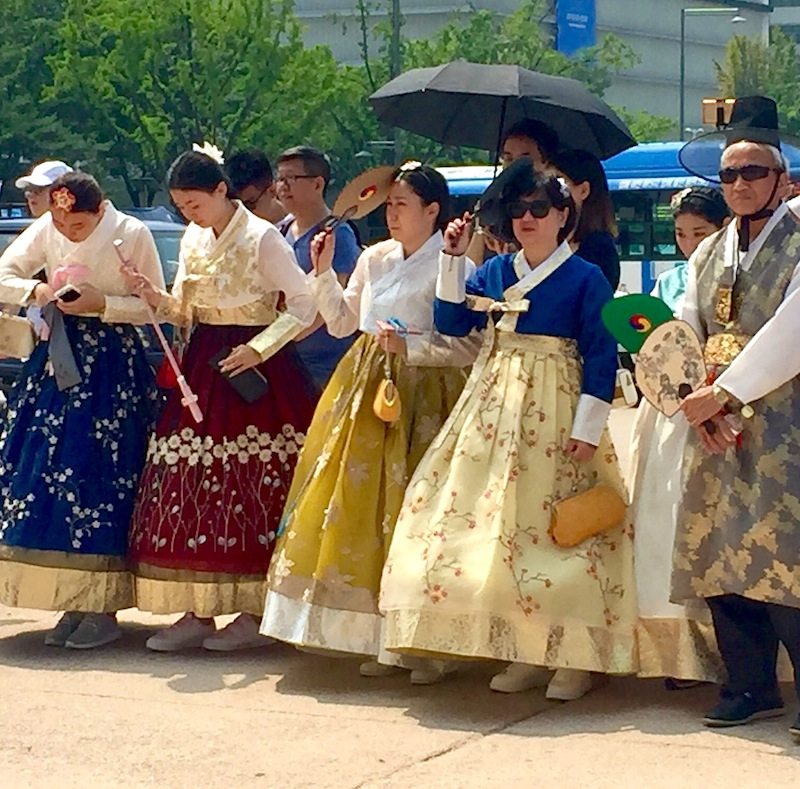 Head to the back of the compound where you'll find the National Folk Museum, filled with historical artifacts explaining the lifestyles and traditions of everyday Korean people during a time when the country was mainly agricultural. An interesting open-air exhibit consists of a recreated, early 20th century; Korean village surrounded by spirit posts and kimchi pots.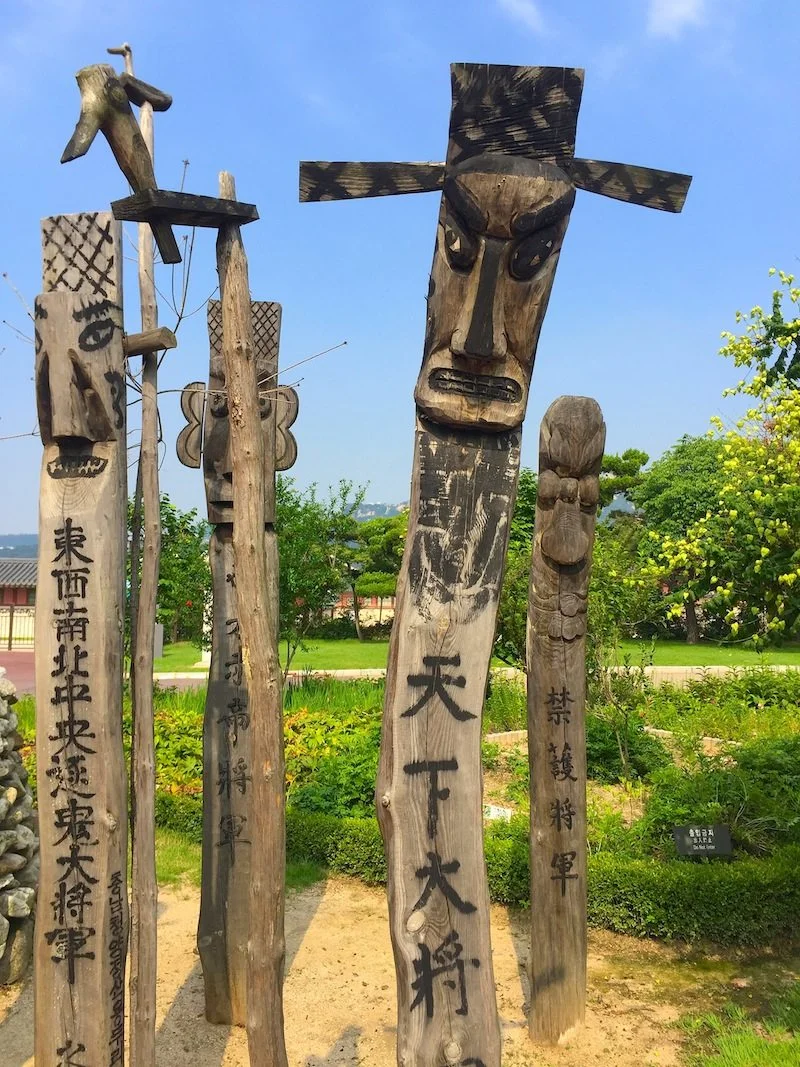 Pop next door to the UNESCO-listed Changdeokgung built in 1405 based on Confucian principles, and the most favored palace of many Joseon princes. Clear your mind during a peaceful stroll through the "secret" garden designed for scholarly reflection and a favorite photographer haunt.
Time for a progressive lunch through Tongin Market, where you can fill up on a variety of local taste treats for a handful of coins. Some popular dishes here are tokbokgi, toothsome rice cakes in spicy red sauce, chilled buckwheat noodles, kimbab, seaweed rice rolls, and a refreshing sikhye, a traditional sweet Korean rice beverage.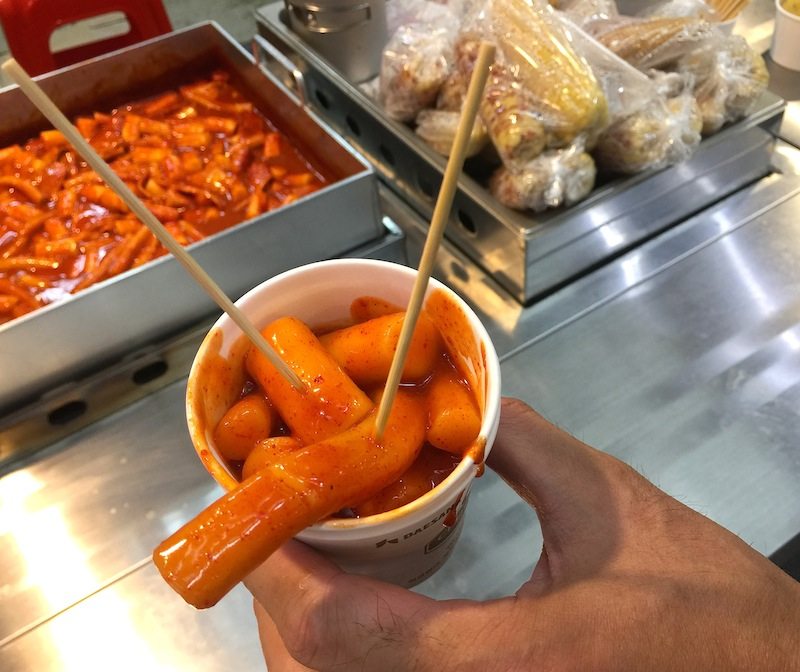 To get an idea of just how big Seoul is, head to Seoul N Tower, the highest point in the city. Ride the cable car to the observation tower for a sweeping view of the sprawling city.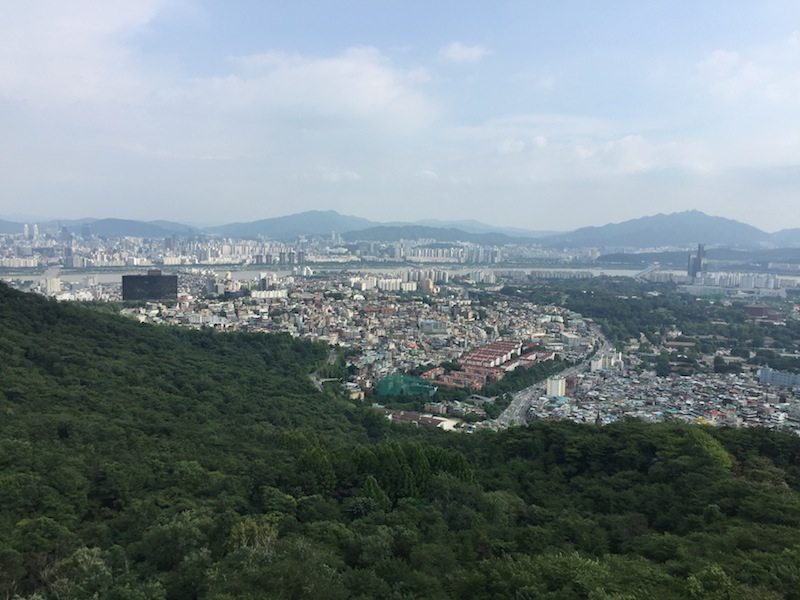 On the second floor of the tower you'll find the "Locks of Love" where thousands of colorful padlocks bear messages from couples declaring their undying love for each other.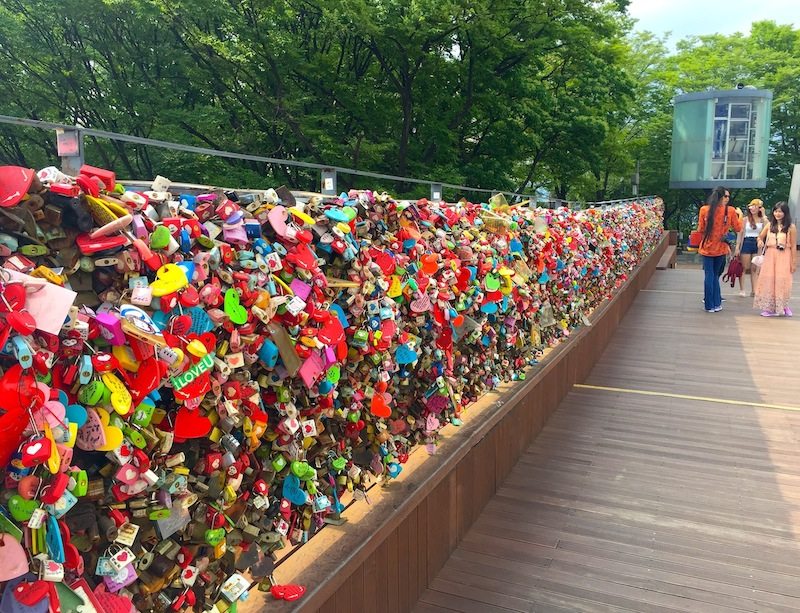 But time to scurry on since Elvis had made special arrangements for me to meet Kim Jeong Soon, a renowned hanji artist at her gorgeous boutique, Jonginamoo Gallery. Hanji is traditional handmade paper made from the inner bark of Paper Mulberry, a tree native to Korea that grows well on its rocky mountainsides. Kim Jeng Soon taught herself how to make the paper that she then transforms it into dramatic lanterns, screens, and bowls, which are snapped up by interior designers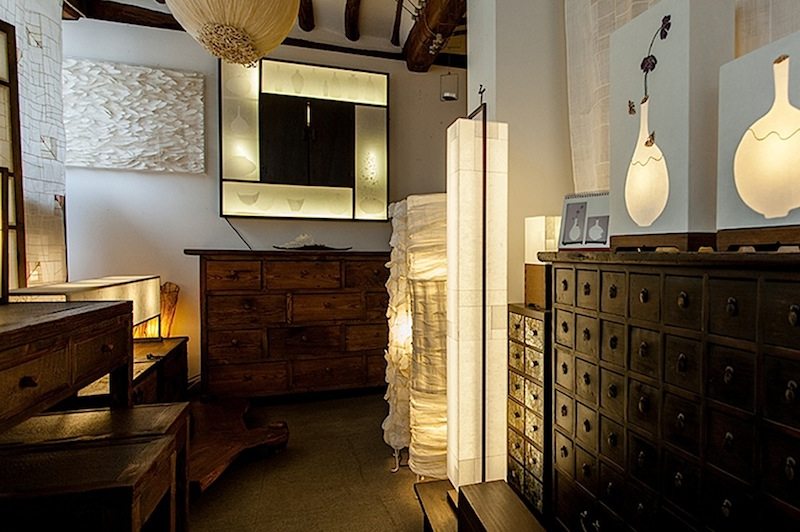 For the finest antique shops, art galleries and indie designer stores head to Insadong, the Arts District. Even if you don't need a new pair of glasses, stop into Gentle Monster, an uber cool eyewear store housed in what was once Korea's oldest bathhouse.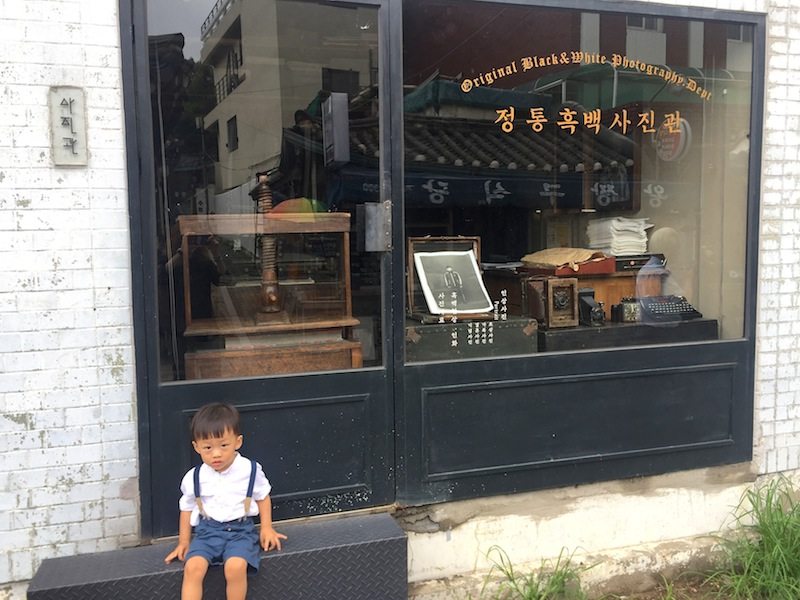 The gorgeous Korean celadon and porcelain pottery sold at Kwang Ju Yo offers easy, albeit pricey, gift buying. After all the shopping I was feeling a bit peckish since I hadn't eaten for the last hour so we refueled at the bustling, family-owned Michelin recommended café, Gaesung Mandu – Koong, serving plump, Gaeseong-style dumplings for three generations.
As you walk around, keep an eye peeled for some amusing store names. I'm not sure who did the English translation on the signs but I particularly loved the "Mafia Bakery" and the "Shut-up and Take" coffee shop.
When I couldn't decide if I wanted a tea or coffee break (coffee has become hugely popular in Seoul- so much so that the city now has more coffee shops per capita than Seattle, Starbucks' hometown!) Elvis decided to take me to the best of each.
He blew my mind when he introduced me to Lee Kang-bin, the owner of Cafe C.THROUGH and a leading barista in trendy CreamArt. Elvis had made an appointment for the coffee artist to "paint" me a cup of "Van Gough's Starry Night" for my sipping pleasure, just one of many of the drinkable works of art he creates. See this talented barista creating his masterpieces on You Tube.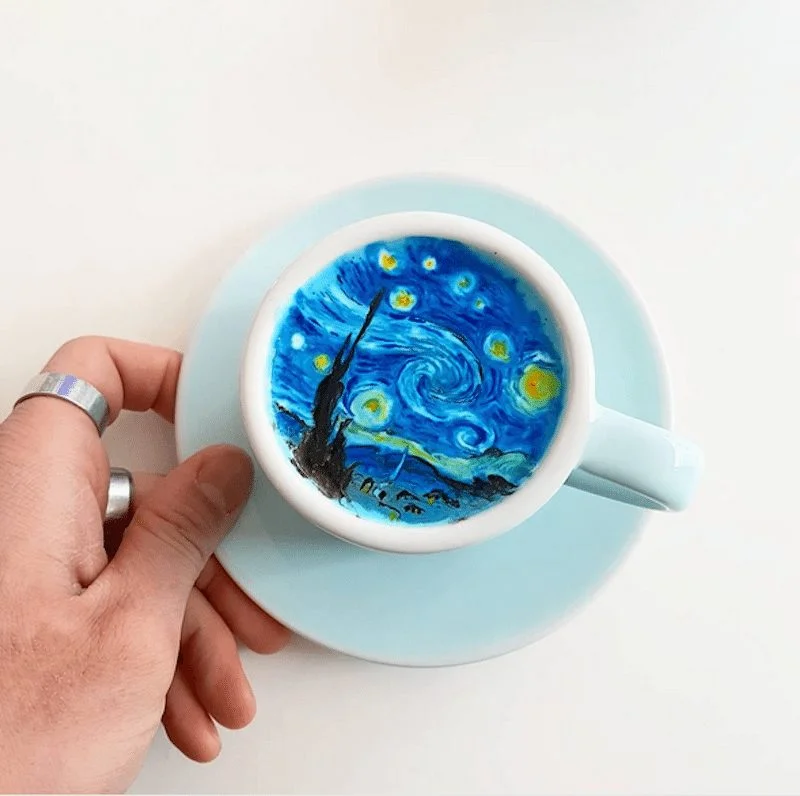 Inside Tip: Lee Kang-bina offers 2-hour CreamArt classes for about $50 with advance notice.
Typical of Seoul, a city that seamlessly blends the new with the old, we later took a welcome respite at a traditional Korean teahouse on a hilly street in Seongbuk-dong, called "Suyeonsanbang". This used to be the home of Sangheo (pen name) Lee Tae-jun, a well-known author who perfected the Korean short novel until his granddaughter turned into a hanok teahouse that serves a wide variety of teas and Korean snacks.
Day Two
We got an early start since you can easily spend the whole day immersed in Bukchon Hanok Village, where hundreds of picturesque hanoks (beautifully restored traditional houses built of natural wood and earth with small courtyards) have been preserved as cultural centers, boutique B & B's and tea houses). The government sponsors a fabulous traditional crafts program in Bukchon. Hands-on classes and demonstrations are offered daily, at numerous hanoks sprinkled throughout the area, showcasing master artists who teach everything from natural indigo dyeing to regional mask making. Don't miss a stop at the Samhae Soju Brewery for a tasting of this authentic spirit made from regular rice, sticky rice and malt.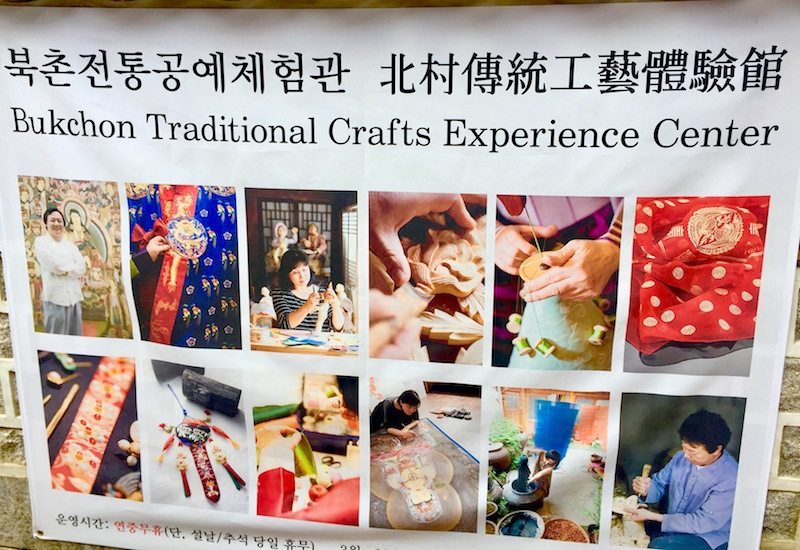 Inside tip: For a truly special place to stay book one of the five rooms at Bukchon's Rak-Ko-Jae. This 130-year-old Korean traditional house, which is surrounded by an elegant pavilion, lotus pond, patio, and relaxing yellow-mud sauna heated with firewood, is reminiscent of an aristocratic Chosun Dynasty home.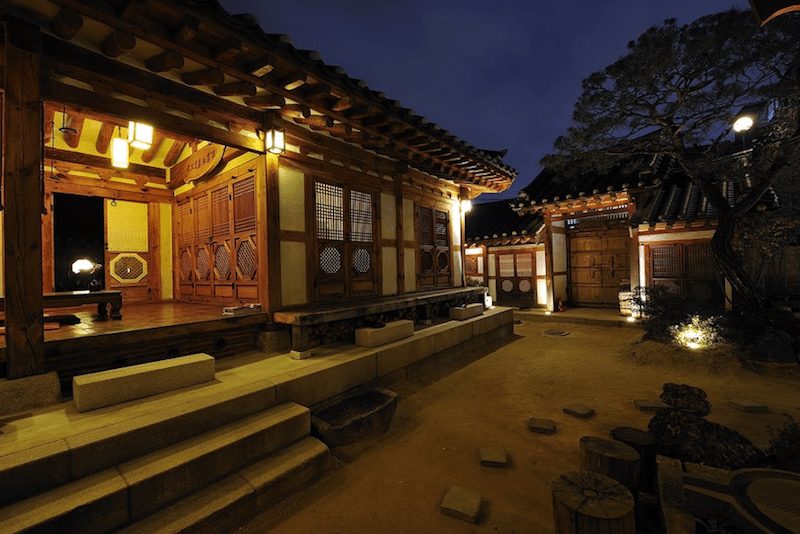 Eat, Shop and Eat some more in Myeongdong
The Myeongdong shopping districts, which attracts more than 1 million visitors every day, was conveniently located just steps from my comfy business hotel, the Westin Chosun Seoul. It is the epicenter of beauty shopping in Seoul, lined with blocks of beauty shops where the salesgirls wave you in offering free sheet masks =and other samples. The area was packed well into the wee hours with gaggles of young Seoulites searching out the latest trends from the 2,000+ cosmetic products (collectively referred to as "K-Beauty") that line the shelves at InnesFree, Etude, and Missha, the most popular stores.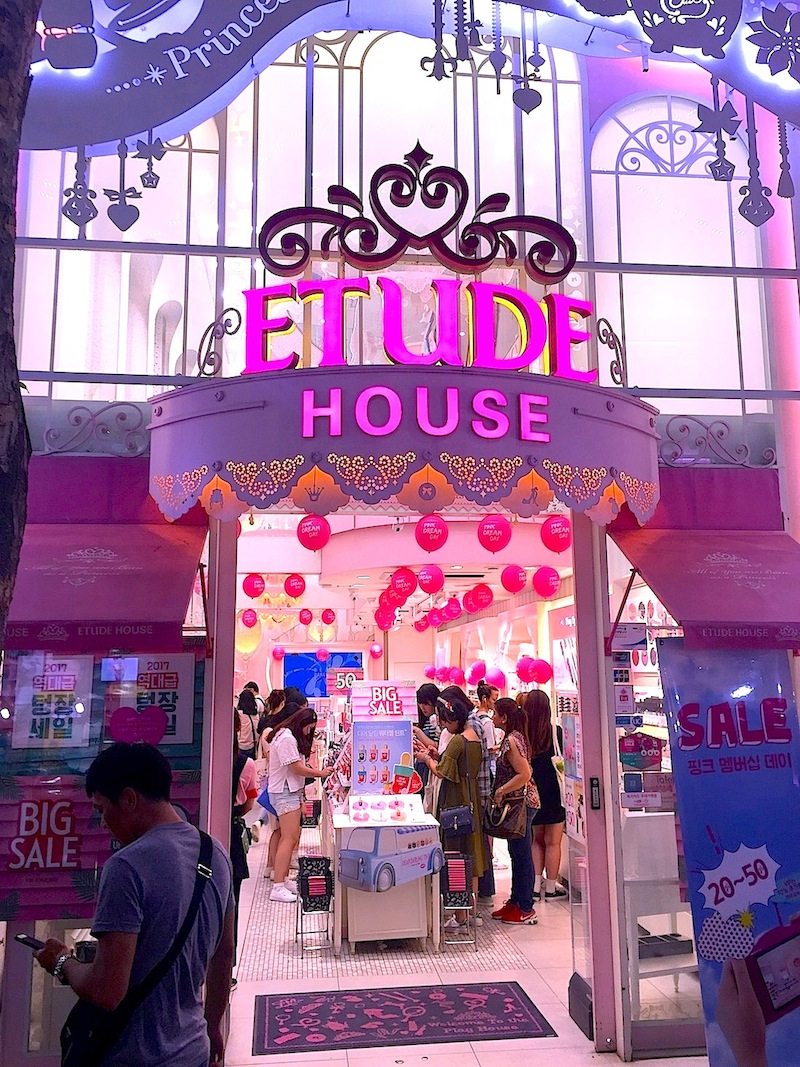 Inside tip: If unfortunately, you don't have plans to go to Seoul in the near future you can now buy many of these products on Amazon!
To help you stay strong there is no shortage of street vendors selling tasty snacks like sewoogui (salted and grilled shrimp), of if you're homesick you can opt for a hot dog encased in French fries followed by precariously tall twirled ice cream cones.
Night Shows
With only two nights in Seoul, Elvis wisely chose two yin/yang outings for me to experience. The first, while touristy, was an extremely well done, multi-cultural evening at The Korea House, where you can experience the history and beauty of Korea's culture as you dine on sumptuous royal cuisine based on recipes from the Joseon Dynasty.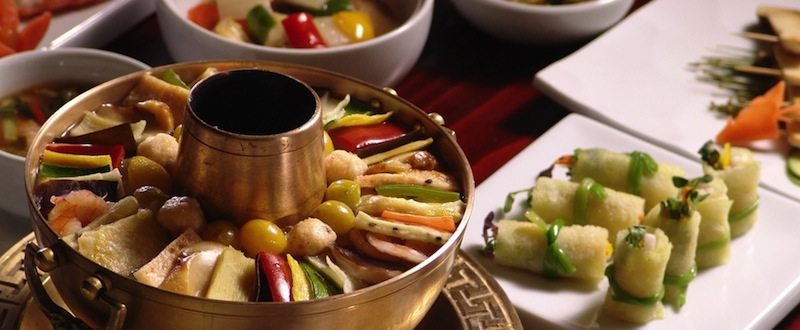 Adjourn next door for a mesmerizing stage performance involving traditional Korean song and dance as well as a novel pansori performance of Korea's folk tale, Shimcheong. This show is also a fave of the locals and has been performed over 16,000 times over 32 years!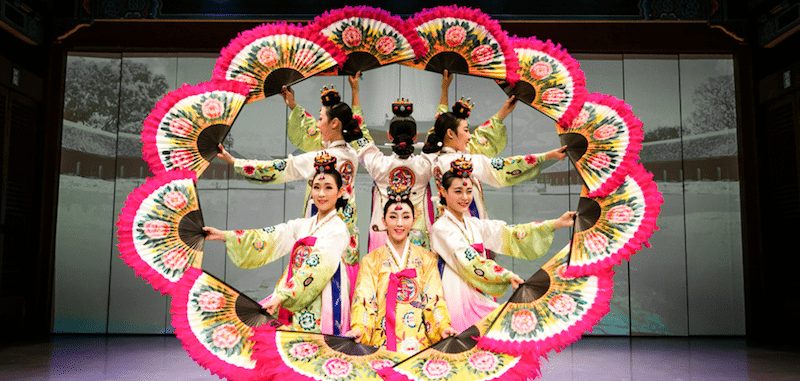 For a complete about-face, the next night we attended the exceedingly popular, wildly manic show, Nanta, that has enjoyed a 20-year run in Seoul. Although it's rather like a Korean version of a slap-sticky National Lampoon comedy I have to admit that I wasn't bored one second during the 100 minutes of the ear-splitting yelling, drum-pounding, produce throwing, broom fighting, and plate-tossing performance.
I left early the next morning, totally exhausted, extremely happy, stuffed, and eager for another Seoul stopover since I could barely scratch the surface. Next time I'm going for a complete make-over, a traditional spa visit, lots more street food, a visit to the fish market, and perhaps a ride out to the countryside. Not only is Seoul an extremely safe city, the people are exceedingly friendly and eager to help–in other words, nothing like the old Seinfeld Korean nail salon episode!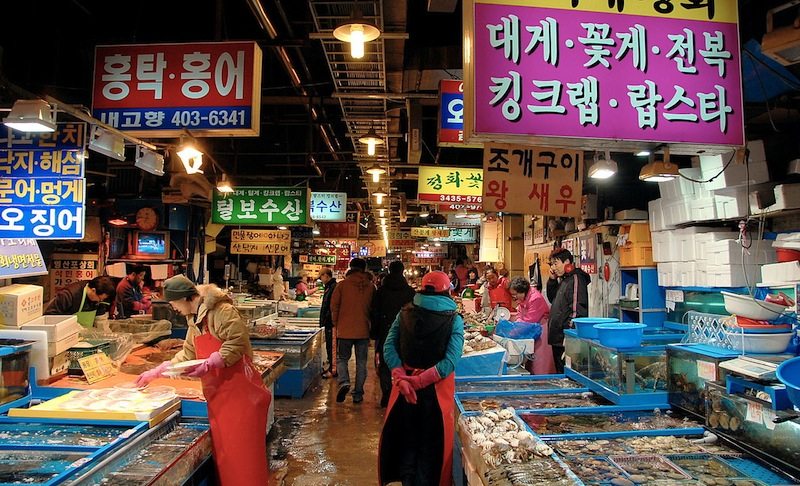 Janice Nieder
Janice could be the love child of Indiana Jones and Julia Child. She was a specialty food consultant in NYC with a client list that included Tavern on the Green and Dean & Deluca. A culinary trendsetter, Janice has visited almost 100 countries searching out gastronomic adventures. She might be found sharing a smoked monkey dinner with Shuar Indians in the Amazon jungle or "running with the dogs" while truffle hunting in Marche, Italy. To keep things in balance, Janice also writes about her Girlfriend Getaways, including everything from luxurious city penthouses and Michelin starred meals to bespoke travel in remote destinations. You can follow her travels at www.janicenieder.com