Rethink the pineapple. Check out these sweet and savory ways to eat the tropical fruit.
I recently visited my friends Halloween party and the pineapple was what he had used to make jack-o-lanterns. It was hilariously doofy as they were kind of scary and adorable at the same time. But truth be told, pineapples look weird!
However, these fruits have more to offer than the spiky look. If you are seeking to rein in on your dessert spending, worry no more. I have created the tropical dreams that you can make using this glorious fruit.
Grilled Pineapple
You probably may have thought that grilling is reserved for pork ribs. However, pineapples can be grilled. You can simply cut them into small cubes, and put them on a grill. You can also add coconut sorbet to make things even more interesting.
Honey roasted pineapple
Create a tongue twister of sweet and sour combo exploding in your mouth. You just slice them into small cubes, coat with honey, and roast until tender. This can be taken using vanilla, ice cream, or even coconut. Check out this recipe.
Pork and Pineapples
These two go well since the pork is salty in nature while pineapples are stocked with sweetness. When the two are cooked they will give a sophisticated interplay of a sweet, sour, and fatty recipe. Try this recipe.
Tropical Fruit Salad
An intermarriage of pineapple and other fruits gives an outstanding salad. And to take the notch higher, you can add lime juice to the salad. The results are heavenly!
Pineapple Marshmallow Salad
Innovation does not belong to Silicon Valley only. It can be exhibited in the kitchens too. You can mix mayo, pineapple, and marshmallows to create a salad that will bomb your taste buds.
Squid with Garlic and Pineapple
You can take the virtual trip to Vietnam for an exotic dish. With simple ingredients like toasted garlic, luscious pineapple pieces you are good to go. We all know the healthy benefits of garlic right?
Pineapple and Acorn Squash
Pineapple, sugar, butter, and squash sound like they can't ogre well. However, these simple ingredients can be fused and used to come up with a tropical flare engrossed with great, exotic flavors.
Pineapple Teriyaki Kabobs
Pineapple is terrific in teriyaki kabobs! Picture bell pepper, sweet onions, chicken and pineapples marinated for 30 minutes in teriyaki! The magic starts when you grill them. Summer doesn't get better than that.
Pineapple Jam
Make hay while the sun shines or so do they say. Make that pineapple jam for that cold winter day, simply by boiling grated pineapple, sugar and lime juice. You will be spreading your slices all the way through winter. Check out this recipe.
Pineapple Fudge
Who thought that pineapple had such endless possibilities. Yeah, it is my single most emphatic work to come up with these creative dishes. By mixing dark chocolate with grated pineapple, you are setting yourself down the dangerous route of getting addicted to this fudge.
Pineapple Smoothie
Instead of that soft drink, that6 may come with detrimental health effects, why not try frozen pineapple smoothie? It's gratifying downing one folks. Alternatively cut into cubes, freeze, and tradeoff the ice cubes with the little buggers.
Garnish for Your Muffins
You will hate yourself for not knowing this all along as thin slices of pineapple and bake them can decorate your muffins. You may decide to shape them into little flowers before baking them since they will be soft.
Pizza Toppings
For that nostalgic smile on your face, I dare you to spread some slices of pineapple as your Hawaiian pizza.
Tart Pineapple Wedges
Yes, it's possible! Just make sure you first dip them into chili sauce and lime mixture. It's the best virtual holiday to Jamaica you will ever have.
See Also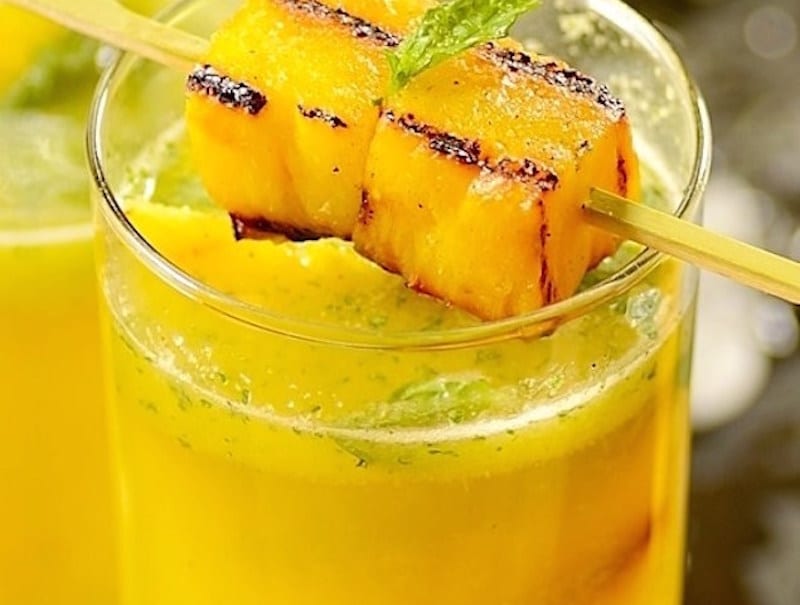 Pineapple Cheese Ball
You have a party over the weekend and want to make your friends "disserted"? simply mix cheese cream, crushed pineapple, green peppers, and salt. Leave overnight and indulge with your friends to castigate that hangover.
Pineapple ice cream
Go to the tropics without guilt by making pineapple ice creams from home. With the cream flavor of your preference, shredded coconut, and pineapple slices you are good to go. Simply grill the pineapple and top it up with as much fresh cream as the scoop can accommodate. Freeze and enjoy. Try this recipe.
Pineapple pancakes
You hear that right. Cook the pancakes normally, but before they dry up, add a pineapple ring and cook until golden brown.
Pineapple donuts
Donut o'clock will never be this anticipated. Cover the slices with dough and bake using butter until ready. Make sure that they cool before you start eating them to reduce any mess.
Pineapple cookies
Simply prepare cookies the way you would create ordinary cookies but pour grated pineapple on top before baking.
Vegetarian burger
For those who loathe meat, you don't have to remain behind when others are eating burgers. You can simply place slices of pineapple inside and choose other vegetables for your toppings.
As you have seen, the possibilities of a pineapple are endless. However, take caution as they are perishable and should be used within 2 days.
We also wouldn't mind if you shared with us your favorite pineapple dishes or recipes.
Jane Grates
Jane Grates is an award-winning web lover and the co-manager of some amazing home & kitchen stuff and health sites like Monica's Health Mag, Fishing Gadget Hub and Fighting Report. Travel Scholar. Loves to sing.