Review – Rice Perfection at 15 East, New York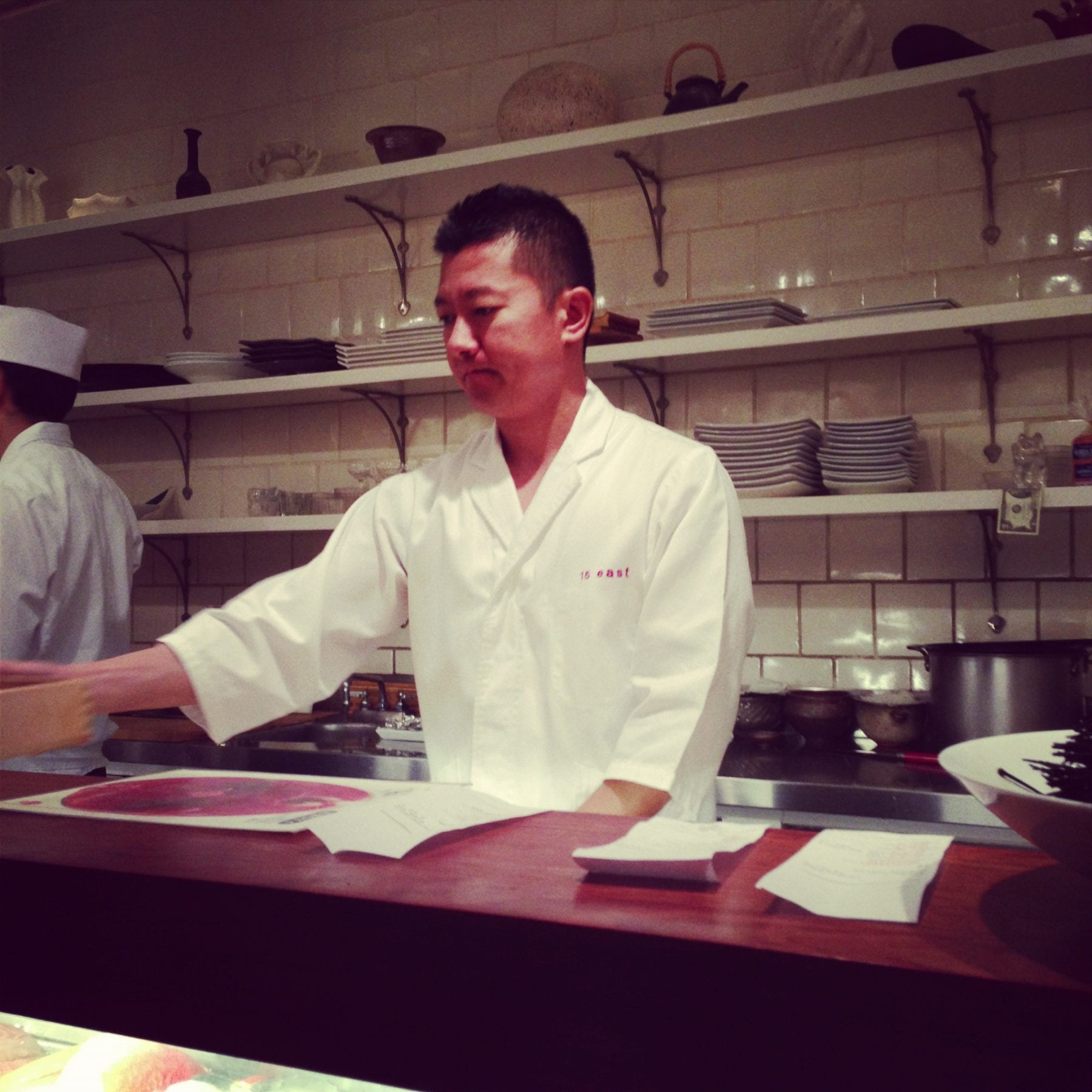 To eat at the sushi counter at 15 East is like being folded into the great embrace of a dear friend, comforting, loving and generous.
By Daniella Illerbrand
As far as sushi restaurant goes there are a lot of great ones in NYC and competition is tough.
My evening at 15 east started in the best possible way when I realized that my humble request of sitting at the bar instead of in the dining room had been heard. Although it specifically said at the online booking service that no reservations at the bar was possible I had taken a chance and written in the comment field that we would like 2 seats in the minimal bar area.
As luck would have it we got it. And it is by far the best place to sit at.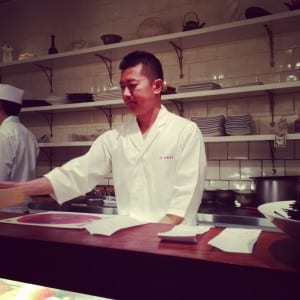 15 East is the sister restaurant of Tocqueville that has been around since 2000 and 15 East now resides in the place of where Tocqueville first opened.
We decided to start with the kumamoto oysters, they come served with ponzu granite, mitsuba leaf and house pickled turnip.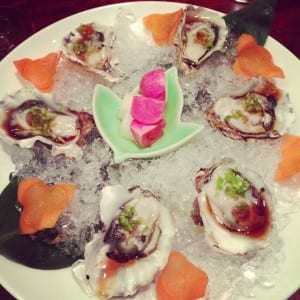 It was a superb way to start a meal, the oysters where plump and had just the right amount of texture and creaminess and the ponzu and pickles added a nice touch of saltiness and acidity, I would recommend two orders of that.
We also enjoyed the sashimi and tartar of bluefin tuna. The toro was just fatty and supple enough and the plate itself was beautiful.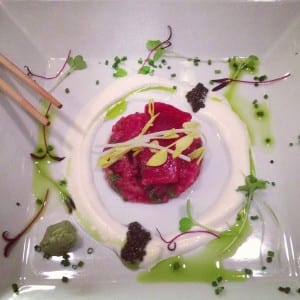 It is notable to mention that the cocktails at 15 East are wonderful as well, we tried the Lyche saketini and the passion fruit sake caipirinha, and since wine is rarely an option for me with sushi I dove in to the extremely vast sake list the restaurant boast. Only to surrender to the recommendation of the sake sommelier who certainly guided us in the right direction when suggesting the Tsukinokatsura "Kohakuko" Junmai Ginjo. It was the perfect match to the food and had wonderful flowery notes.
There is a lot to try on the 15 east menu and most of it sounds delicious, but it is difficult to combine an omakase tasting with a serving of their handmade noodles, or one of their bigger dishes, so therefor we settled on the omakase. If I had any complaints at 15 East it was just that, the menu is to big, there is to many things to try and one could wonder what the highlight of the restaurant is when there are so many options on the menu?
To many choices makes the man weary.
For our first piece came a perfect Japanese snapper, it leaned easily on the moist rice and promptly melted in your mouth. Next the Hamachi that was firm and fresh, now the flavors where slowly escalating. Then came a few pieces of tuna, first the Katsuo and then the Oh Toro, both equally enticing and tasty. The chef took the time to show us where the different cuts of tuna came from on the fish and it was nice to have such a prominent teacher.
After the tuna came a Sawara, a Spanish mackerel that was great but somewhat forgettable since the flavor of the tuna was still on your palate.
Then came a delicious scallop with the slightest bit of grated yuzu on top. So perfectly crisp in texture and almost sweet in flavor.
And then there was all the different Uni, Californian Uni from Santa Barbara, Uni from Main and Uni from Japan, so different in flavor, texture and appearance. But they all had that amazing ocean flavor that is so specific to a great Uni.
The one thing about 15 East that makes it stand apart from other Japanese restaurants is the rice, a lot of places have the great chef, the great fish, the trendy guests, but not all have rice that holds it own. 15 East does. It almost pops in your mouth, so perfect is the texture and every bite leaves you in absolute amazement over how they achieve that perfect moistness and flavor. And it is well worth noting because it makes the fish stand out all the more.
We finished our meal with the perfect little bowl of marinated Ikura, salmon roe served with a little wooden spoon. Creamy and almost dreamlike in substance, every little pop of the roe gently coating your mouth with salt and a variety of flavors hard to describe with words. It's a feeling of absolute amazement.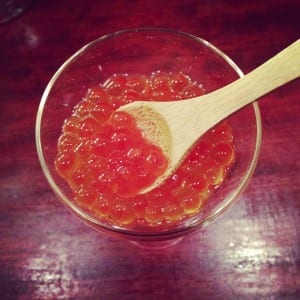 See Also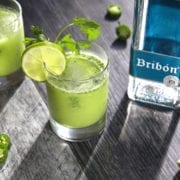 There are plenty of desserts at 15 east that are wonderful, but if you eat at the counter opt for one or two more pieces of the sashimi instead.
Or if there is a need for sweets try the Rice pudding tempura a la mode.
---
---



15 East
15 East 15th street
New York, NY, 10003
212-6470015
WEBSITE
---
---
The Honest Cooking Rating System
****** Six stars – Cooking on the highest international level. Service is impeccable and beverages are perfectly paired with the food. A world class dining experience.
***** Five stars – Represents cooking on an international level. Dishes look and taste great and display a personal touch. Service is highly professional making it a dining destination that is really worth a detour.
**** Four stars – This represents very good cooking with ambitions. Solid preparation of all dishes, only very few flaws. A restaurant that Honest Cooking recommends a visit to.
*** Three stars – Represents good cooking, and an above average restaurant, but without the more personal touches and craftsmanship that is demanded of higher ratings.
** Two stars – Represents average cooking. The restaurant doesn't reach a level where the food stands out as anything special, and service / ambience has flaws.
* One star – Represents sub-par cooking and service. A restaurant to stay away from.
Daniella Illerbrand
Daniella started her culinary career working on the floor of Aquavit with Marcus Samuelsson, while finishing up her sommelier education at the American sommelier association. She stayed with Marcus at Aquavit for 2 years, and then moved on to Bagatelle in Norway for Eyvind Hellström. After another stint at Aquavit, she met Mathias Dahlgren in Stockholm, and was fascinated by his cooking and restaurant philosophy, She spent 4 ½ years as a General Manager for Mathias Dahlgren, during which the two restaurants Matbaren and Matsalen reached a combined three Michelin stars. Today she runs her own company where she works with chefs including Mathias Dahlgren and help them with projects and development.