Send off grilling season with a bang. Throw your favorite fruits on the grill for great smoky flavor and use them in impressive sweet and savory summer dishes.
By Danielle Isbell
This article has been posted with permission and originally appeared as 12 Sweet and Smoky Grilled Fruit Recipes on Relish
Ready, set, GRILL. Grilling season isn't over yet! And if you haven't tried your favorite fruit on the grill, trust us, you're missing out. Flames have a caramelizing effect on naturally sweet fruits, making grilled fruit a fab addition to everything from salads to flatbreads or dessert.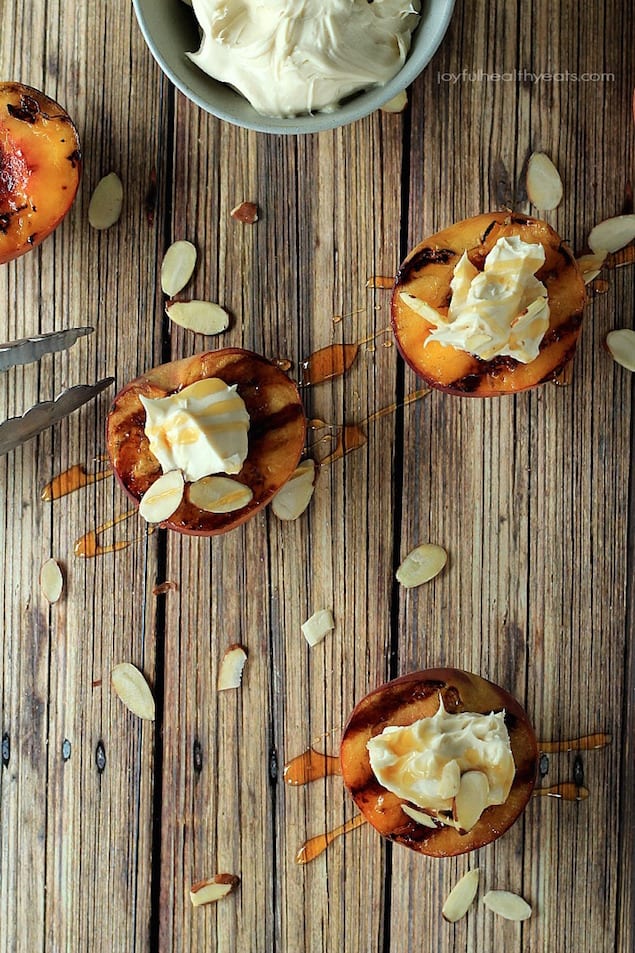 www.joyfulhealthyeats.com
Grilled Peaches with Maple Honey Mascarpone Cheese
This simple, sweet, juicy recipe calls for fresh summer peaches and the sticky goodness of maple syrup, all topped with creamy mascarpone cheese. We have Joyful Healthy Eats to thank for this mouthwatering summer treat. Find the recipe here.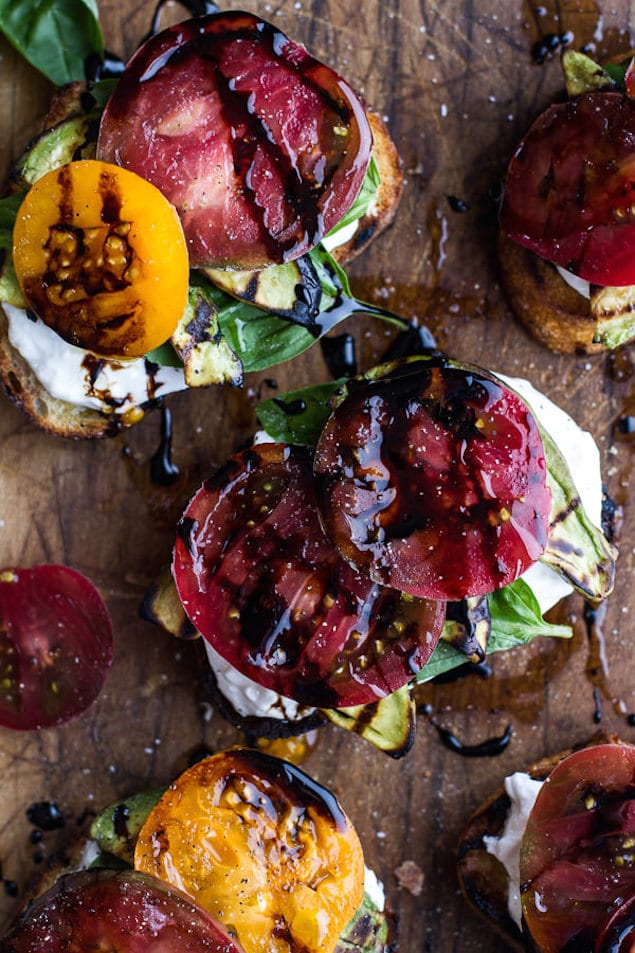 http://www.halfbakedharvest.com
Grilled Avocado Caprese Toast
Avocados are indeed a fruit ! Half Baked Harvest has concocted a get-in-my-belly Caprese toast featuring grilled avocados. We're thinking we'll never look at Caprese the same way again. Find the recipe here.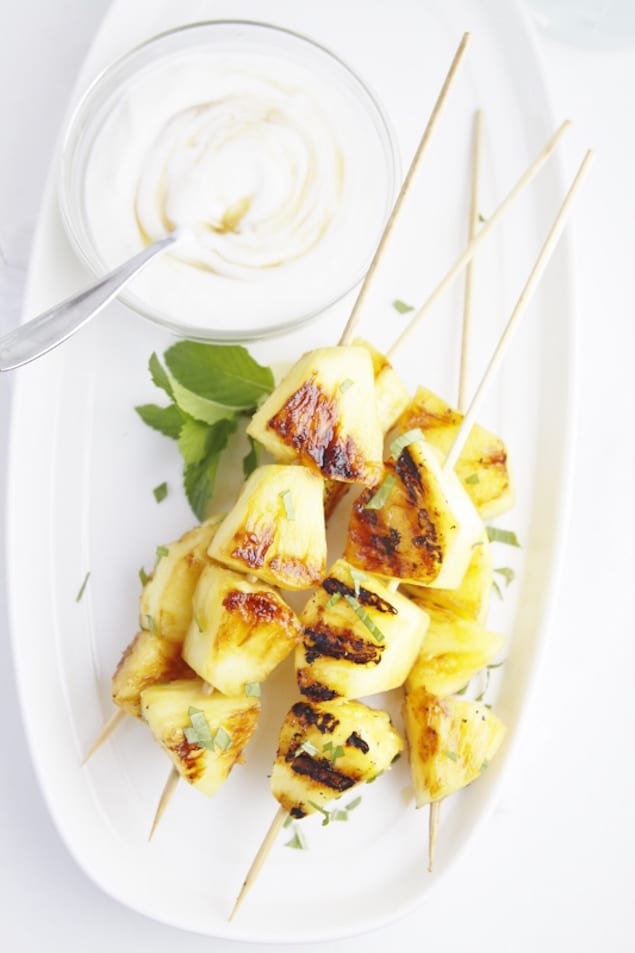 www.bellalimento.com
Grilled Pineapple Skewers
Ok. If you haven't tried grilled pineapple yet, we highly recommend you find a grill ASAP. Both the sweet and tart elements of pineapple come alive when flames enter the picture. Find the recipe here.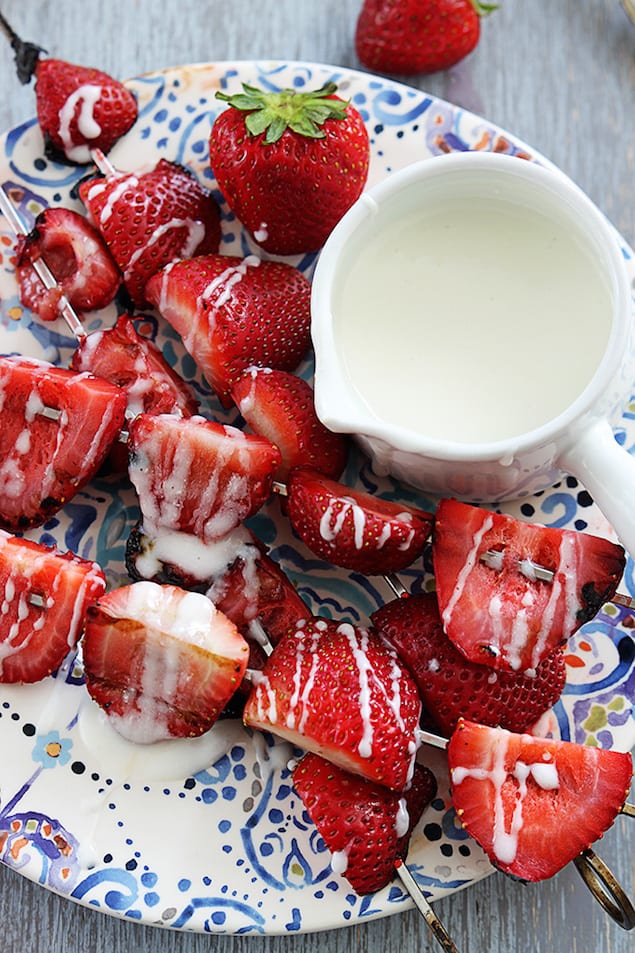 http://lecremedelacrumb.com
Grilled Glazed Strawberries
Le Creme de la Crumb does it again with this recipe for glazed strawberries. The sweet strawberries slightly caramelize on the grill, and we're big fans of the drizzled glaze that goes on top. Yum. Find the recipe here.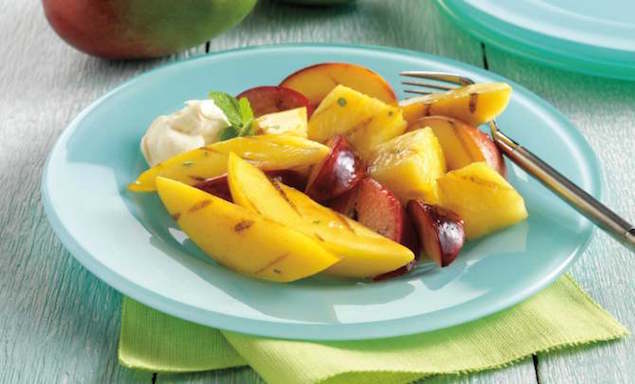 Relish
Honey Grilled Fruit Lime Vinaigrette
Augment all the sweetness of mango on the hot grill and then top it with this fresh lime vinaigrette. Add a dollop of Mascarpone, and take a deep breath—summer is still around. Find the recipe here.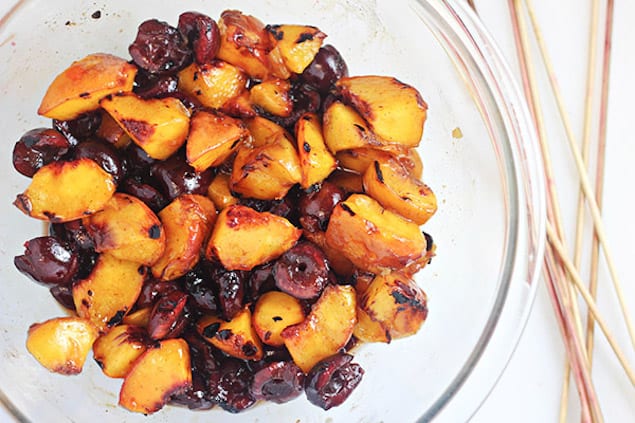 http://homecookingmemories.com/
Grilled Peaches and Cherries with Cinnamon-Honey Syrup
Grilled peaches are a must for summer, and Home Cooking Memories suggests we add cherries with cinnamon-honey syrup to the mix. We're wholeheartedly embracing this suggestion. We think you should too. Find the recipe here.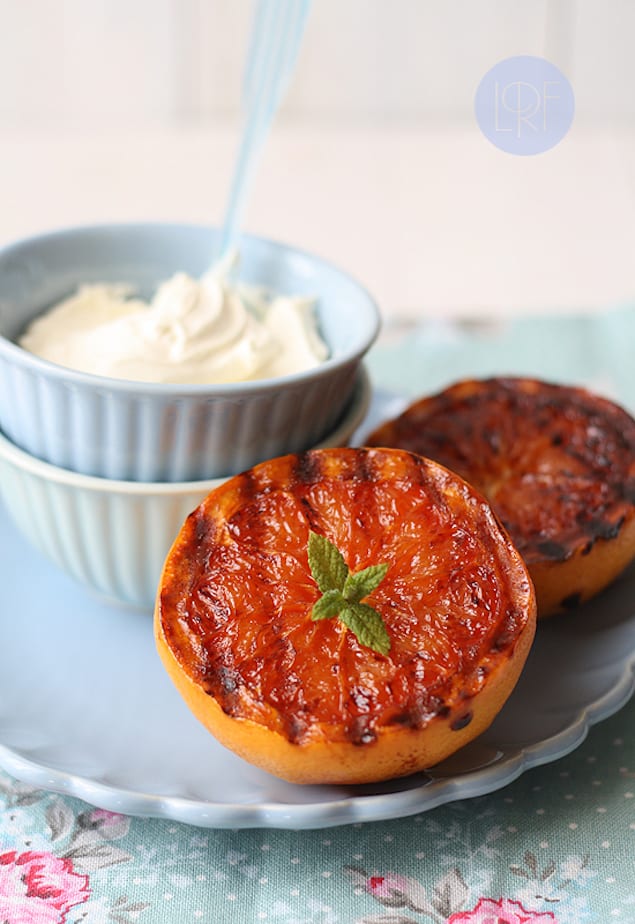 www.larecetadelafelicidad.com
Grilled Grapefruit with Mascarpone
We think grapefruit absolutely belongs on the grill, and so does La Receta de la Felicidad. Instead of sprinkling granulated sugar on a grapefruit in the morning, douse a sliced grapefruit with melted butter and brown sugar for gorgeous, sweet-and-slightly-sour treat. Find the recipe here.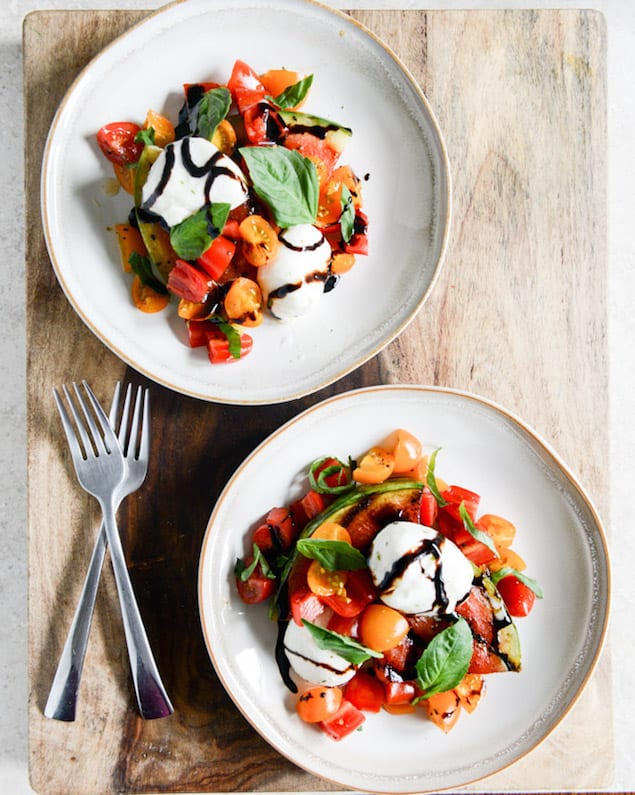 http://www.howsweeteats.com
See Also
Honey Grilled Watermelon Caprese Salad
Ever grilled watermelon? How Sweet It Is helps us to branch out into new grilling territory with this Caprese salad featuring (you guessed it) grilled watermelon. Just imagine the possibilities for presentation here… Find the recipe here.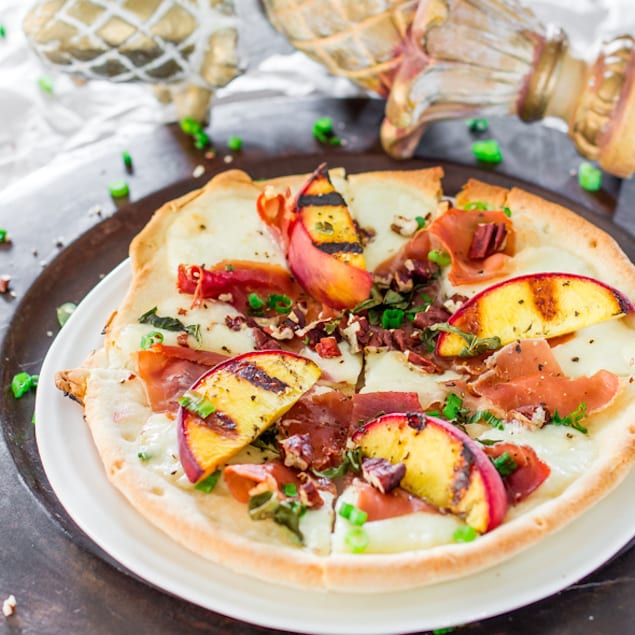 http://www.jocooks.com
Grilled Peach Flatbreads
Thanks to Jo Cooks, we've found the ultimate summer flatbread. Prosciutto, grilled peaches, basil and mozzarella make for a mediterranean flatbread with distinctly peachy undertones you won't be forgetting any time soon. Find the recipe here.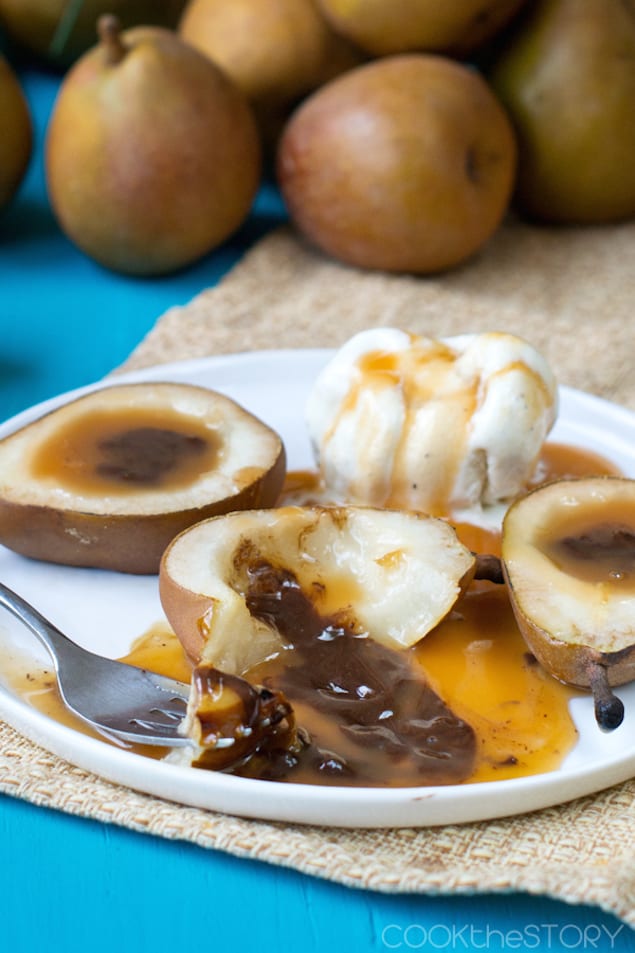 http://www.cookthestory.com
Grilled Pears
These grilled pears from Cook the Story (http://www.cookthestory.com/) are almost too good to be true. They're simple to make and full of caramel and chocolate—and finished off with a scoop of vanilla ice cream . What more would you want? Find the recipe here.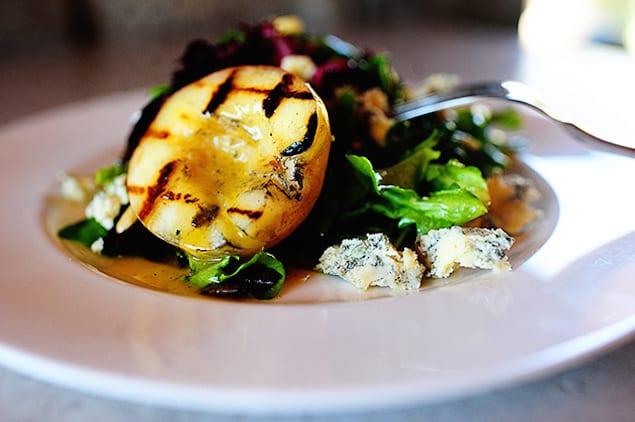 http://thepioneerwoman.com/
Grilled Nectarine Salad
Grilled nectarines are a must for sweet and smoky summer salads. This recipe from The Pioneer Woman features spring greens, gorgonzola and sliced almonds, all surrounded perfectly charred nectarine halves. Find the recipe here.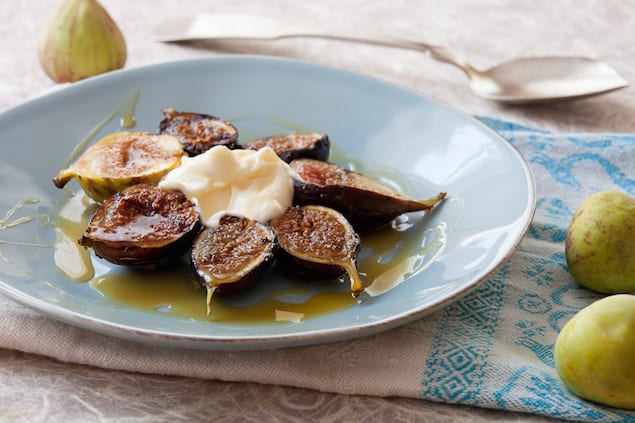 http://thegarumfactory.net
Grilled Figs with Crème Fraîche and Chestnut Honey
Hosting a summer dinner party? Look to The Garum Factory.The stunning presentation and unexpectedingredients in this dish are sure to impress. Find the recipe here.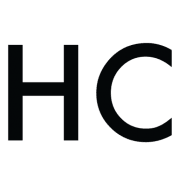 Relish
Offering more than 14,000 recipes plus features and DIYs on cooking, dining and entertaining, Relish celebrates America's love of food. Relish is about honoring cooking traditions while exploring new trends and ideas, which is why millions of people turn to both Relish.com and Relish Magazine for special occasion recipes, quick and easy weeknight suppers and culinary adventures.