10 Ways to Enjoy Breakfast for Dinner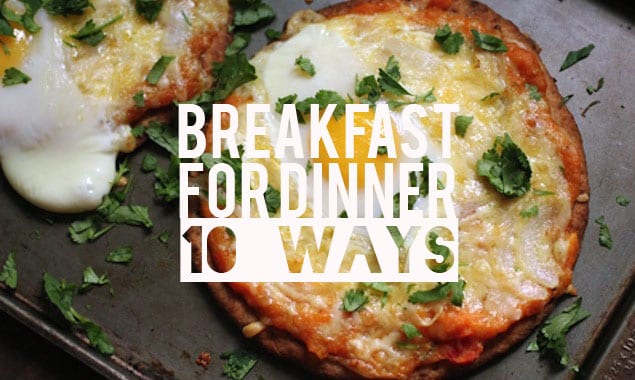 Breakfast is one of the most versatile meals of the day. The only setback is that most adults rarely have time for a gourmet breakfast in the morning. Here are ten delicious ways to appreciate breakfast at dinner time.
By Annelise McAuliffe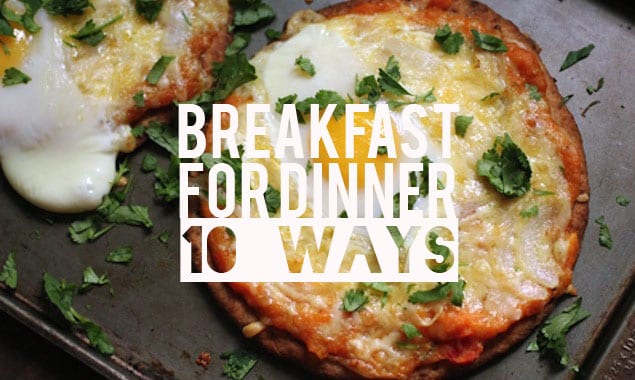 Breakfast is one of the most versatile meals of the day. Sweet or savory with a side of eggs and bacon, just about anything goes. The only setback is that most adults rarely have time for a gourmet breakfast in the morning. That is why we ask that you save room for your morning meal in the evening. Here are ten delicious ways to appreciate breakfast at dinner time.
1. Naan Breakfast Pizza
We all have eaten cold pizza for breakfast, but now let's take breakfast pizza back to dinner. Naan baked with homemade sauce, sharp cheddar and parmesan and an egg on top. Try adding a smashed avocado and pea shoots, too. Get the recipe.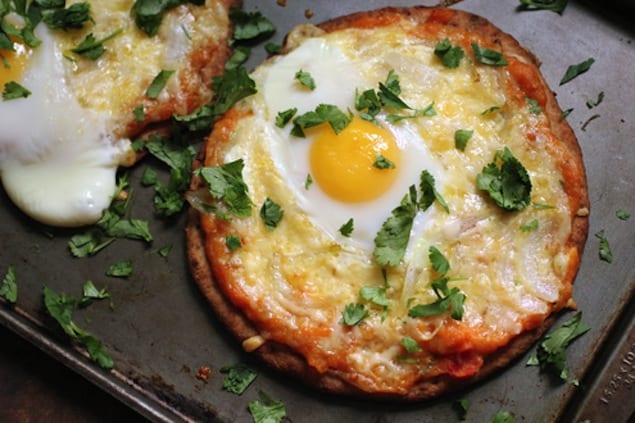 2. Breakfast Burrito with Scrambled Eggs and Fresh Pico de Gallo
Taco night just got turned up a notch with a larger tortilla and eggs. Add all your normal toppings, wrap in a tortilla, and get spicy with this filling burrito.Get the recipe.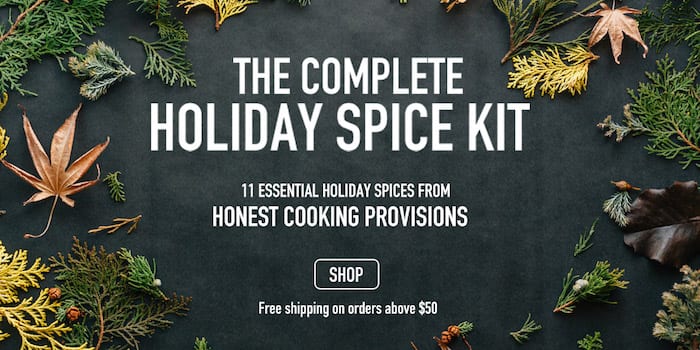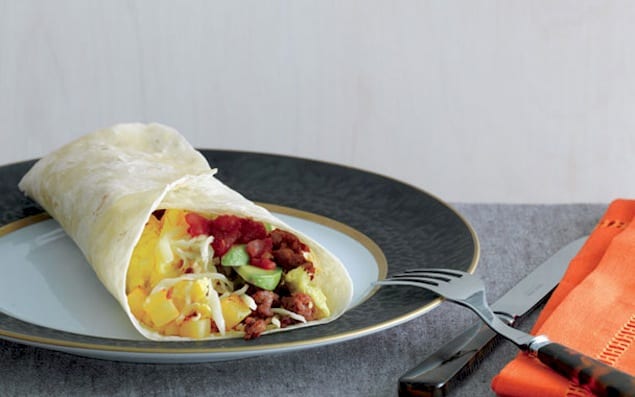 www.gourmet.com
3. Portuguese Baked Eggs with Chorizo and Ricotta
Day or night, these eggs are filling and spicy. Herbs and chorizo bring a ton of flavor to this simple dish while the three cheeses mellow things out. Serve with crusty bread to enjoy the red sauce that is left in the skillet. Get the recipe.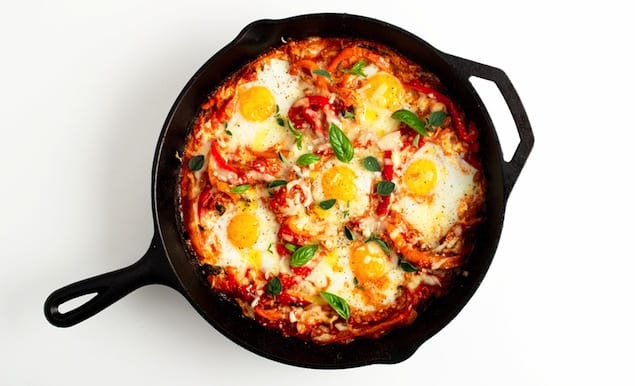 www.bonappetit.com
4. Butternut Squash Potato Cakes
Instead of the traditional hash browns or home fries, try potato cakes at dinner. With only two ingredients plus salt and pepper, this recipes is easy to make as your dinner side. Get the recipe.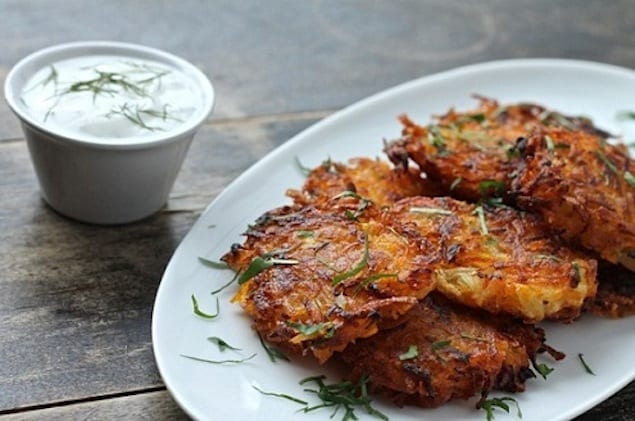 5. Corneal Waffles with Bacon and Goat Cheese with Fig
Crunchy bits of bacon, the subtle sweetness of fig and the heartiness of corn meal make these savory waffles a perfect item for a dinner breakfast. Get the recipe.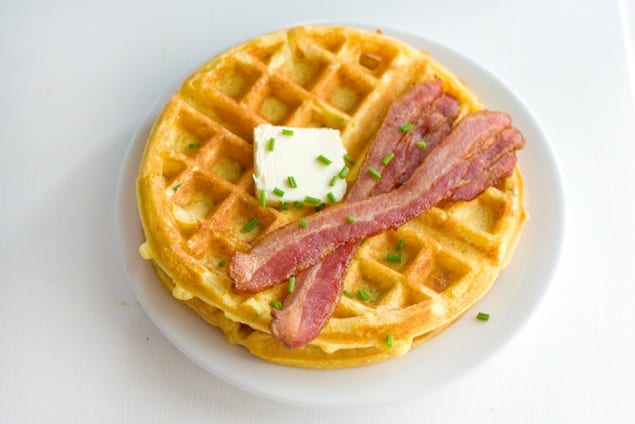 pdxfoodlove.com
6. Chicken Hash with Poached Eggs
This is a soulful and filling meal that when broken, is doused in a rich egg yolk. This is a great recipe to use leftover, pulled chicken. Get the recipe.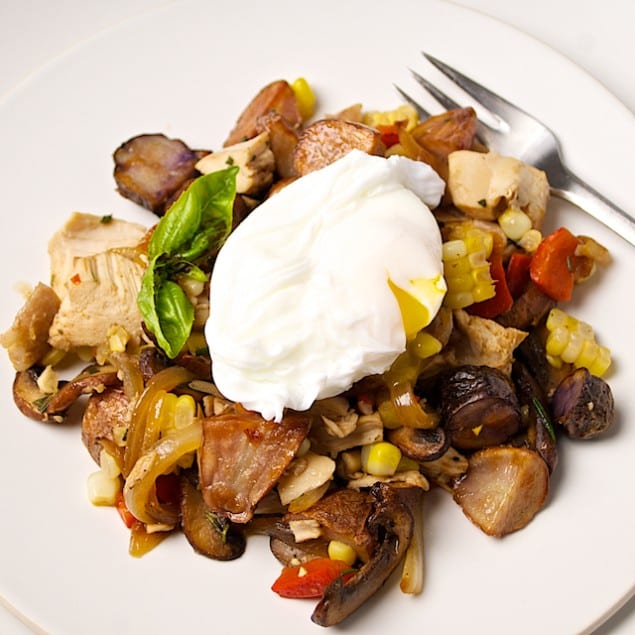 http://www.ouichefnetwork.com
7. Huevos Rancheros
Try this recipe with tortilla chips for breakfast nachos. Use a muffin tin to shape mini tortillas or a layer of broken tortilla chips into a cup shape. Or, do it free form in a large oven-safe dish. This recipe is a great way to use all your normal nacho toppings in a baked form. Get the recipe and get creative.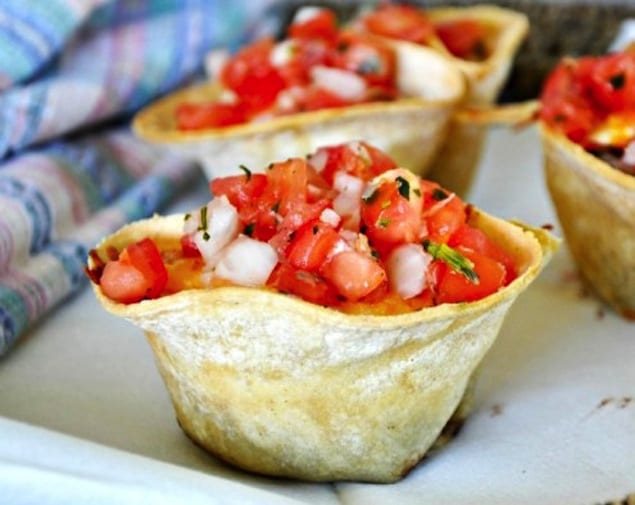 8. Buckwheat Pancakes with Blue Cheese
Even pancakes can have a touch of savory to make them better dinner guests. Top with green onions and maple syrup for a sweet contrast. Get the recipe.
http://whatshouldieatforbreakfasttoday.com
9. Grilled Cheese Sandwich with an Egg
With caramelized onions, the option of bacon, and a tart apple, this sandwich combines the egg, protein, and fruit of breakfast into a hearty dinner sandwich. Serve with tomato soup or gazpacho and you have a gourmet meal. Get the recipe.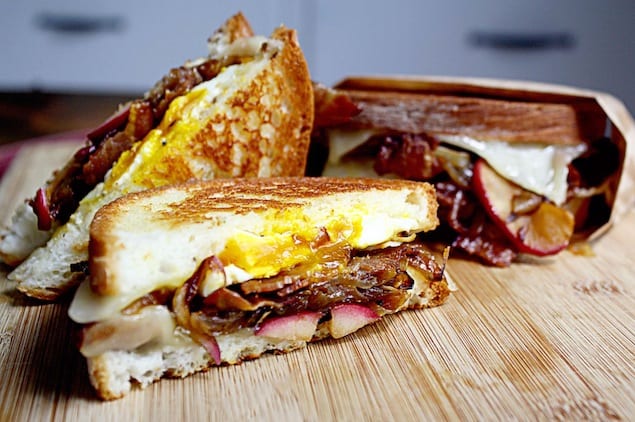 http://www.insockmonkeyslippers.com
10. Dessert Muffins
Breakfast muffins are really cupcakes without frosting and "healthier" things stirred in. We challenge you to carry breakfast over into your dinner dessert by making these decadent chocolate butterscotch muffins. Any leftovers you can have in the morning! Get the recipe.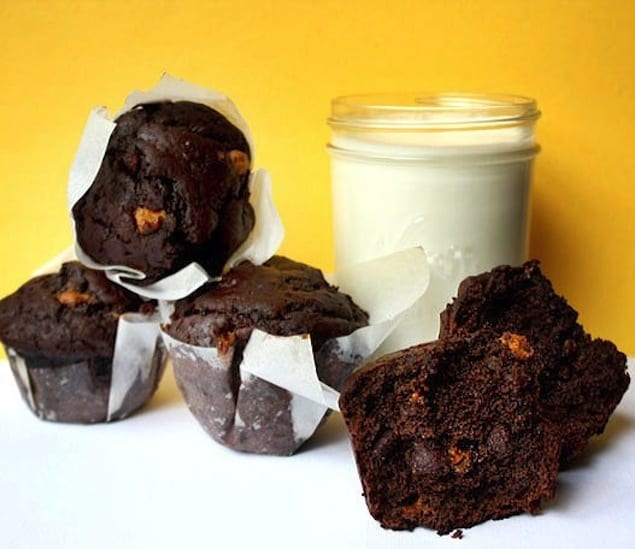 www.thekitchn.com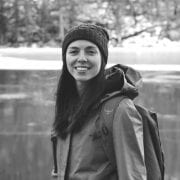 Annelise McAuliffe
Mandatory family outings to the Detroit farmers' market and nightly home-cooked meals cultivated Annelise's respect and curiosity for food. A graduate of The Culinary Institute of America, she spends her free time in New York City recipe testing, eating breakfast all day, and dreaming up international culinary adventures.