The risky flavor combo of scallops and blueberries pays off with a stunning, high-drama dish.
By Kathy Gori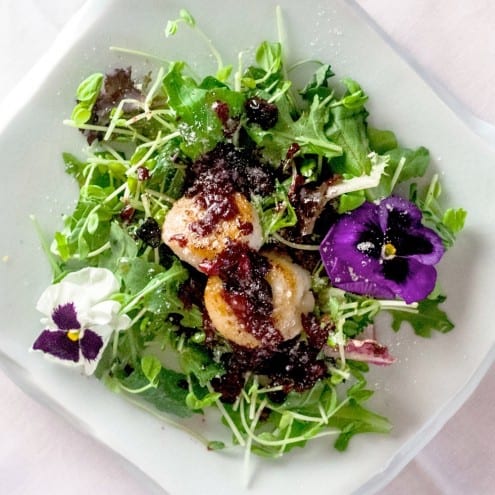 Seared Scallops With Blueberry Vinaigrette and Pea Shoots
The risky flavor combo of scallops and blueberries pays off with a stunning, high-drama dish.
Ingredients
8 large Ocean scallops (2 per person)
1 Tbs unsalted butter
1 Tbs olive oil
salt to taste
pepper
½ cup of fresh blueberries
zest and juice of 1 lemon
1 finely chopped shallot
¼ cup olive oil
2 Tbs finely shredded parmesan
fresh mixed greens
edible flowers
pea shoots or other greens, whatever you desire.
Instructions
Rinse, and clean your salad greens. Dry them and set them aside.
Heat the oil and butter in a skillet.
When the butter and oil are hot, pop the scallops into the pan.
Sear the scallops fast. 1 minute on each side.
When the scallops are cooked through set them aside.
Divide the cleaned greens and edible flowers between four plates.
Set 2 scallops on top of each bed of greens and set the plates aside.
Don't clean the skillet the scallops were cooked in. Instead toss the blueberries, shallot, lemon zest, lemon juice and oil into the pan.
Bring the mixture to a boil.
Crush some of the blueberries with a whisk.
Add salt and pepper to taste. You can add a bit more lemon juice if you wish.
Pour the viniagrette over the scallops and greens.
Sprinkle each salad with a pinch of parmesan. Season with pepper.
Serve it up.