Secret maps and spots surround this mythical fungus. But Kalle Bergman doesn't care. He just makes pasta with them.
By Kalle Bergman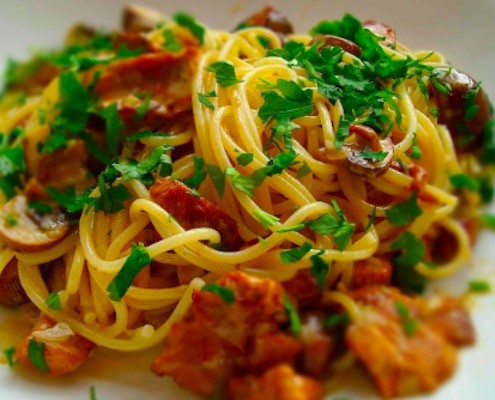 Chanterelles. In Northern Europe, this wonderful fungus is worshiped like something almost mythical. Secret tricks and chanterelle maps are being handed down through generations to make sure that the best spots for picking these golden umbrellas are kept in the family.
I usually just fry chanterelles gently in some butter and serve them on toast – but for something a little bit more filling, a creamy pasta with some added wild mushrooms is a great option. Super easy to make, very well tasting, and quite beatiful to look at.
HOW TO
16 oz (450 g) pasta
6 oz (170 g) wild mushrooms
6 oz (170 g) chanterelles
3 large cloves of garlic, finely chopped
1/2 cup (1,1 dl) cream
1 small knob of organic butter
See Also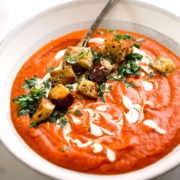 A fistful of chopped parsly
Salt & Pepper
1. Clean and chop the mushrooms and chanterelles coarsley. Do NOT use water to clean them, but rather a brush to remove any dirt from them.
2. Melt the butter in a heated frying pan. Add the chanterelles and mushroom and cook for 3 minutes. Add the finely chopped garlic and cook for another minute, before adding salt, pepper and cream. Leave on a low heat to let the cream reduce and boil into the fungus.
3. Boil the pasta according to instructions on the package.
4. Serve, topped with chopped parsley.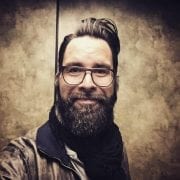 Kalle Bergman
Kalle Bergman is a food writer and media entrepreneur who is the founder of Honest Cooking. As a food writer, his writing has been regularly featured in publications like Gourmet, Los Angeles Times, Huffington Post and Serious Eats. He is obsessed with simple food, more often than not from his native Scandinavia.