Can you make really good coffee with just the help of your biceps? Kalle Bergman decides to find out, and tests the Handpresso Machine.
Text By Kalle Bergman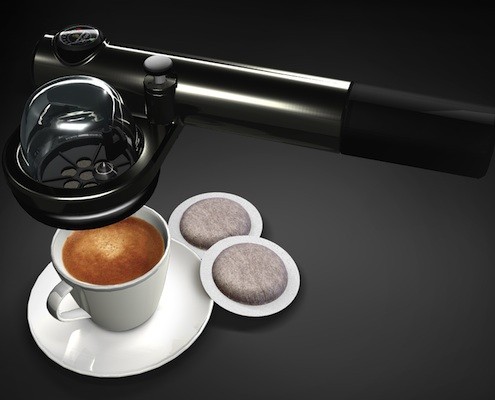 During the last couple of weeks I have had the opportunity to test the "Handpresso". This gadget, or perhaps more correctly – this useful gadget – is a danish designed product that has been on the market for a few years now and is available more or less globally. The idea behind it is that everyone should be able to make a decent cup of espresso anywhere and without a traditional espresso maker or access to electricity. Now, how on earth can that be done? Well, remember the name? Hand-presso. Yep, you'll be doing most of the work yourself if you want your espresso served the way it is on Via Della Spiga in Milano, even if you're trapped somewhere deep in the Redwood Forest.
---
Advertisement
---
The Handpresso basically looks like an oversized handle-bar from a regular espresso maker combined with a bicycle pump (which is essentially exactly what it is).
And that's the whole thing.
This product is so small anyone can bring it basically anywhere, making it ideal for camping or boating – or anywhere else where it just doesn't make sense to bring your giant Jura espresso maker along. There is absolutely no arguing that the weight and space aspect really works in favor of the Handpresso.
The process of making coffee feels a bit strange at first, but it isn't that difficult. Boil some water, pump the Handpresso (just like a bicycle pump) up to 16 bars, pour hot water into the container, place a coffee pod on top and fasten the lid. Turn the Handpresso around, and push the button – VOILÀ! There will be coffe. After a few practice runs, it becomes almost second nature.
Cleaning it isn't exactly difficult either, even if I managed to spill a few drops of remaining coffee on myself. Just push back the button, open the lid and remove the coffe pod. Rinse under water and dry off, and that's it.
The quality of the coffee is excellent. It really is. This was the most important part to me, as this gadget would have remained just that – a mere gadget – if the coffee wasn't up to par. But the coffee is good, and that makes the Handpresso a useful tool. The system is based on the e.s.e. pods system, and there are tens (hundreds, thousands, BILLIONS?) of choices of coffee out there that fits perfectly with the Handpresso system. Now, the Handpresso itself also seem to have the coffee making skills to provide the user/operator with an excellent cup of espresso every time. I tasted three different varieties of e.s.e. pods, and they all made for a really good end product.
So, where does this product fit in? To me, it is primarily an outdoors product. As it cannot make me a decent cup of lungo, and since the process of pumping it up to 16 bars before it's ready makes it less than perfect for larger audiences than two, it's not versatile enough to make me throw my "real" espresso maker in the bin just yet. I could perhaps use it as a fun gadget for dinner parties – place the Handpresso, a kettle of water and some hot milk in the middle of the table, and then let my guests "pump their own coffee". And the single, compact living guy (gal) could definitely use the Handpresso instead of a regular espresso maker to save room on the counter in the kitchen.
But the real use for it is boating and outdoors. No doubt. And there, it really is excellent. What you will get from the Handpresso – besides the fact that it is cheaper than buying a "normal" machine – is a new take on coffee to go. With this, you don't just take the coffee to go. You take the whole process of making really good coffee with you wherever you go. And that's not a small feat. It might not be life-altering to me – but then again, I am not a boat owner or an outdoors fanatic. If I was, I'd be ecstatic with the Handpresso. Now, I'm just amused and slightly impressed.
The Handpresso is available from the Handpresso website from around 99 EUR / 149 USD – not a bargain, but a pretty decent price.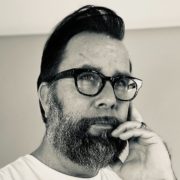 Kalle Bergman
Kalle Bergman is a food writer and media entrepreneur who is the founder of Honest Cooking and PAIR Magazine. As a food writer, his writing has been regularly featured in publications like Gourmet, Los Angeles Times, Huffington Post and Serious Eats. He is obsessed with simple food, more often than not from his native Scandinavia.