A messy and delicious end of summer ice cream sandwich with a crispy waffle to hold all the sweetness together.
By Tami Ganeles Weiser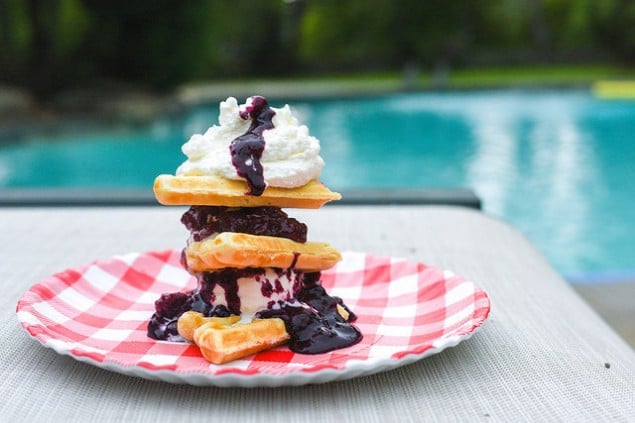 These yeasty waffles, soft on the inside and very crisp on the outside, have a little more body than a pancake-batter-based waffle. You start the sauces and the waffle batter the day before, making this a great dish to finish at the last minute and serve at a party. Have folks waiting by the waffle maker with ice cream scoopers in hand and sauce bar set up to create this messy and delicious sandwich.
See Also
Looking for a gourmet ice cream to top your waffles? Check out this deliciously rich avocado ice cream.

Ice Cream and Waffle Sandwiches with Blueberry and Raspberry Sauces
A messy and delicious end of summer ice cream sandwich with a crispy waffle to hold all the sweetness together.
Author:
Tami Ganeles Weiser
Serves:
8 triple decker sandwiches
Ingredients
Raspberry and Blueberry Sauces:
4 pints fresh raspberries
½ cup dried raspberries
1 pint fresh blueberries, any stems and nasty berries discarded
½ cup dried blueberries
4 teaspoons vanilla bean paste, divided
12 scrapes fresh nutmeg, divided
½ teaspoon kosher salt
Waffles:
2½ cups (283 grams) cake flour
¼ cup (51 grams) light brown sugar
1½ teaspoons dry active yeast (about half of a (¼-ounce) packet, see Kitchen Tips)
½ cup warm water (about 100°F)
2 large eggs
1 cup lukewarm milk (about 100°F)
1 stick (½ cup/ 114 grams/8 tablespoons) salted cultured or European-style butter, melted
1 tablespoon vanilla bean paste
½ teaspoon freshly ground nutmeg
Garnishes:
1 pint vanilla ice cream, homemade or best-quality store-bought
Whipped cream
Fresh berries
Instructions
For the raspberry and blueberry sauces sauce:
Preheat the oven to 385°F. Spray 2 rimmed baking sheets with nonstick vegetable oil spray. Arrange the raspberries in a single layer on one baking sheet and the blueberries on the other and roast for 30 minutes, until the berries have collapsed and released their liquid and it has thickened.
Remove from the oven and add the dried raspberries and half the vanilla bean paste, nutmeg, and salt to the roasted raspberries and stir gently.
Add the dried blueberries and the remaining half of the vanilla bean paste, nutmeg, and salt to the roasted blueberries and stir gently. Return both to the oven for 3 to 5 minutes to heat through.
Pass the raspberry mixture through a fine-mesh sieve into a bowl, using a wooden spoon to stir and mash to get the maximum amount of berry mixture through the sieve.
Let cool, rinse and dry the sieve, and repeat with the blueberries, straining them into a separate bowl. Refrigerate in covered containers until chilled.
While the berries are roasting, start the waffle batter:
In a large mixing bowl, sift together the flour, 3 tablespoons of the brown sugar, baking powder, and salt.
In the bowl of a stand mixer fitted with a kneading hook attachment, combine the yeast, warm water, and the remaining 1 tablespoon brown sugar and mix gently to blend. Let stand for 3 to 5 minutes, until the yeast begins to bubble. Add the flour mixture, eggs, milk, butter, vanilla bean paste, and nutmeg (in that order, so the yeast isn't touching the salt, eggs or butter directly at first) and mix at low speed to combine. Increase the speed to medium-high and knead for 1 minute.
Cover with plastic wrap and refrigerate overnight or until doubled in volume (up to 12 hours).
When you are ready to make the waffles, let the batter come to room temperature while you preheat the waffle iron. Scoop the batter into the waffle iron and cook according to the manufacturer's instructions, usually for 2 to 3 minutes per side.
To serve:
Cut 1 waffle along its natural lines into 4 sections. Place 1 piece on a plate, top with a scoop of ice cream and drizzle raspberry and blueberry sauce over it. Top with more waffle sections, ice cream and sauce, ending with a waffle on top to make a stacked "sandwich."
Garnish with a dollop of whipped cream, fresh fruit, and a fat pinch of grated nutmeg, and more sauce if you wish. Repeat with the remaining waffles and serve immediately.
Notes
Yeast is a little living creature, and it needs special handling. You need warm water to activate it and get it started eating and bubbling, but if the water is too warm (more than 110°F), you'll kill it and it simply won't work at all.The water for your yeast mixture should be between 85°F and 100°F.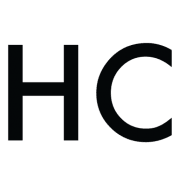 Tami Ganeles Weiser
I am Tami Weiser—food writer, food anthropologist, and culinary professional. Join me in finding a genuine expression of your heritage through food, incorporating who you were, who you are and who you want to be. At theweiserkitchen.com I offer original, globally-inspired, seasonal, kosher-style recipes, culture and history made relevant and a dollop of kitchen wisdom to take you and your cooking from good to great.