Try the classic Swedish cinnamon bun today, and immerse yourself in the traditional Swedish coffee ceremony called "fika".
Photo By Mads Damgaard
The cinnamon bun is a pivotal player in the part of the day which in Sweden has been known as "Fika Time" for as long as anyone can remember. "Fika" is traditionally a shorter or longer coffee break together with friends, family or colleagues – and fika time, in general, is in very high regard all across Sweden. Still considered an almost holy ritual even in the workplace, it is essentially the Swedish equivalence of the Japanese tea ceremony.
The classic Swedish cinnamon buns recipe. Absolutely delicious!
Ingredients
1,75 oz (50g) of fresh yeast (fresh to dried yeast conversion found in link below)
3 Oz (85 g) of organic butter, unsalted
1 Cup (2,5 dl) of milk
½ Cup (1,25 dl) of sugar
2 Pinches of salt
1 Teaspoon of cardamom
3 Cups (7 dl)  of flour
1 Free range egg for glazing
Coarse sugar for topping
Filling
6 Oz (190 g) organic butter, unsalted
⅔ Cup (1,5 dl) sugar
2 Teaspoons cinnamon
Instructions
Melt the butter and add the milk in a saucepan until lukewarm. Remove from the heat. Break the yeast up into smaller pieces, put in a bowl and add the butter and milk mix. Add sugar, salt, flour and cardamom and work the dough until completely smooth using your hands or a mixer with dough hooks. Leave to rise for 30 minutes under a kitchen towel, during which you make the filling by mixing together the fresh butter, cinnamon and sugar.
Roll the dough out into a rectangular shape of about ½ inch (1,25 cm) thickness (give the dough a good work through with your hands before rolling it). Spread the filling generously across the dough and roll into a tube on the short side. Cut the tube into 1½ inch (4 cm) buns. Place the buns cut side up (The alternative way is to roll the buns out again and twist them into long tubes, that are then rolled up into a spiral shape - in this case, you should have some extra filling ready to smear on top) on a buttered baking sheet and cover with a kitchen towel. Leave to rise for another 30 minutes.
Whisk the egg and paint the top of the buns with the mixture. Then sprinkle a little coarse sugar on top of each bun. Bake in a preheated oven at 430°F (225°C) for about 10 minutes.
Notes
FRESH TO DRIED YEAST CONVERSION CAN BE FOUND HERE - http://makebread.com.au/fresh-yeast-conversion/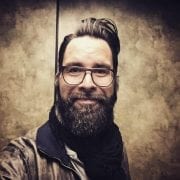 Kalle Bergman
Kalle Bergman is a food writer and media entrepreneur who is the founder of Honest Cooking. As a food writer, his writing has been regularly featured in publications like Gourmet, Los Angeles Times, Huffington Post and Serious Eats. He is obsessed with simple food, more often than not from his native Scandinavia.