Cooking the Magazines: Jalapeño Blueberry Salsa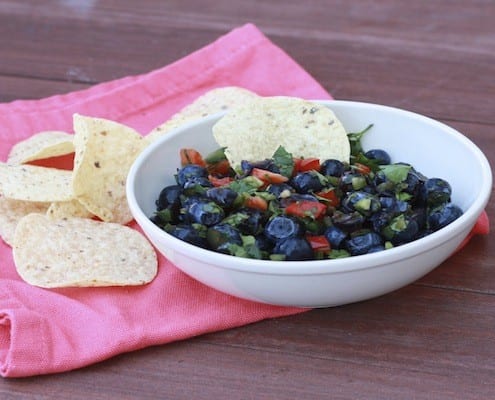 Natalie McLaury considers herself a bit of a hoarder when it comes to magazines. Never one to pass up a good deal on a subscription, it's to the point where she now finds herself receiving a magazine in the mail several times a week. Most of the time, she rips out pages of recipes but fails to actually create the recipe in her kitchen. Not anymore! Join Natalie as she cooks the magazines.
By Natalie McLaury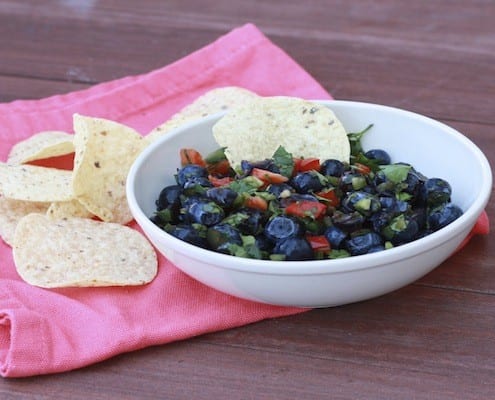 This isn't the first time I've dappled in a salsa featuring fruit. There's the ever-popular fruit salsa served with cinnamon pita chips and that time I topped salmon with a tomato peach salsa. In both cases, the salsa was more sweet than savory. This blueberry salsa broke the mold a little bit. You think blueberries, you think sweet, right? Add an entire jalapeno and suddenly you've got spicy blueberry salsa! Amazingly, the original recipe called for TWO whole jalapenos. I mistakenly only picked up one from the store, which turned out to be a blessing in disguise…our mouths were fiery enough with the addition of one!
Personally, I loved the sweet and spicy combo happening here. Each bite was simultaneously hot and cool, further tempered by the salty crunch of tortilla chips. This is best made ahead of time to let the flavors mingle, and leftovers will keep covered in the fridge for a few days. We ate this as an appetizer with chips, but you could also use it atop some grilled chicken or fish!

A fruity spicy salsa featuring blueberries, bell pepper, and jalapenos!
Recipe Type:
appetizer, side
Ingredients
2 cups coarsely chopped fresh blueberries
1 cup whole fresh blueberries
¼ cup fresh lemon juice
3 tbsp chopped fresh cilantro
1 jalapeno pepper, seeded and minced
⅓ cup diced red bell pepper
½ tsp kosher salt
Instructions
Toss together coarsely chopped fresh blueberries, whole fresh blueberries, fresh lemon juice, cilantro, jalapeno peppers, bell pepper, and salt in a large bowl. Serve immediately or cover and chill for 8 hours.
Notes
From Southern Living July 2010
Natalie McLaury
Natalie McLaury is a St Louis based food writer with a passion for real food and experimenting in the kitchen. Her cooking ranges from healthy three course meals to decadent desserts, and she shares many of her food tips and recipes on her successful The Sweets Life blog . As an avid runner and fitness expert, she also gives the occasional tips on how to combine a serious interest in health with a sweet tooth.