Bryan Picard with a decadent triple cheese grilled sandwich made party with homemade goat cheese.
By Bryan Picard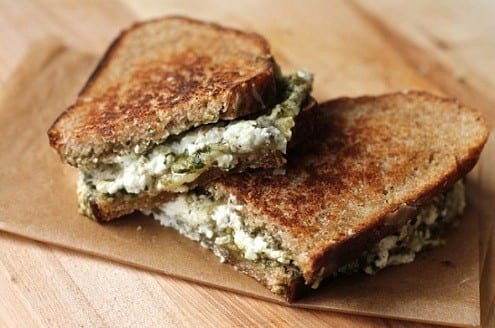 One of my all-time comfort food favorites is the grilled cheese sandwich. No surprise there. This is my second post on that heavy-sitting delicacy. One of the three cheeses here is my own, a homemade goat cheese. Cheese is easier to make than you'd think. You should check it out. The other cheeses are the cheddar and parmesan leftover from my Pinwheel Loaf. Let's hope that one day I am making all my own cheeses. For now, one at a time. The whole wheat bread is also homemade and I'll probably post the recipe here because the results are well worth it — depth of flavor and a nice crust.
Instead of using pine nuts in the pesto, which come most often from the far end of the world, I used sunflower seeds. They're just as good, cheaper, and they grow closer to home. Use any herbs that are available; pesto is also good with parsley, chervil, and even chives.
See Also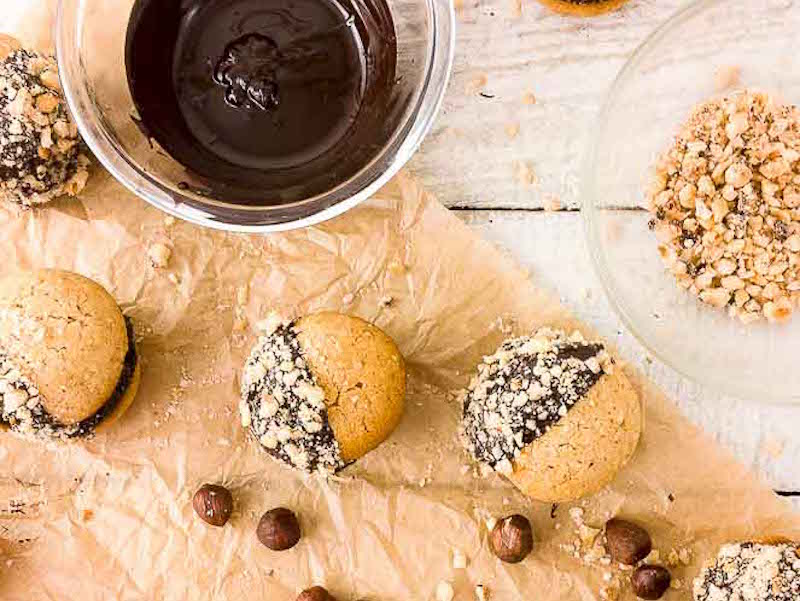 Grilled Pesto and Triple Cheese Sandwich
Ingredients
1 cup fresh herbs of your choice
3 tablespoons sunflower seeds
3-4 tablespoons sunflower or olive oil
2 slices of bread
couple slices of aged cheddar
small handful parmesan, grated
small handful goat cheese
2 tablespoons butter
salt + ground black pepper
Instructions
In a food processor, grind the nuts coarsely for crunchy pesto or finely for smooth.
Add the herbs and half of the oil.
Whizz until just blended, then add more oil to desired consistency.
Taste, season with salt and pepper and set aside.
Preheat the oven to 350°F.
Melt 1 tablespoon of butter in a pan.
Butter each slice of bread. Put one slice in the pan, drizzle with pesto, then add the cheeses and drizzle again with pesto.
Top with the other slice of bread, flip and grill until golden brown.
Transfer the sandwich to a baking pan and put in the oven for 5 minutes or until the cheese is melting.
Eat.
Bryan Picard
Bryan Picard is a wild and homegrown food enthusiast. He lives in the Maritimes in Canada and has worked the kitchens as a cook and chef for the past ten years. He writes on his blog The Bite House.