Fudgy, chewy triple chocolate peanut butter banana brownies may sound like a mouthful, but they are just pure deliciousness. Each bite has a big dose of chocolate, a hint of banana and a swirl of peanut butter.
By Lindsey Farr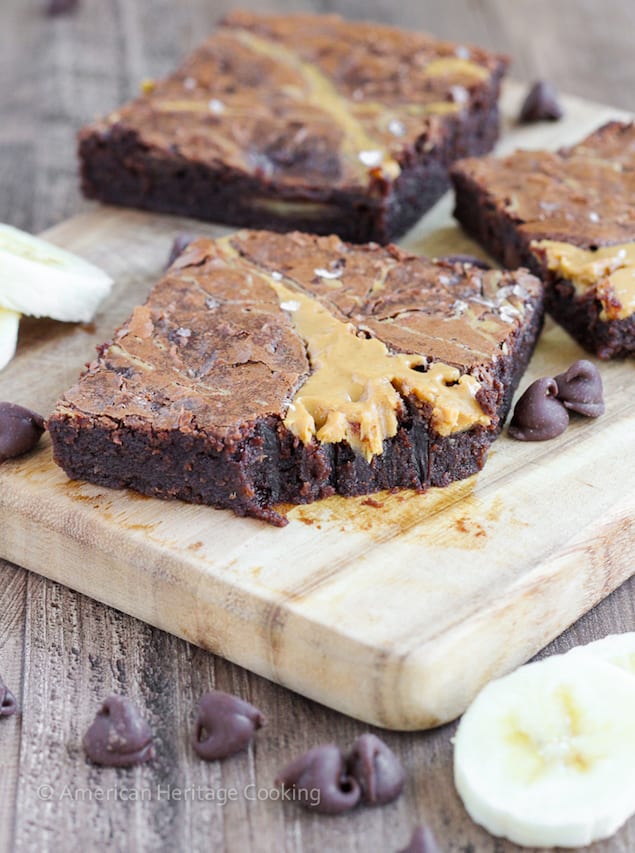 Do you have some sad, spotty brown bananas at home?
Are you sick of banana bread?
[Put your hand down! Unacceptable. Banana bread is life. You must try this recipe swirled with Nutella.]
Have you already made banana bread and *still * have browning bananas way past their prime?
[It's okay. Me too. ]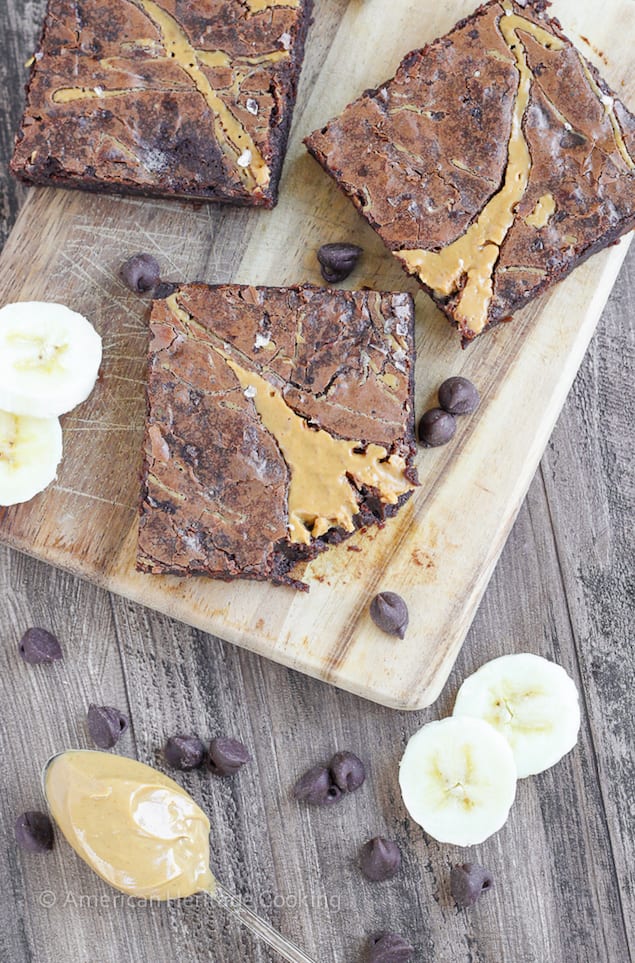 Enter Triple Chocolate Peanut Butter Banana Brownies!
Chocolate; Peanut Butter; Banana: the trifecta of awesome.
I took one of my all time favorite combos and stuffed it into a brownie.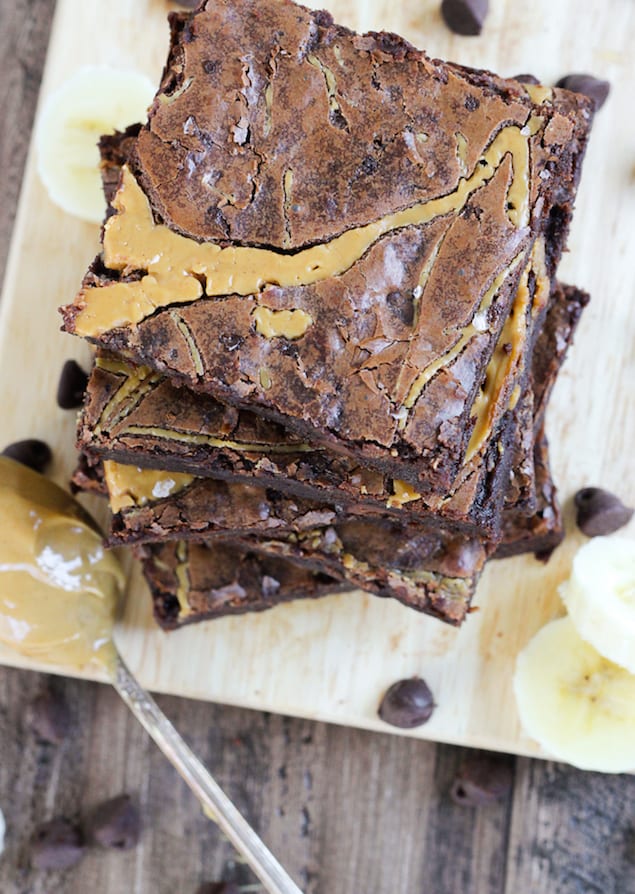 These are rich, fudgy brownes. No light cakey stuff around here.
See Also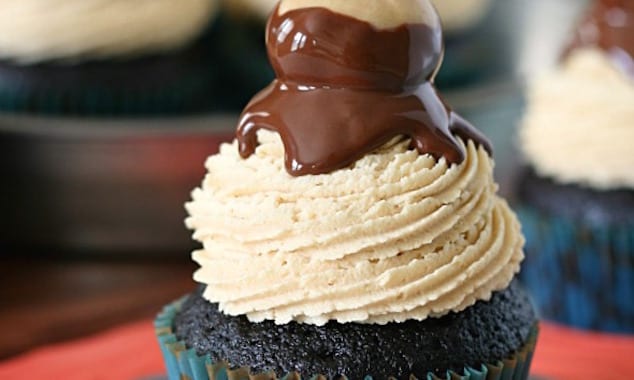 The bananas make these extra moist and super fudgy. So much so they almost seem under-baked, but they aren't. They are just to die for chewy. And we all need some of that in our lives!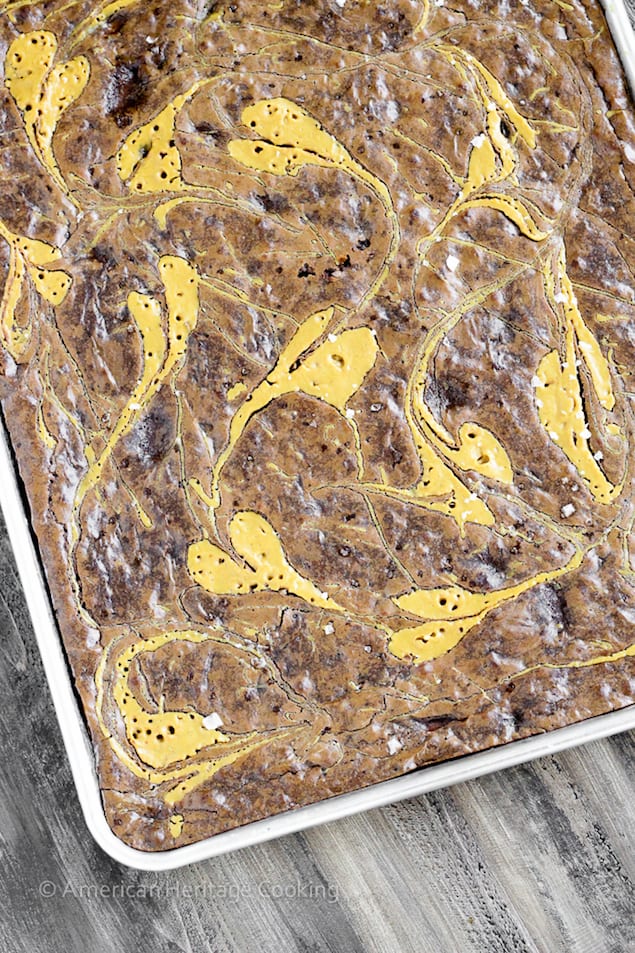 These brownies have that beautiful crispy top and soft, chewy interior. The swirls of peanut butter are the only interruption to the triple chocolate brownie perfection.

Chewy Triple Chocolate Peanut Butter Banana Brownies
Chewy triple chocolate peanut butter banana brownies may sound like a mouthful, but they are pure deliciousness. A bite has a dose of chocolate, hint of banana and peanut butter.
Recipe Type:
Baking, Chocolate, Dessert, Brownies
Ingredients
380g (13.4 ounces) Semi-Sweet chocolate, chopped
1 cup butter
2 teaspoons vanilla
1 cup + 2 tablespoons All-Purpose flour (150g)
¼ cup cocoa powder (I used Dutch processed) (30g)
1 teaspoon kosher salt
2⅓ cup granulated sugar (480g)
6 eggs
1 ¼ cup ripe bananas, smashed (320g or 3 medium bananas)
½ cup chocolate chips, mounded (100g)
½ cup peanut butter, slightly warmed
Flaked sea salt for sprinkling
Instructions
Preheat oven to 350°. Grease and line a 12 inch by 16 inch sheet pan with cooking spray or butter.
In a medium bowl combine flour, cocoa powder and salt; whisk to combine and set aside.
Combine chopped chocolate, butter and vanilla in a heat-proof bowl over a pot of simmering water; heat until just melt (you don't want it hot) and set aside. Do not begin the eggs until the chocolate is almost melted.
Add eggs and sugar to the bowl of a stand mixer fitted with the whisk attachment. Beat until pale and fluffy on medium-high speed. This is your leavening, so don't under beat them.
Turn off the mixer, removed the bowl and pour the chocolate in all at once; fold in the chocolate with a large spatula. Fold in the bananas.
Sift the flour mixture into the bowl and fold into the egg mixture until it is still a little streaky.
Add the chocolate chips and fold to incorporate. Spread evenly in the prepared pan with an offset spatula.
Drop the peanut butter onto the batter and swirl with a skewer, toothpick, knife or your offset spatula.
Bake 30-40 minutes or until a toothpick comes out clean. Sprinkle with flaked sea salt and allow to cool before removing from the pan.
Notes
You can bake these in a metal 9x11 pan but they will take longer to bake.
Lindsey Farr
I'm a financial analyst turned blogger at American Heritage Cooking and, most recently, a culinary student at the International Culinary Center in New York City! I love posting healthier meals, old-fashioned comfort foods, and all things sweet! I also have a serious weakness for cupcakes!