Grilled Bratwurst and Sauerkraut Sandwich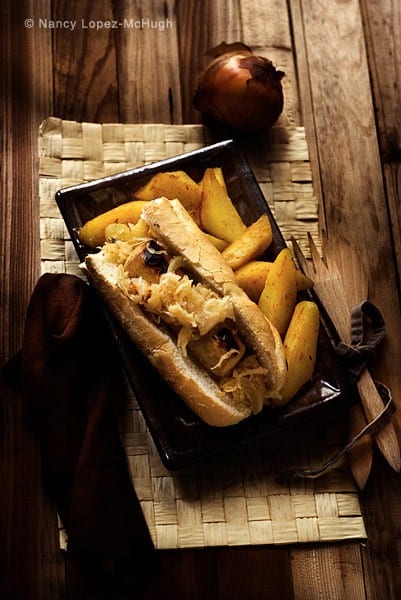 Father's Day is this weekend and this sandwich is a great meal to serve the fathers in your life.
By Nancy Lopez-McHugh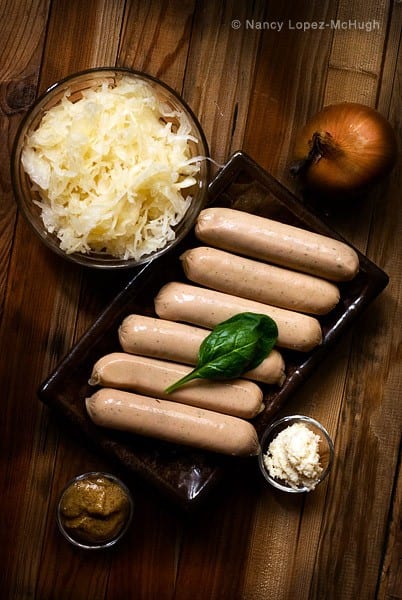 Why is it that men love sandwiches? Don't get me wrong, I'm not complaining. In fact I think it's great that men love a meal that takes so little effort and time to prepare. Unfortunately I did not create this sandwich, it was my very talented foodie husband who created did. As a girl I see this sandwich as a very manly one. It has meat, cabbage, mustard and horseradish, all pretty manly ingredients if you ask me. But even so this girl really loves this very manly sandwich.
Father's Day is this weekend and this sandwich would be a great meal to serve the fathers in your life. Since it was created by a man you know men will love it. If you happen to breakout the grill cook the bratwurst on it for an even better taste.
Grilled Bratwurst and Sauerkraut Sandwiches
1 med onion, cut into slivers
pack bratwurst, we used a 330 g or 7 small pack
1 pack of German style sauerkraut, drained
3 tsp brown Bavarian or German mustard
2 tbsp horseradish
oil
baguettes
Heat the oil and saute the onions until soft and translucent. Next add the drained sauerkraut, mustard and horseradish. Saute and stir frequently for about 8 minutes. Push the sauerkraut mix to the side and add the bratwurst. Cook until sausages are hot and cooked through.
Serve on a baguette or rolls, if desired spread extra mustard on bread. Serve alongside your favorite potatoes.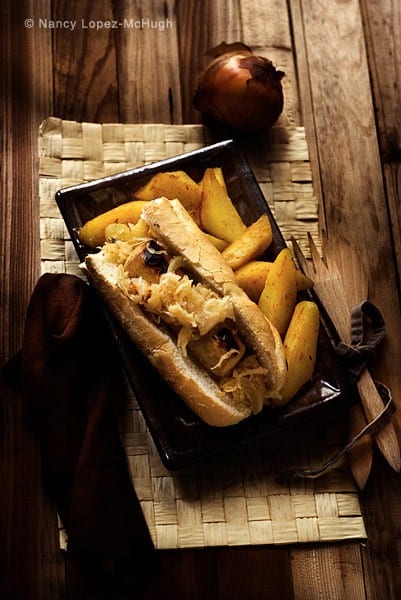 Nancy Lopez-McHugh
Nancy Lopez-McHugh is a food blogger, photographer and published author. Most recently she has published "Yummy Pics: A Food Blogger's Guide To Better Photos".