Rinku Bhattacharya greets this year's garden newcomer with a delicious summer pizza recipe.
By Rinku Bhattacharya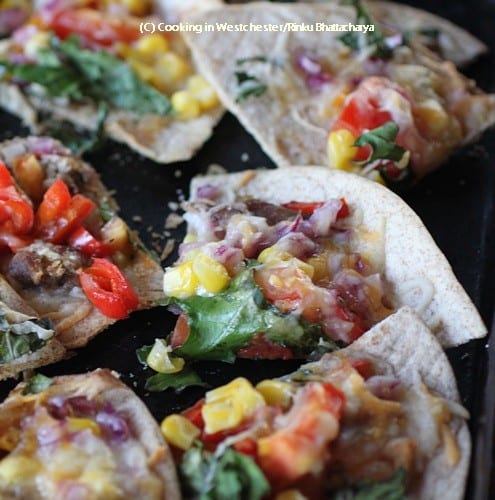 The newcomer in our garden this year is Kale, purple green curly leaves that are bold and vivid and plentiful. We are savoring it in sautes and stews.
One of my goals and challenges with our backyard seasonal eating exercise is also getting the kids excited about what we grow and persuading them to eat it. For the most part, they are usually thrilled about the prospect of picking their own so, they are happy to try and eat most of what is out there. Some things take a little bit of growing into (no pun intended).
So, while we are excited about this years bounty of Kale, which to my surprise is so much softer and flavorful that what I have been used to, it is still a robust vegetable and they kids are not as excited about this as they could be. I do try especially on weekends to make sure that they are pleased with what is being served. I think it is important that they realize that healthy and good can go together particularly at home. I had made a Mexican style Pizza earlier in the week, with chicken and then inspiration struck… I realized that Kale roasts very well, so I paired it with corn, tomatoes and red onions and of course some cheese.
These rainbow bright crisp tortillas were a sure fire winner. I had started them as a kid's meal, they were tired and I wanted them to sleep early, but they looked so good that I quickly made a batch for us as well. Yes, that is the best part of these little thingies, they get done quite quickly. They are a lot like open faced quesadillas, just much quicker to put together.

Kale, Red Onion and Corn topped Mexican Style Pizza
Author:
Rinku Bhattacharya
Ingredients
1 red onion, finely diced
A bunch of fresh kale (about 6 large leaves), finely chopped
½ cup frozen organic corn
1 tomato, diced
8 to 10 small whole wheat tortillas
1 cup grated cheese (I used a mixture of jack cheese and cheddar)
1 to 2 tablespoons chopped cilantro
Red Pepper Flakes (optional)
Instructions
Mix the red onion, kale, corn and tomato in a bowl.
Line the tortillas on a baking sheet.
Heat the oven to 325 degrees.
Sprinkle the vegetable mixture generously over the tortillas.
Top with the cheese (I used a lighter touch with the cheese)
Bake for about 10 to 12 minutes, until the cheese is melted and the tortillas are turning crisp, do not overcook.
Remove from the oven and sprinkle with cilantro and red pepper flakes if using.
Cut into wedges and serve immediately.
Rinku Bhattacharya
Rinku Bhattacharya, is a teacher of Indian Cooking and the author of the blog, Spice Chronicles. A busy working mother Rinku is committed to offering a practical approach of flavorful, everyday cooking often with an Indian Accent. An author of three cookbooks, Instant Indian, Classic Foods for Every Region of India made easy in the Instant Pot, Spices and Seasons, Simple, Sustainable. Indian Flavors and The Bengali Five Spice Chronicles. Rinku's passion for food starts with cooking and trying new recipes and extends to pairing and drinking wine with food and trying usual combinations by fusing various culinary influences. Rinku and her family are very committed to a sustainable lifestyle, and she uses mostly local produce for her recipes. She is joined in this effort by her husband who is an avid gardener and her children, Deepta and Aadi.