Christian Delouvrier's Crispy Mini Peeky Toe Crab Cakes with Guacamole and Tomato Beurre Blanc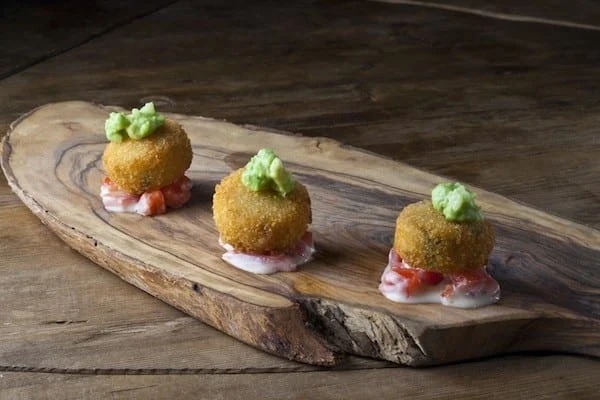 Chef Christian Delouvrier with a delightful seasonal dish, perfect for summertime and outdoor entertaining.
By Christian Delouvrier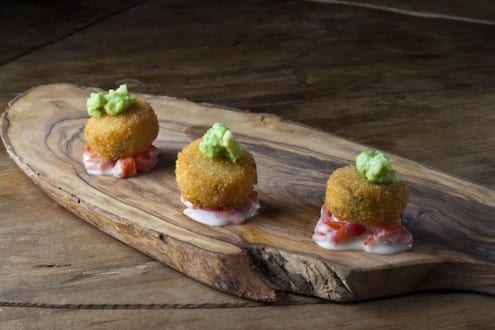 Although this crab cake strays from the type of dish you typically see on my menu at La Mangeoire, these mini hors d'ouevres are a delightful seasonal dish, perfect for summertime and outdoor entertaining. I've incorporated fresh, seasonal ingredients to pair with these perfect bites of peekytoe crab such as the tomato in the tomato beurre blanc and the freshly prepared guacamole I've used to top them off with.
This recipe and photo are featured in the new book "STREET EATS" by renowned photographer Battman, a.k.a. Alan Batt. You can find out more about the book here – http://chefsconnection.com/store/street-eats/.
Christian Delouvrier's Crispy Mini Peeky Toe Crab Cakes with Guacamole and Tomato Beurre Blanc
Crispy Mini Peeky Toe Crab Cakes with Guacamole and Tomato Beurre Blanc
Author:
Christian Delouvrier
Ingredients
Crab Meat
8 ounces (226.8 g) Peeky Toe crabmeat (or crabmeat of your choice)
2 tablespoons (29.57 ml) butter
2 tablespoons (29.57 ml) all purpose flour
¼ cup (2 fl ounces or 59 ml) milk
1 egg yolk
1 teaspoon (4.92 ml) tarragon
Salt to taste
Pinch of Piment d'Espelette
Guacamole
1 tablespoon (14.79 ml) white onion finely chopped
1 tablespoon (14.79 ml) finely chopped cilantro
1 teaspoon (4.92 ml) finely diced jalapeno pepper
2 medium ripe Haas avocados diced
Salt to taste
Beurre Blanc
1 tablespoon (14.79 ml) of diced shallots
2 tablespoons (29.57 ml) white wine vinegar
1½ tablespoons (22.18 ml) heavy cream
3 tablespoons (44.36 ml) butter cut into 1-inch (25.4 mm) cubes
3 tablespoons (44.36 ml) diced tomato
Assembling the crab cakes
3 whole eggs
2 tablespoons (29.57 ml) water
6 tablespoons (88.72 ml) flour
1 ½ lb (24 ounces or 680.4 g) Panko
2 quarts (1.89 L) Canola oil
Instructions
Crab Meat
Squeeze out the liquid from the crab meat and reserve.
Melt butter on medium heat, add flour and mix well with a whisk.
Bring milk to a boil and add it to the butter and flour mixture stirring constantly until thick.
Add egg yolk and mix.
Place the crabmeat in a medium sized mixing bowl and fold the butter, flour, milk and egg mixture into the meat. Season to taste with the salt, the Piment d'Espelette, and tarragon.
Refrigerate up to 5 hours.
Guacamole
Place all the ingredients in a wide bowl and fold them together using a fork.
Season with salt and set off to the side.
Beurre Blanc
In a medium size pan add shallots and vinegar and reduce to 1½ teaspoons (7.39 ml).
Add heavy cream and reduce by half .
Remove from stove top and add the butter a little bit at the time until smooth.
Strain sauce through a fine mesh sieve.
Add diced tomatoes just before plating.
Assembling the crab cakes
Beat eggs with water in a shallow pan.
Place flour in a shallow pan.
Place panko in a separate shallow pan.
Roll the crab cakes in the flour then in the egg mixture then in Panko.
Reserve in freezer at least 2 hrs.
Fry in canola oil until nice and golden. Make sure they are hot inside (use a cake tester to get the temperature).
Place the beurre blanc on the plate first, then the crab cake and top with the guacamole.
Christian Delouvrier
Christian Delouvrier is the Executive Chef at La Mangeoire Restaurant in NYC. Born in Boulogne-Sur-Gesse in Gascony in the South of France, he discovered his passion for food and cooking at the age of 15, when decided to pursue cooking as a profession. Since then he has worked at famous restaurants like Café de la Paix, L'Archestrate, Maurice, Les Celebrites, Lespinasse and Essex House alongside legendary Chefs like Alain Ducasse and Alain Senderens. At La Mangeoire, Chef Delouvrier shows his love of food and focus on the techniques and ingredients that define French fare. He is also the author of the book Mastering Simplicity, a Life in the Kitchen.