Pumpkin Pecan Waffle Cake
Stacked up like a cake, delicious pumpkin waffles are layered with maple buttercream and topped with butter bourbon pecan glaze. A sweet brunch or fun dessert.
By Miranda Couse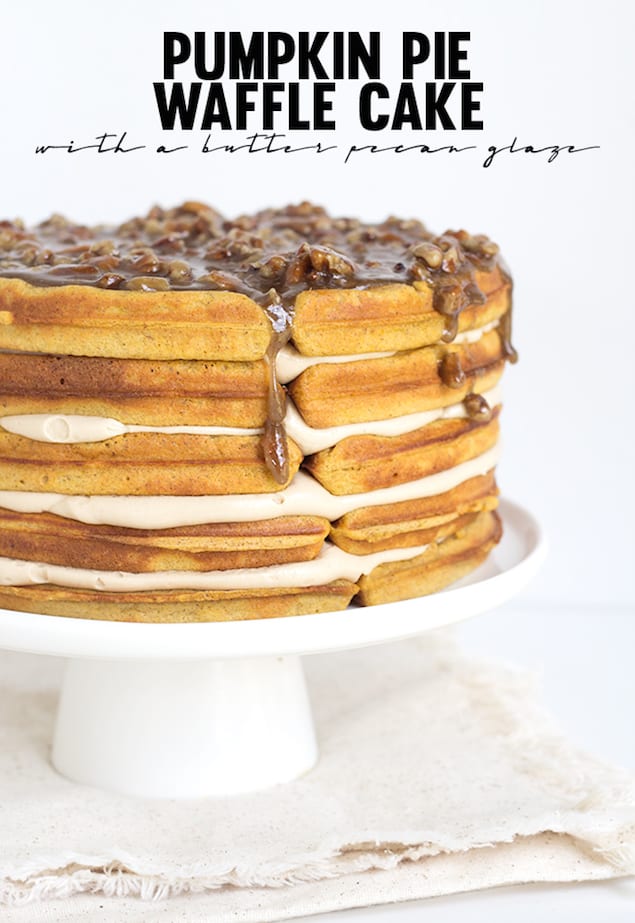 It's only natural that I had to incorporate maple in the recipe since they are waffles. Lucky for me, pumpkin pie and maple are BFF's.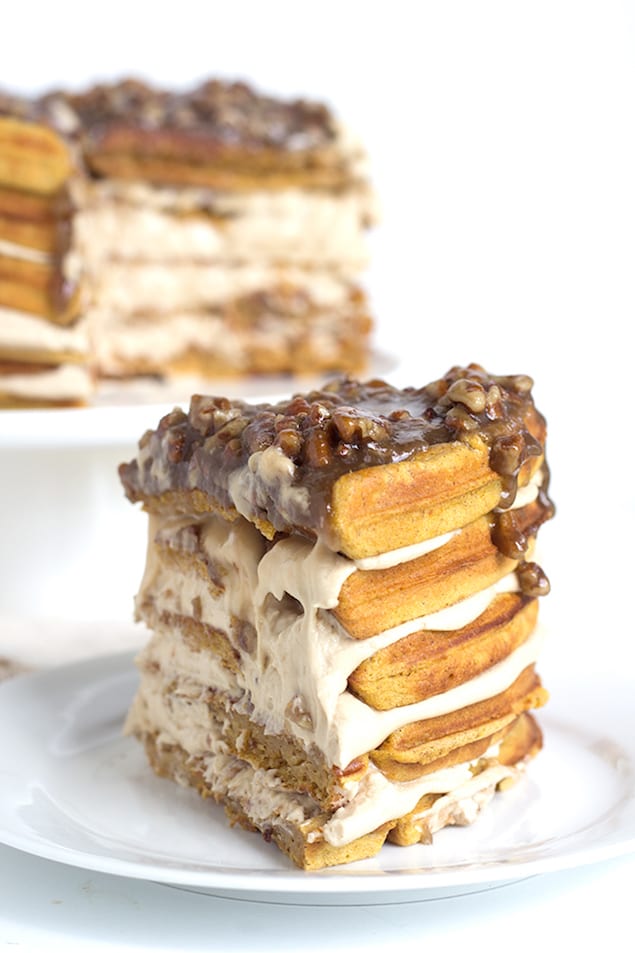 When assembling, try to line up the waffles as best as you can. It really makes cutting the quarters or slices a ton easier. Just a suggestion of course.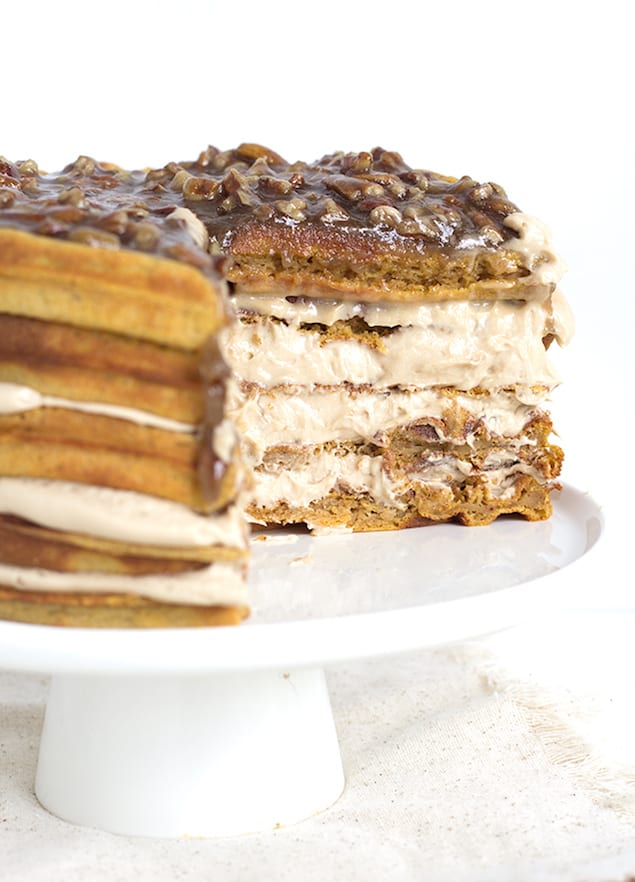 Find the recipe for the butter pecan glaze here and check out more waffle recipes.
Pumpkin Pecan Waffle Cake
Stacked up like a cake, delicious pumpkin waffles are layered with maple buttercream and topped with butter bourbon pecan glaze. A sweet brunch or fun dessert.
Recipe Type:
Dessert, Cake, Waffles
Serves:
7 waffles, about 10 servings
Ingredients
Waffles
2 + ½ cup all-purpose flour
2 T. cornstarch
1 T. baking powder
½ tsp. salt
¾ cups brown sugar, packed
3 tsp. ground cinnamon
1 tsp. ground nutmeg
1 + ½ tsp. ground ginger
½ tsp. ground clove
1 + ½ cup buttermilk
4 eggs, divided
½ cup butter, melted
1 T. vanilla bean paste
1 cup pumpkin puree
Maple Frosting
½ cup butter, room temperature
4 oz. cream cheese, room temperature
1 tsp. maple extract
1 + ½ powdered sugar
Butter Pecan Glaze
See the recipe in the link above.
Instructions
Heat up your waffle maker.
In a mixing bowl, add in the flour, cornstarch, baking powder, salt, brown sugar, cinnamon, nutmeg, ginger and clove. Stir to combine.
Separate the egg yolks and whites.
Beat the egg whites on high until stiff peaks form. Set aside.
Add the buttermilk, egg yolks, melted butter, vanilla bean paste and pumpkin into the dry ingredients. Mix with the hand mixer until incorporated.
Fold in the stiff egg whites. The mixture will be slighly lumpy.
Scoop about ¾ to 1 cup of the batter into the waffle maker. I quickly spread my batter to the edges of the waffle maker before shutting it.
Let the waffles cook until done. Mine took about 5 minutes to crisp up.
I layed my waffles out on a piece of wax paper and did not stack them. This was so they didn't get super soft.
Let the waffles cool completely before stacking them and adding the maple buttercream.
Maple Buttercream
In a mixing bowl, add butter and cream cheese. Mix on medium/high until smooth and combined.
Add in the maple extract and powdered sugar. Mix on low until just combined. Turn the mixer to medium/high and beat for another minute until fluffy.
Place in a disposable bag with a coupler.
Place a waffle on a cake stand. Pipe a nice layer of buttercream on the top of the waffle. Add another waffle. Repeat with the remaining waffles. I used 5 waffles all together.
Place in the fridge to chill for about 1 - 2 hours.
Butter Pecan Glaze
See the recipe in the link above.
Miranda Couse
I'm Miranda. I'm a self-taught baker, recipe developer, writer, and photographer behind the blog http://cookiedoughandovenmitt.com. When I'm not satisfying sweet teeth, I can be found spending time with my family, reading cookbooks, attempting crafts and crocheting.