An elegant tasting meal with simple preparations, seared duck dish with roasted plums, crispy sage and a cider maple glaze.
By Sylvia Fountaine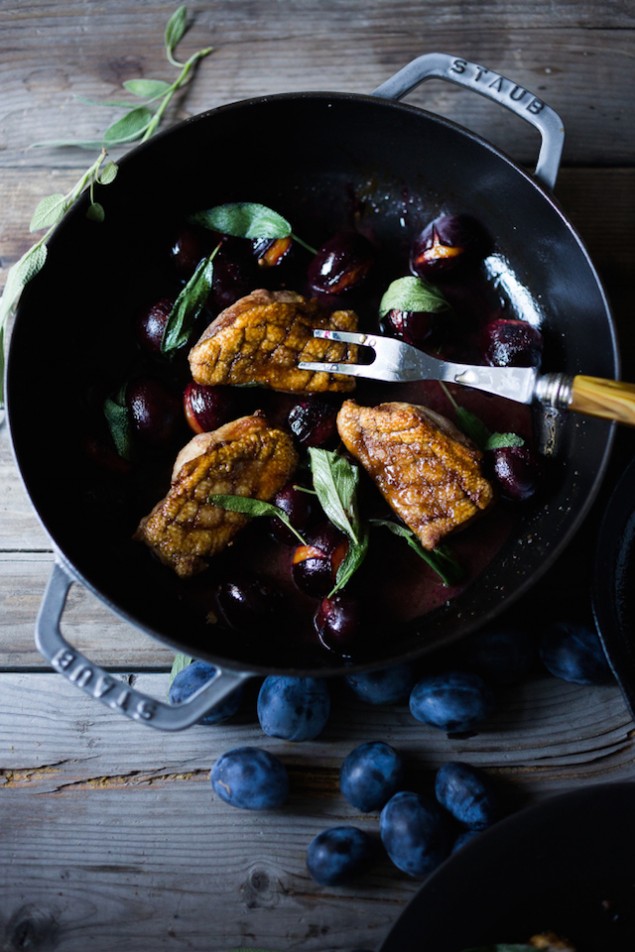 The very last of the plums, given to us from a friend made it into our Sunday dinner last night. Seared duck breast, nestled with fresh plums were placed in the hot oven to roast. As the plums roasted, they split and released their juices into the pan. At the end, a simple glaze of reduced hard cider and maple syrup was spooned over top with some crispy sage. The combination of tangy roasted plums with the earthy duck breast was divine. This simple yet utterly decadent recipe is surprisingly quick and easy enough for a weeknight meal where you need a little extra love and self nurturing. Or make it for a special dinner. It can be made in 30 minutes, and it's a great introduction to duck if you've never prepared it. Serve it with a root vegetable mash, soft polenta, farro or rice.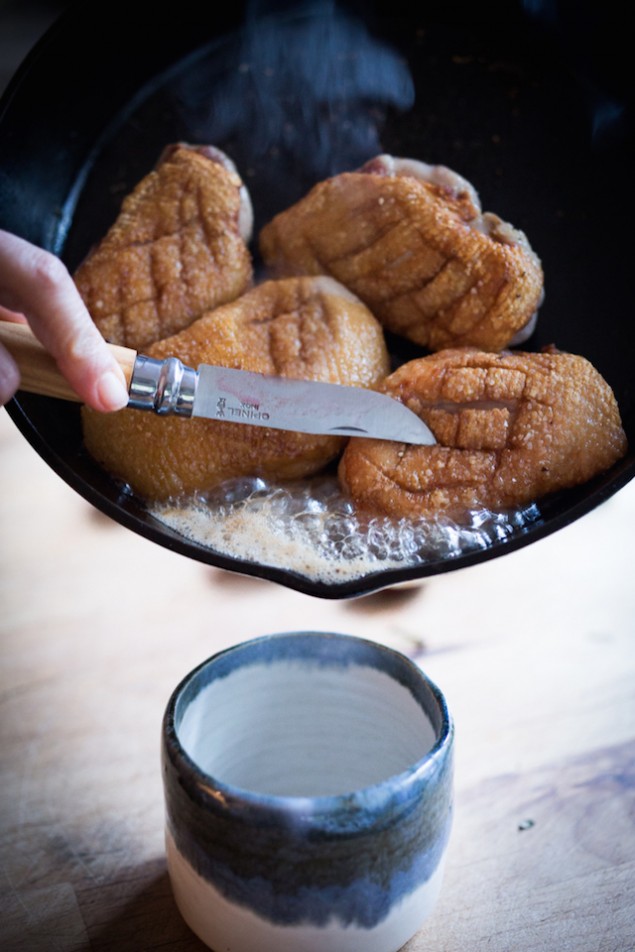 Duck breasts have a thick skin which can be scored in order to help it render its fat while it's searing. Using a sharp knife, cut crosswise about ½-¾ inch wide, trying not to go into the flesh.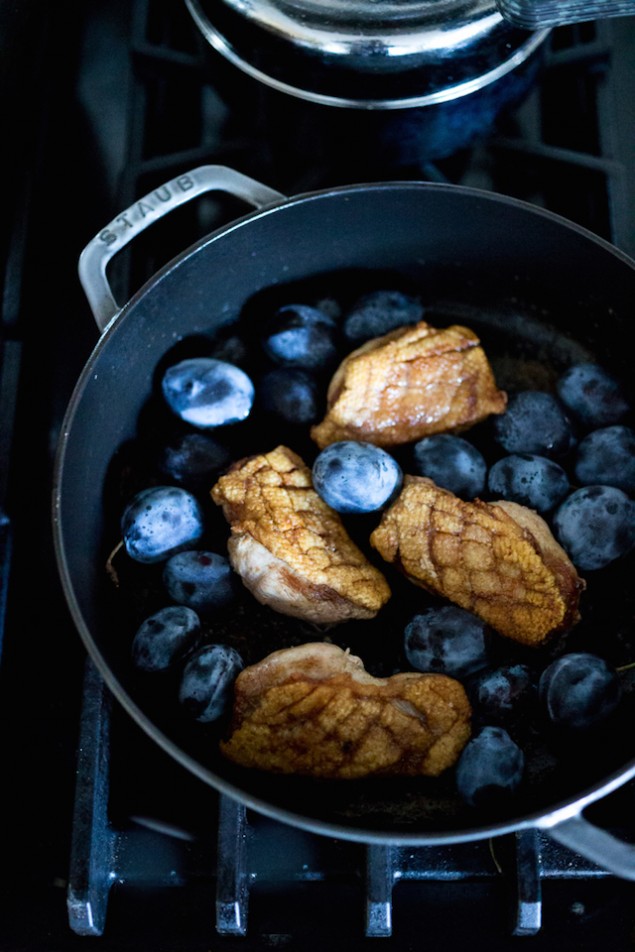 Serve right out of the pan, or for a fancier dinner, slice the duck and plate it with a few plums, cider glaze and a few crispy sage leaves.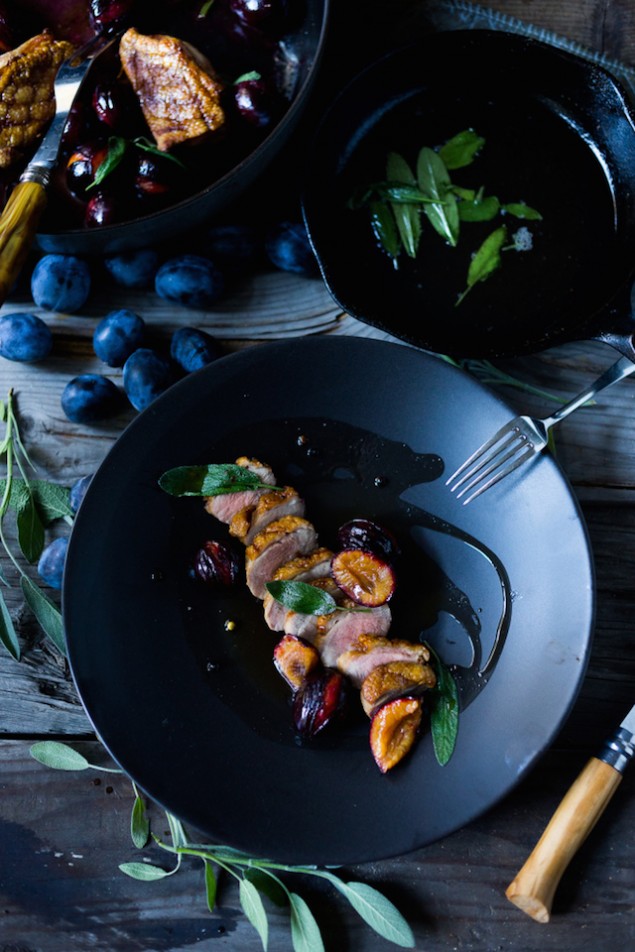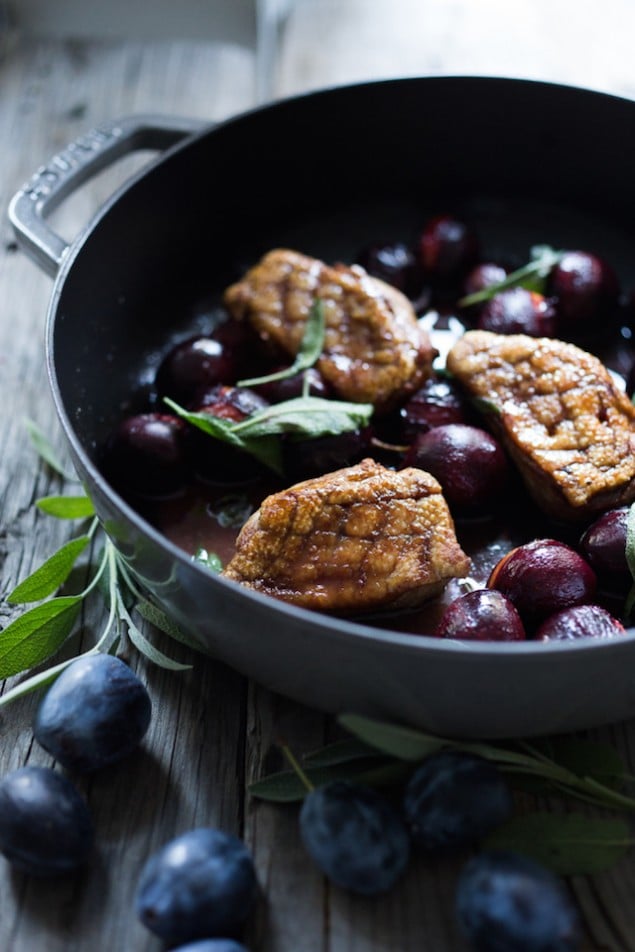 Cider Glazed Duck and Roasted Plums
An elegant tasting meal with simple preparations, seared duck dish with roasted plums, crispy sage and a cider maple glaze.
Ingredients
4-6 duck breasts, skin on.
salt
pepper
12 oz bottle hard apple cider
1 cup chicken stock
1 tsp peppercorns ( optional)
2 bay leaves
1 tablespoon maple syrup
16 plums
handful of sage leaves
Instructions
Pre heat oven to 350F.
Place the apple cider, stock, bay leaves and peppercorns in a small pot on the stove. Bring to a boil, then turn heat down to medium, or to where it continues to simmer gently, uncovered. Reduce to ¼ of a cup, then stir in maple syrup.
Pat dry the duck, then with a sharp knife, score the duck skin just to the flesh in diagonal lines about ¾ inch apart. ( see photo).
Generously season both sides with salt and pepper.
Heat a large heavy bottom skillet on the stove, over medium high heat ( no need to add oil).
Once the skillet is hot, place the duck skin side down and let them sear. After 2-3 minutes, give the pan a shake to loosen the duck and turn heat to medium. Continue cooking for 15 minutes on the skin side.
Drain the fat ( saving for another use) turn the duck breasts over and nestle in the plums, ( leaving small ones whole, and cutting large ones in half) scatter 6-8 sage leaves in the pan, then place the pan in a warm oven for 10-15 minutes, until duck is cooked through to your liking.
To make crispy sage leaves, simple heat oil in small skillet and lightly fry the leaves. Season with a touch of salt. Place on a paper towel.
Once duck is cooked to your liking, pull from the oven and pour a the cider maple glaze over top. Scatter with the sage leaves.
Sylvia Fountaine
Caterer and chef of Feast Catering Co., my blog Feasting at Home is where I share wholesome, seasonal recipes we cook at home.