Banana Bread Almond Flour Pancakes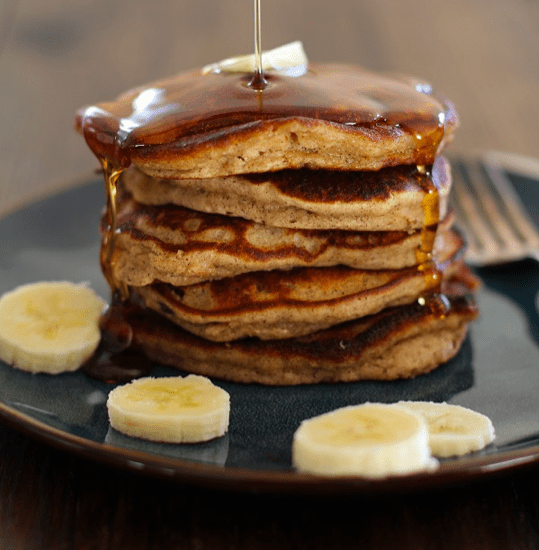 These almond flour pancakes are full of protein and are naturally sweetened, making them a very healthful breakfast.
By Julia Mueller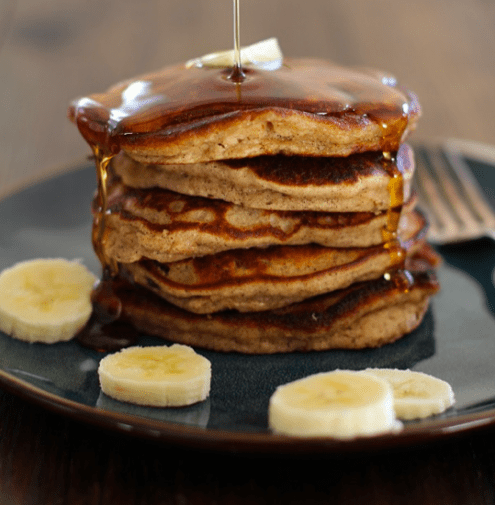 Almond meal and brown rice flour make for a fluffy pancake that you would never know is gluten-free, and the bananas keep the recipe moist (in spite of the fact that everyone seems to dislike the word, "moist", I have to admit I kind of like it. Moist, moist, moist).
Banana Bread Almond Flour Pancakes
These almond flour pancakes are full of protein and are naturally sweetened, making them a very healthful breakfast.
Ingredients
2 ripe bananas, mashed
½ cup coconut milk (full-fat from the can)
½ teaspoon vanilla extract
2 eggs
½ cup brown rice flour
½ cup almond meal
1 teaspoon baking powder
¼ teaspoon salt
1 teaspoon ground cinnamon
⅛ teaspoon ground nutmeg
½ cup walnuts, chopped
Instructions
Mash the bananas in a mixing bowl.
Add the eggs, coconut milk, and vanilla extract and whisk together.
In a separate bowl, combine the rest of the ingredients and stir together.
Pour the wet banana mixture into the bowl with the dry flour mixture and stir well to incorporate.
Heat enough oil in a skillet to coat the bottom and heat to medium-high temperature.
Measure ¼ cup of the banana pancake batter and pour it into the skillet.
Cook until the sides of the pancake begin to firm up, about 2 minutes.
Flip to the other side and cook another minute or two until pancake is cooked all the way through.
Repeat with remaining batter!
Serve with butter and agave nectar or pure maple syrup.
Julia Mueller
As a fitness and nutrition enthusiast, Julia writes a food blog called The Roasted Root, where she share recipes that are mostly vegetable and meat based along with stories of her travels and day-to-day activities. Julia loves enjoying fresh home cooked meals with her friends and family, and the process of developing recipes, photographing, and sharing them.