Ideal for tailgating and holiday party season, these skewer recipes feature filling combinations for a hungry crowd. Think "easy" all the way from prep to presentation. These babies are portable and require virtually no cleanup. What's not to like? Just remember—if your wooden skewers are hitting the grill, you'll want to soak them for about 20 minutes before adding your ingredients to avoid burning, and all components should be cut to roughly the same size to ensure even cooking.
By Emily Barrett
This article has been posted with permission and originally appeared as Skewer It! 12 Ways to Serve Dinner on a Stick on Relish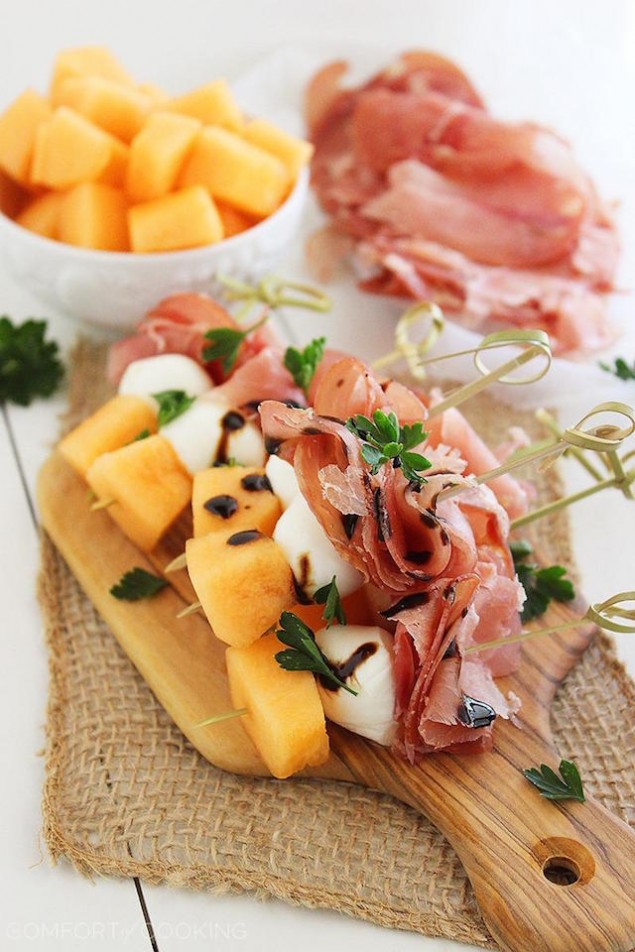 www.thecomfortofcooking.com
Melon, Prosciutto and Mozzarella Skewers
Together, melon and prosciutto are a sure thing. If you've never tried this savory-sweet combo, the time is now. With a dash of balsamic vinegar and the addition of fresh mozzarella cheese, this skewer makes for a light-but-satisfying appetizer or main attraction. Find the recipe here.
Teresa Blackburn
Japanese Beef and Green Onion Skewers: Yakitori
With this guaranteed crowd pleaser, the secret's in the sauce. Mirin (a sweet rice wine made for cooking), soy sauce, peanut oil, rice wine vinegar, and sugar, the sauce makes the perfect sweet Asian glaze for tender beef and potent green onions. Serve skewers by themselves, or with a side of rice. Find the recipe here.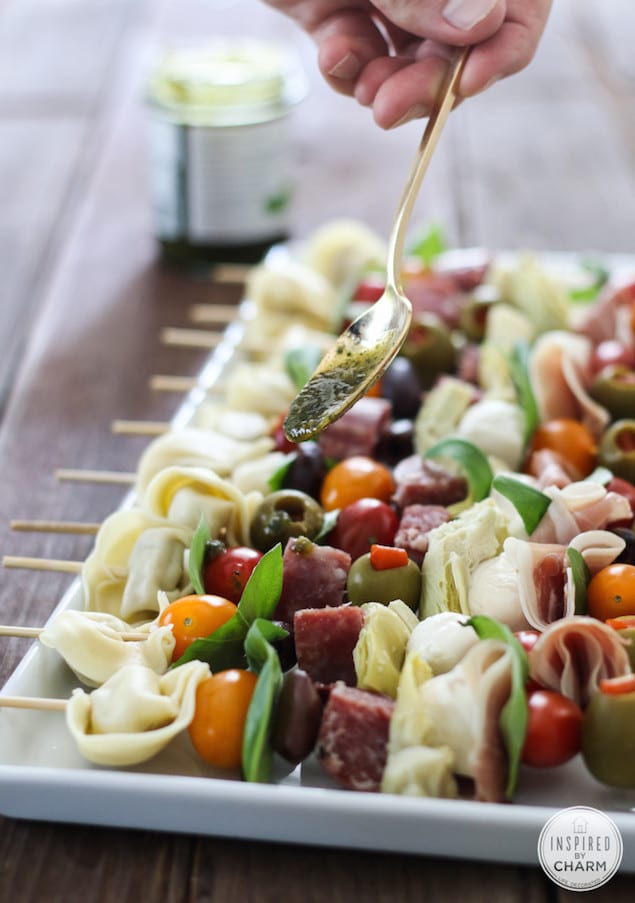 www.inspiredbycharm.com
Antipasto Kabobs
"Antipasto," for the uninitiated, means "before the meal." But you can easily make a meal of a well-rounded antipasto platter—or skewer, as the case may be. Traditional Italian antipasto is served at the table as the first course and includes cured meats, olives, various cheeses, artichoke hearts, and more. This variation throws in tortellini for a fun twist on the classic. Find the recipe here.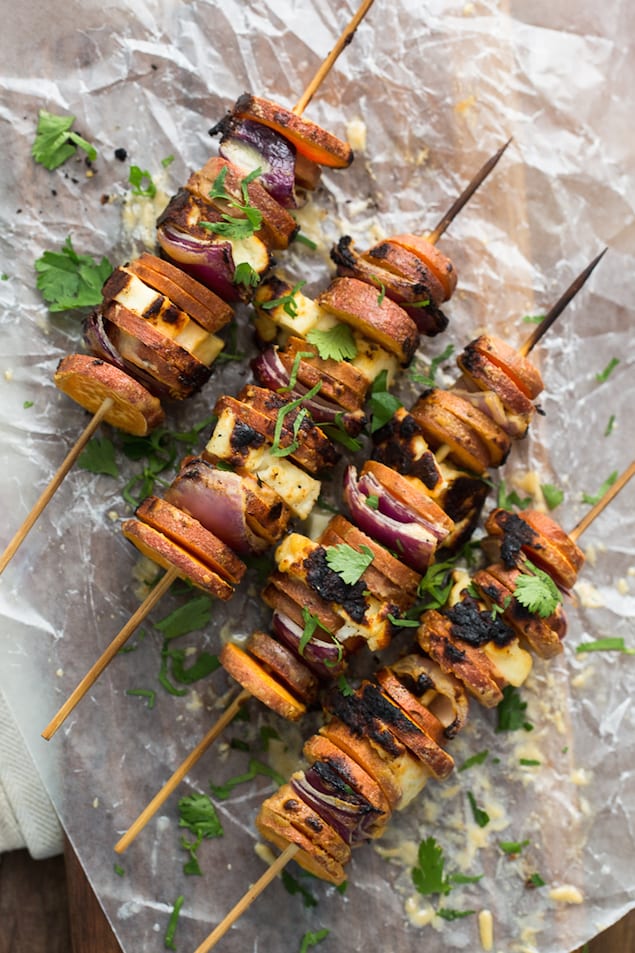 www.naturallyella.com
Grilled Sriracha-Tahini Sweet Potato Skewers with Halloumi
Sweet, nutty sweet potatoes and halloumi cheese combine for a sweet and savory sensation, while a hint of spicy sriracha adds interest. These make a fantastic grilled main for any vegetarians in the house—or side dish to your favorite grilled meats. Find the recipe here.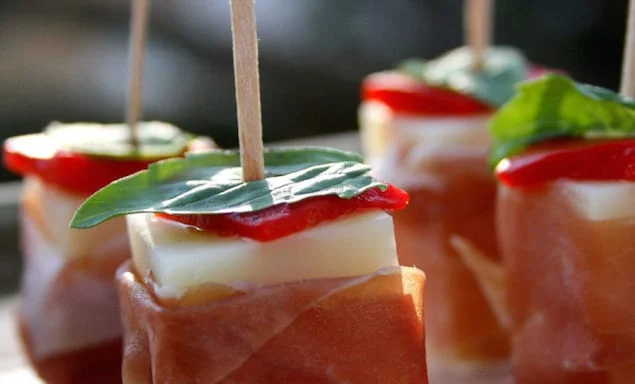 Comté Cheese Association / Nickie Sizemore
Comte and Prosciutto Skewers
Comte is a strong, slightly sweet, semi-hard French cheese that's taken pretty seriously for its high standards. When wrapped in prosciutto, however, it's taken seriously for a whole new reason. Add a thin slice of roasted red pepper and a leaf of fresh basil to mini skewer for a snackable appetizer—or layer on long skewers for a decadent meal. Find the recipe here.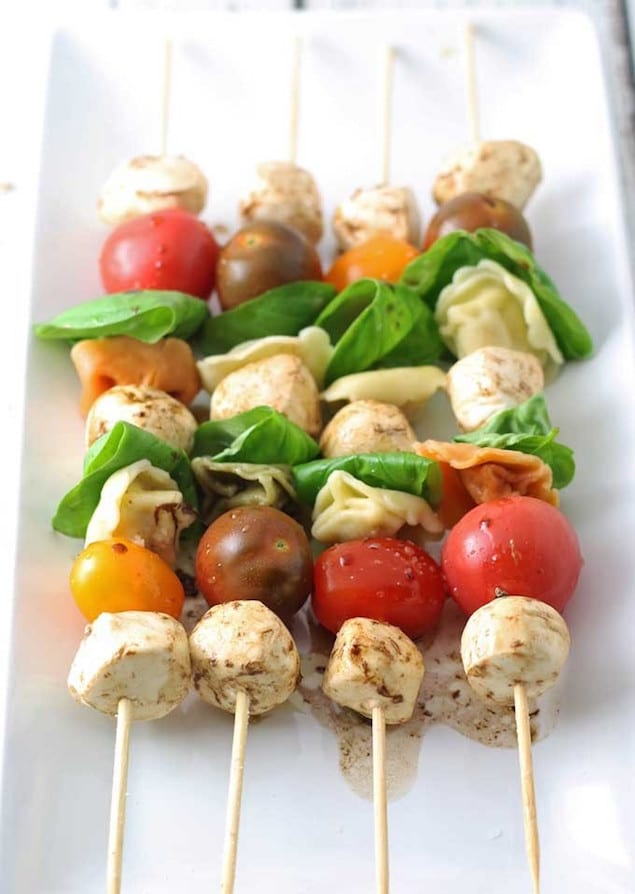 www.honeyandbirch.com
Caprese Tortellini Skewers
Caprese salad translates perfectly to a skewer. But add tortellini to the mix? Well, that's a meal unto itself. For a treat your guests will love, just drizzle with EVOO and balsamic vinegar and serve. These are picture-perfect lined up on a platter. Find the recipe here.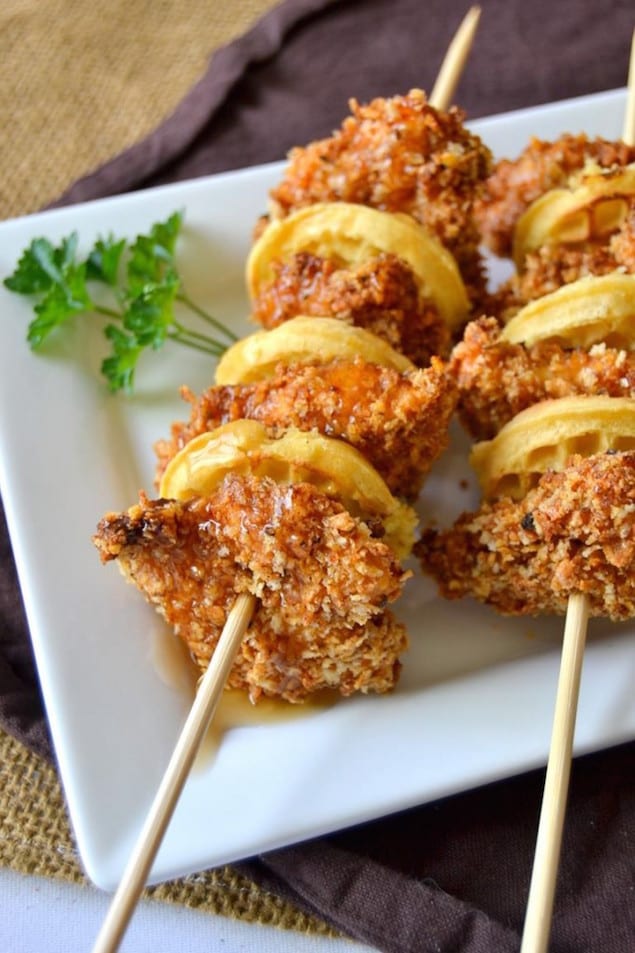 www.tattooedmartha.com
Chicken and Waffle Skewers
The classic southern combo: chicken and waffles. Sweet, savory, spicy and pretty much perfect. In this recipe, chicken tenders are battered in a corn flake and panko mixture with Cajun seasoning and spicy sriracha. The chicken is then baked and skewered with toasted mini waffles. If it's an extra-special occasion, you can make your own waffles and cut into bite sized pieces. Just add a drizzle of syrup (or dunk yours full-on when no one's looking) and let the southern comfort wash over you. Find the recipe here.
See Also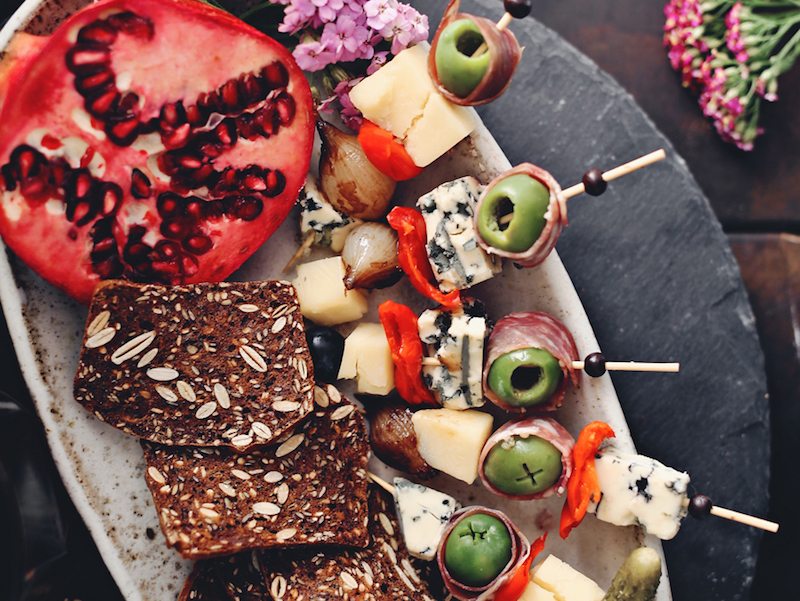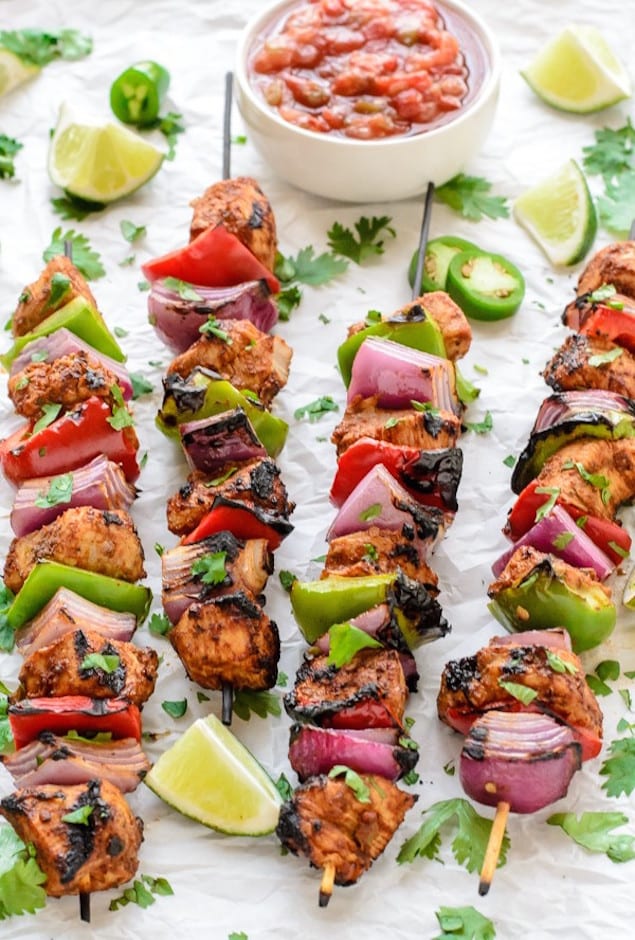 www.wellplated.com
Fajita Chicken Kebab
Rather than searing onions, peppers, and chicken in a pan, skewer them up for a colorful, layered meal that you can char up and sizzle on the grill. Slide them off the skewers into fresh tortillas and add your favorite toppings—or enjoy straight off the stick. Find the recipe here.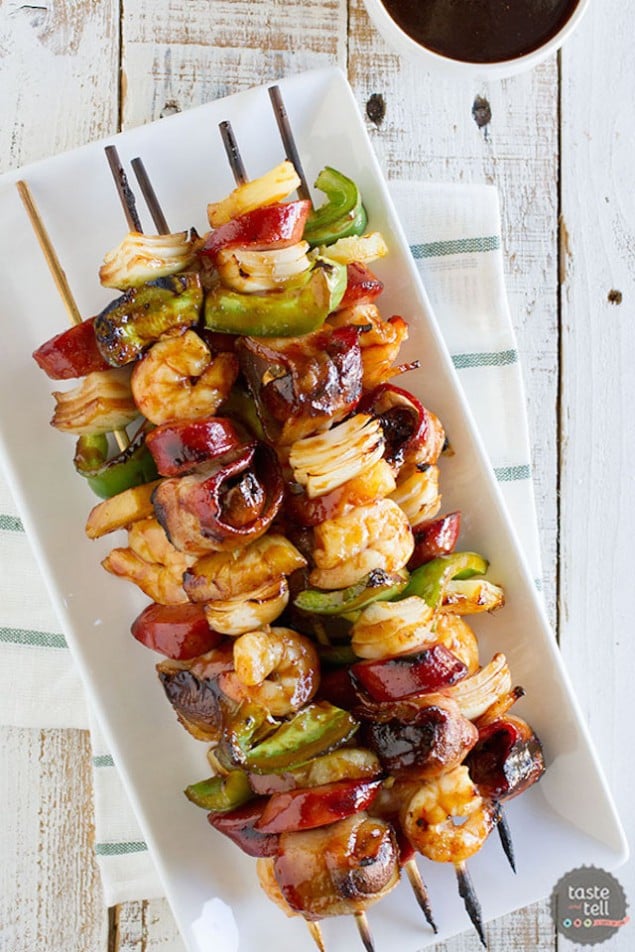 www.tasteandtellblog.com
Shrimp and Sausage Kabobs
This recipe calls on a little Cajun love with gulf shrimp and smoked sausage, plus a little Caribbean flair with the addition of fresh pineapple. Oh and did we mention bacon-wrapped mushrooms? This skewer combo could hardly get more decadent if it tried. Find the recipe here.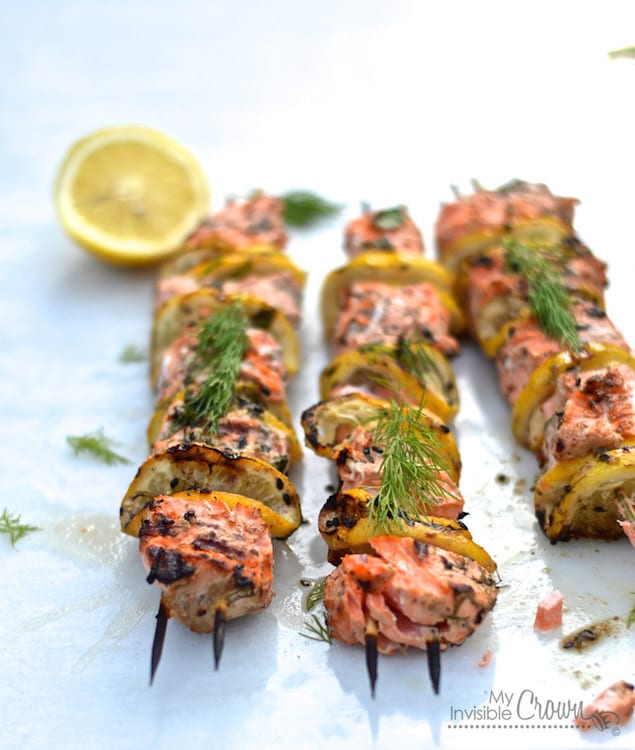 www.myinvisiblecrown.com
Spiced Salmon Skewers
These aren't your average fish sticks. We're talking flaky salmon filets grilled to perfection and topped with fresh lemon and herbs. In this case, the skewered presentation is more than just fun, and it's more than just convenient—it's downright stunning to behold. Find the recipe here.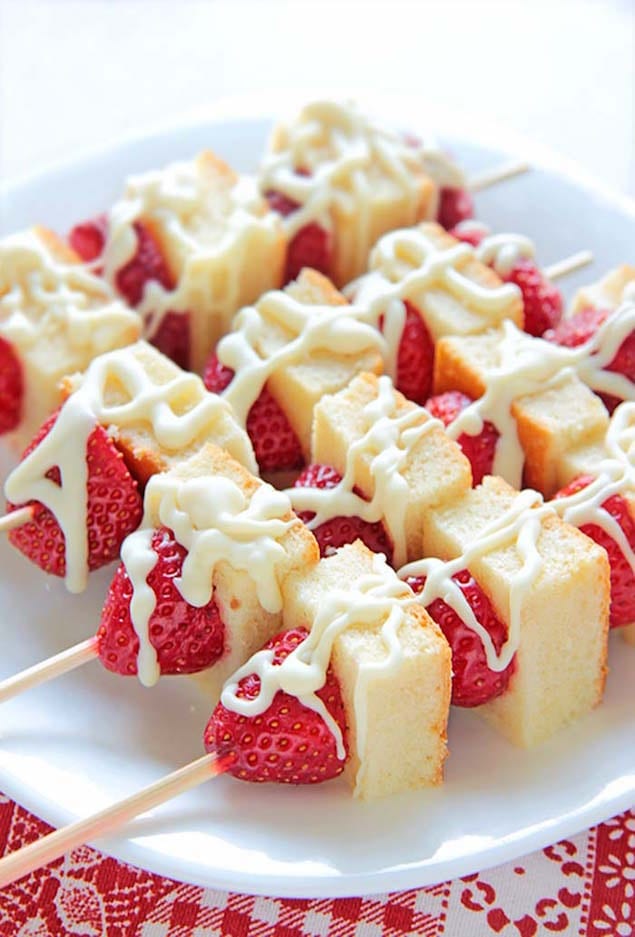 www.sugarapron.com
Strawberry Shortcake on a Stick
Dessert on a stick? Well, yeah! This strawberry shortcake kabob uses a fluffy white cake like angel food, adds whole sweet strawberries, and throws in a white chocolate drizzle…you know, just for good measure. Serve with ice cream or pop 'em on the grill with warm white chocolate sauce. Find the recipe here.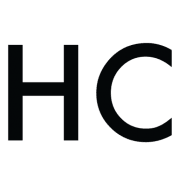 Relish
Offering more than 14,000 recipes plus features and DIYs on cooking, dining and entertaining, Relish celebrates America's love of food. Relish is about honoring cooking traditions while exploring new trends and ideas, which is why millions of people turn to both Relish.com and Relish Magazine for special occasion recipes, quick and easy weeknight suppers and culinary adventures.