This Spring Strawberry and Pea Salad with Grilled Chicken and a mint vinaigrette is a favorite salad of the season. It's colorful and packed with nutrients.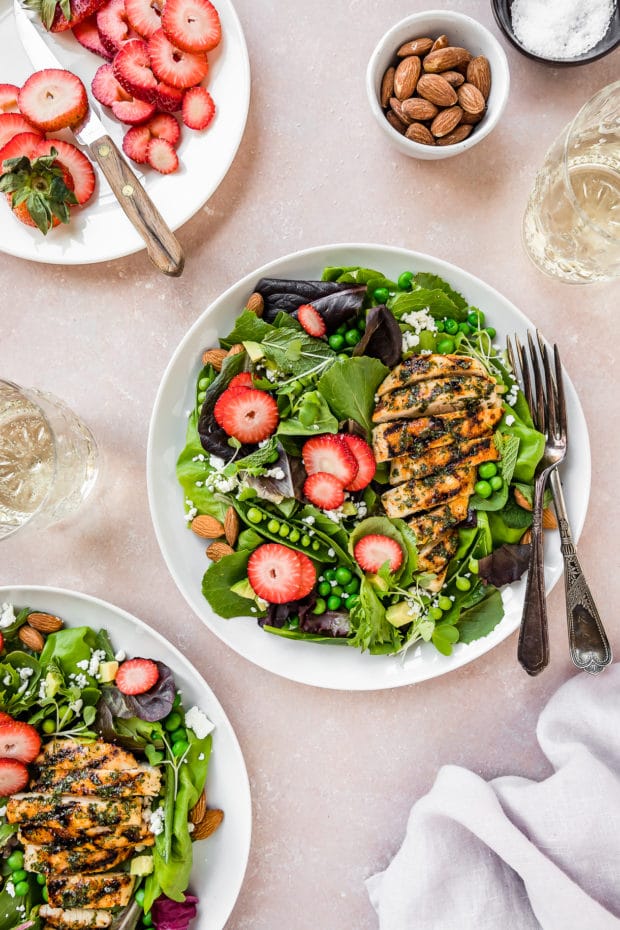 Can we talk about salads for approximately .452 seconds? I feel like salads get a bad rap.
People either love them or loath them, but the people who unfortunately fall into the latter category seem to really, really loath them. And, I can't help but to think it's a little misguided.
But, I get it. Some salads can be boring, bland and leave MUCH to be desired.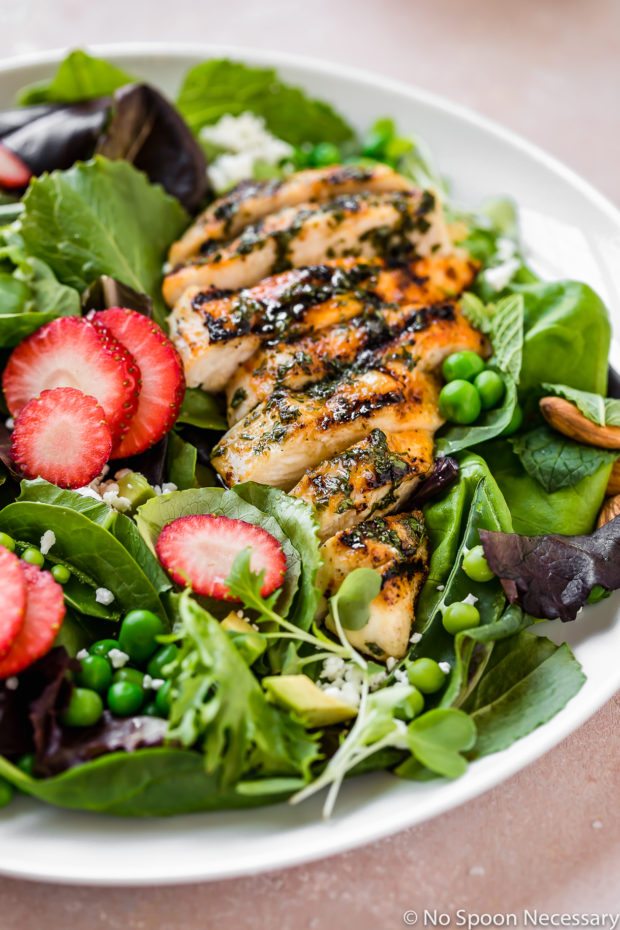 With that said, let me introduce you to today's salad.
It's a salad so fresh and fabulous it will rock your world… or at least rock your taste buds.
Fresh greens tossed with plump, sweet peas, crisp snap peas, juicy strawberries, salty feta, creamy avocado and crunchy nuts, then topped with tender grilled chicken.
And then, all that sensational salad jazz gets finished with a silky, luscious, tart, slightly sweet and minty fresh vinaigrette.
It's light and fresh, yet satisfying and jam packed with both texture and flavor.
Basically, it's a salad done RIGHT.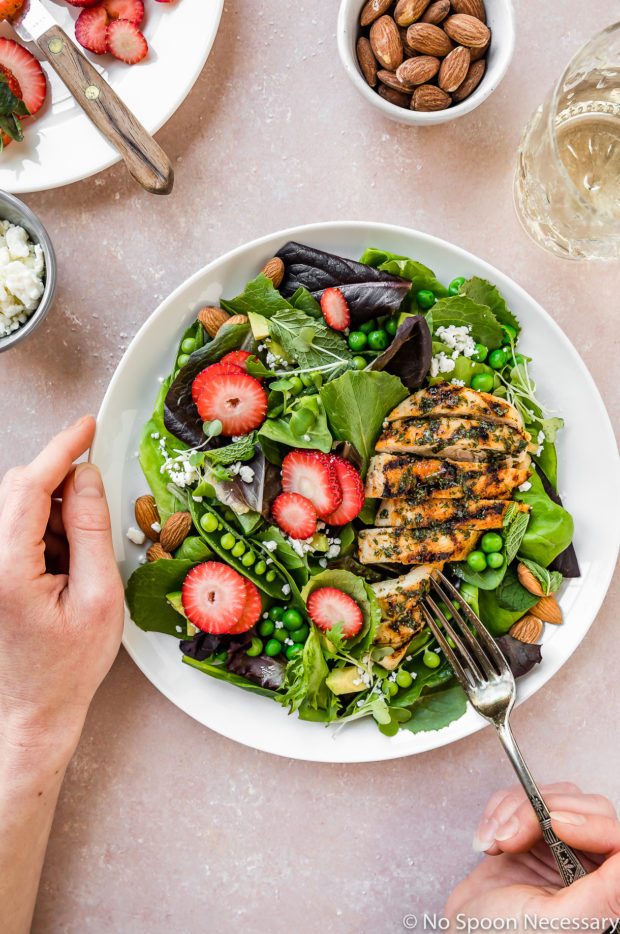 Spring salad mix is simply a mixture of fresh greens and lettuces of varying colors, tastes and textures.
There are approximately 16 greens included in a spring salad mix, including red romaine, baby spinach, arugula and radicchio to name a few.
While this salad utilizes spring salad mix, I also like to throw some bibb lettuce into the mix as it is, personally, my favorite lettuce.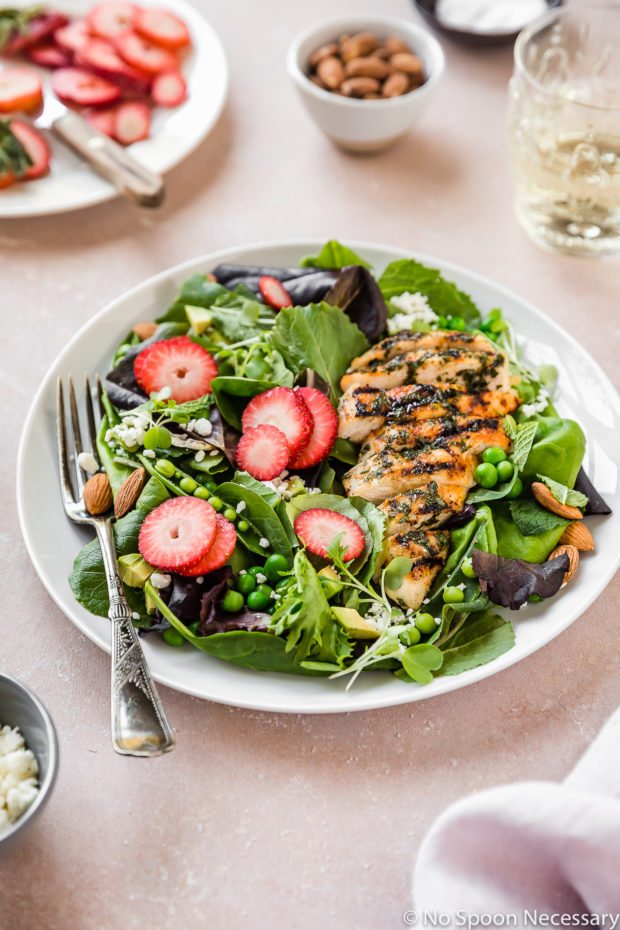 Recipe notes, tips and tricks for Spring Pea & Strawberry Salad with Grilled Chicken:
1. You can season the chicken breasts however you like. Simply with salt and pepper, or with an all-purpose poultry or grilling seasoning. I seasoned mine with a mixture of garlic powder, dried basil, onion powder, smoked paprika, salt, pepper and pinch of cayenne.
2. The cooking time for the chicken breasts in the recipe below is approximate and will depend on the size and thickness of your chicken breasts. I used chicken cutlets which are great for weeknight meals since they are thin and cook so quickly – roughly 3 minutes per side. Always cook your chicken to an internal temperature of 165 degrees F.
3. The vinaigrette can be made up to 3 days in advance. Store it in a container with a tight fitting lid in the refrigerator and give it a good whisk, or shake, before using.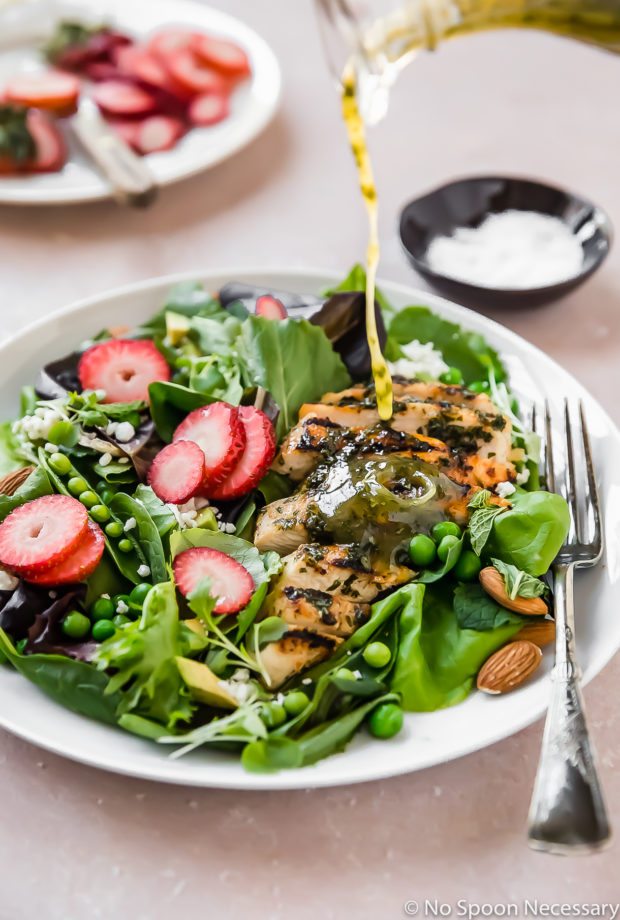 Click here for the mint vinaigrette recipe.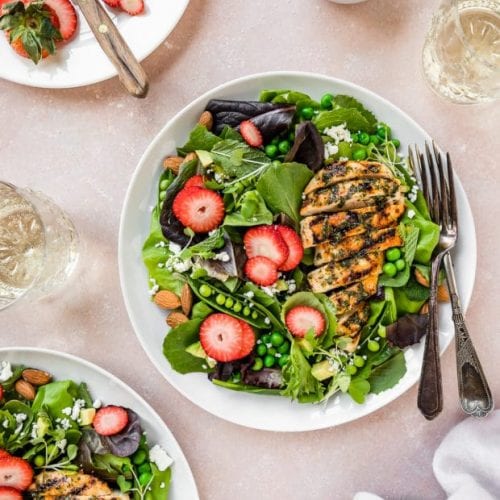 Spring Strawberry and Pea Salad with Chicken
Cheyanne Holzworth
Ingredients
6

Cups

Mixed Salad Greens

1

Cup

Sugar Snap Peas or Snow Peas

½

Cup

Fresh Peas blanched

1/3

Cup

Feta crumbled

1

Cup

Strawberries sliced

1

Avocado sliced or diced

1/4

Cup

Nuts toasted

almonds, pistachios or pecans

1

Pound

Chicken Breasts or Cutlets*
Dressing:
Click the link above for the recipe.
Optional for serving: Micro greens, lemon wedges
Instructions
Preheat grill, grill pan, or cast iron skillet over medium high heat and brush the grates with oil.

Season chicken as desired* and place it on the grill. Grill for 4-8 minutes per side*, or until the chicken is cooked through and the juices run clear. Remove chicken from the grill and let rest for 5 minutes.

Meanwhile, make the dressing: Whisk together all the ingredients in a small bowl. Taste and adjust for seasoning as desired. Set aside.

In a large bowl, combine the greens, peas and feta. Slice, or dice, the chicken and add it to the top or the salad along with the strawberries, avocado and nuts. Drizzle with dressing and enjoy!
Notes
You can season the chicken as desired. Simply with salt and pepper or all-purpose grill seasoning. I seasoned mine with a mix of garlic powder, dried parsley, dried basil, smoked paprika, salt, pepper and pinch of cayenne.
Grilling time for the chicken will depend on the size and thickness of your chicken. Since chicken cutlets are thinner they will require less time than thick chicken breasts. Always cook your chicken to 165 degrees F.
Cheyanne Holzworth
Hi there! My name is Cheyanne. I am an avid foodie, culinary school graduate, recipe developer and newbie blogger. I find peace and joy being in the kitchen and am obsessed with feeding anyone who has an appetite. I am also a lover of food porn. I picked up a camera one day and fell in love with food photography. Then I got a wack-a-me-me idea to start a food blog and the rest is history. No Spoon Necessary is a place where I share my passion for food and photography with all who care to join me. I also rant, ramble on and share my life a little. In a world filled with so many talented food bloggers, I am simply trying to carve my space in www dot com land, take you all with me on the crazy ride and cook 'n eat some delicious food along the way! So, strap on that apron and work some culinary magic with me. Cheers!