Get the secrets to making an authentic German potato salad with olive oil and mustard. Made with rich beef broth and topped with chives, you will be craving this side at every summer barbecue.
By Kimberly Killebrew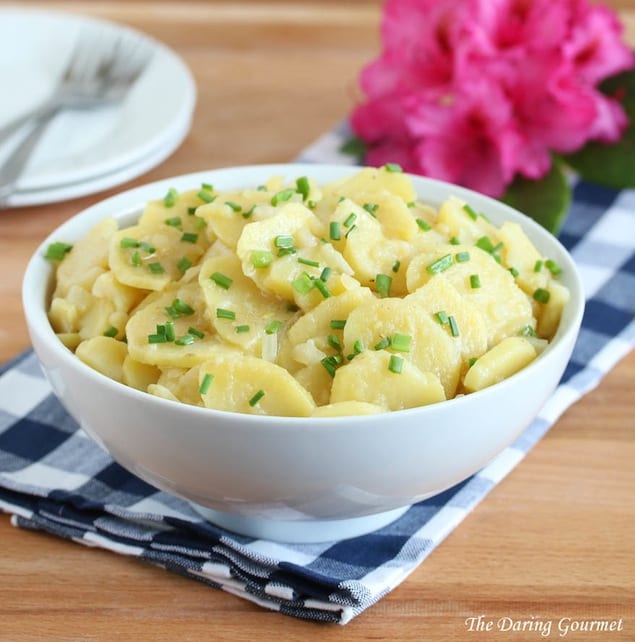 I love potato salad. All kinds. But my all-time favorite is Schwäbischer Kartoffelsalat from the Southern Germany region of Swabia where I grew up (Stuttgart). I'm also the ultimate critic when it comes to potato salads. I've probably eaten this potato salad a couple of hundred different times throughout my life in Germany, made by various people and at various restaurants. And I never once had a homemade version that came anywhere near to the ones I enjoyed the most at my favorite German restaurants. With one exception: My mom's version. She also makes the best mayonnaise-based potato salad of anyone, but her Swabian potato salad comes closer to the restaurant versions than any I've had before. And so I've taken my mom's recipe and I have tweaked it a bit in my attempt to achieve that German restaurant quality flavor and texture. And by Günther, I've got it!
For any of you who live in Germany or have visited Germany, you know what I'm talking about. The Swabian potato salad you find in good Southern German restaurants is so, so good. And it's rarely replicated properly by the home cook. No matter what I ordered when I went to a restaurant, I would almost always order a salad for starters (Germans make the best Gemischter Salat – "mixed salads" with separate portions of various vegetables on the same plate) which included a portion of Swabian potato salad (at least the restaurants in Swabia anyway ;) I remember as a kid that was the thing I looked most forward to when we went out as a family. I remember times when I would only order a plate of Swabian potato salad and a separate serving of Spätzle (see recipe for homemade Spätzle here) with Rahmsoße (Swabian noodles with creamy gravy). And I left one happy girl.
Well, it's been about 10 years since I moved to the U.S. and rather than pine away for that potato salad I knew and loved in Southern German restaurants, I decided to crack the code so I could replicate myself for those times when the Swabian potato salad craving comes a-callin'.
The ingredients in traditional Swabian potato salad and few and simple, but there are a few tricks that are absolute musts for getting it right – like the restaurants do. Here they are:
1) The right potatoes. This is the biggest challenge here in the U.S. In Germany you can find potatoes that you simply cannot find here. Unlike Russet potatoes, for example, which are flaky, mealy, and generally flavorless, the kind used in potato salads in Germany are firm, deep yellow in color, buttery and flavorful. And they keep their shape well. The closest you can get to those here are Yukon Gold potatoes and those are the ones I recommend for this recipe. Also, be sure to boil the potatoes in their skins – don't peel them first.
2) Beef broth. There is no substitute, it must be beef broth. And it must be very strong beef broth. And it must be hot when you pour it over the potatoes so they soak it up. Make sure you let the potatoes sit for at least a full hour after you pour the broth over.
3) German mustard. I know the recipe doesn't call for much, but it must be German mustard (mild) if you want it to taste the way it's supposed to. The kind I use in most of my German recipes is the Alstertor Düsseldorf Style Mustard (click link for convenient access on Amazon).
4) Vinegar. No apple cider or balsamic vinegar. It needs to be the strong white vinegar. A vinegar very commonly used in Germany for this salad and salad dressings is called Essig Essenz (Amazon link, or can be found in some Asian grocery stores – Koreans like to use it for kimchi). It's super concentrated vinegar and you only need a very little of it. If you have access to this vinegar, you would add just a teaspoon or two in addition to the white vinegar, and reduce the amount of white vinegar accordingly. Of course you'll always want to do a "taste test" before pouring the final mixture over the potato salad.
5) Onions. You want them crunchy but not overly so, and you want them saturated with flavor. So add them to the beef broth/vinegar mixture when you heat it up.
6) Oil. Lots of it. In olden days homemade beef broth would be used which contained plenty of fat. Nowadays we mostly use store-bought broth in cans or beef bouillon cubes/granules which are all void of fat. So adding oil is absolutely essential to achieving the right texture. As my German mom says, Schwäbischer Kartoffelsalat needs to be "schmalzig".
7) The longer the potato salad sits, the better it will taste. I recommend making it the day before and letting it sit in the fridge until the next day. Let it sit at room temperature for at least 30 minutes before serving.
Follow these seven tips and you'll be in Swabian Potato Salad heaven!
Print
Swabian Potato Salad
The secrets to an authentic German potato salad with olive oil and mustard. With beef broth and chives, you will be craving this at every summer barbecue.
Author:

Kimberly Killebrew

Yield:

6

1

x
Category:

Side

Cuisine:

German
3

pounds small Yukon gold potatoes of similar size, skins scrubbed and peels left on

1

medium yellow onion, chopped

1½ cups

water mixed with 4 beef bouillon cubes (or

4 teaspoons

beef bouillon granules)

½ cup

white vinegar (add a few dashes of Essig Essenz if you have it)

¾ tablespoon

salt

¾ teaspoon

freshly ground white pepper

1 teaspoon

sugar

2 teaspoons

mild German mustard (I recommend Düsseldorf Style German Mustard. If you can't get it, use regular yellow mustard)

1/3 cup

vegetable oil
Fresh chopped chives for garnish
Instructions
Boil the potatoes in their skins in lightly salted water until tender. Allow the potatoes to cool until you can handle them. Peel the potatoes and slice them into ¼ inch slices. Put the sliced potatoes in a large mixing bowl and set aside.
Add onions, beef broth, vinegar, salt, pepper, sugar, and mustard in a medium saucepan and bring to a boil. As soon as it boils, remove from heat and pour the mixture over the potatoes. Cover the bowl of potatoes and let sit for at least one hour.
After at least one hour, gently stir in the vegetable oil and season with salt and pepper to taste. If too much liquid remains, use a slotted spoon to serve. Serve garnished with fresh chopped chives. Serve at room temperature. Note: This potato salad is best the next day (remove from fridge at least 30 minutes before serving).
Kimberly Killebrew
Raised in Western Europe, widely traveled, and currently residing near Seattle with her husband and children, Kimberly loves preparing and experimenting with a large range of flavors and cuisines. This is reflected in her food blog, The Daring Gourmet, where she invites all to "tour the world through your taste buds." Passionate cook, recipe developer and photo enthusiast, her culinary repertoire includes everything from gourmet to simple comfort food, and, as she puts it, "simply downright good eats."