A traditional seasonal recipe filled with emotions to share with your family and friends.
By Niki Fox
"One of my fondest memories from childhood is my grandmother's apple butter," my mother said to me as we stood over a bubbling pot of the fragrant, umber-colored spread.  "I remember spending the night at her house.  Our bedtime treat was a piece of bread smothered in butter and apple butter.  It tasted just like apple pie."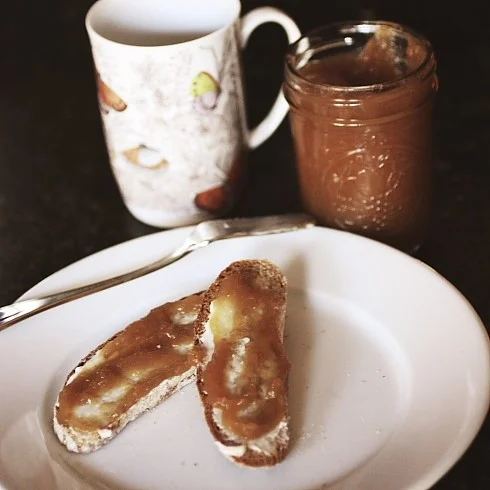 I kick myself sometimes for not having had the forethought as a child to stand at my own grandmothers' elbows, watching and learning as they went about their seasonal canning chores.  The knowledge that they possessed must have been priceless, having been passed to them from their mothers and grandmothers.  Things that you can't necessarily learn by reading a book or a website, but that you have to experience for yourself.
"My grandmother used to say she knew her jelly was ready when it sounded like grits cooking," my  mother has told me, "she never used a thermometer – she just knew by the sound."
Unless you've cooked real grits – not those fake, instant, "just add water and stir" things that come in individual serving packages, but real, honest-to-goodness, stone-ground grits – you have no idea what that means.  I actually had to buy some grits and cook them to know what "grits cooking" sounded like.  And she's right – when jelly reaches that magical 220 degrees and sheets from the spoon, it does sound like grits cooking – it kind of crackles and pops (I guess my generation would say it sounds like that famous crisped rice cereal in milk) as it boils.
It's things like that – experiences, smells, sounds – that you can't learn from a book.
Recently I was invited by a friend of mine to help teach a class at her church on preserving apples.  She's a writer, historian and fellow food blogger with a shared passion for preserving time-honored food traditions.  I jumped at the opportunity, thrilled at the prospect of sharing my own experiences in food preservation and demystifying some of the more intimidating aspects of the process.
There were six people in attendance, not including myself and my friend, and that was just about the right number for the church's small kitchen.  One of the women who came brought her teenage son and his girlfriend, and I was so pleased that he, the only male in a group of women, was the most attentive and involved of the bunch.  He asked questions, wasn't afraid to jump in and help and seemed genuinely excited when he said he couldn't wait to go home and try these new techniques.  "This is great," he said as he ladled hot apple butter into hot jars, "now I have something new to cook!"
See Also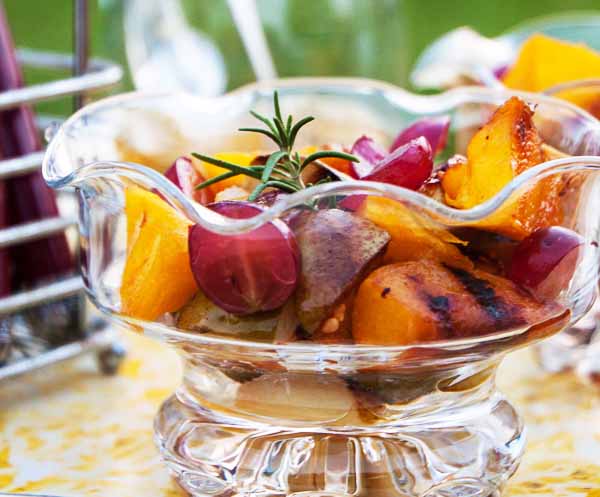 We worked as a group, sitting around a table sharing stories as we peeled and cored apples and readied them for cooking.  I imagine this is what harvest time must have been like for my grandparents' generation.  If your crop yield was good, you might invite family, friends and neighbors to come and help you preserve the bounty for use on into the winter.  Stories were shared and recipes were swapped as folks sat around peeling and chopping and cooking and stirring and ladling the finished products into scalding hot jars.  I picture it as a community activity, one that brought people together and allowed for traditions to be passed from one generation to the next.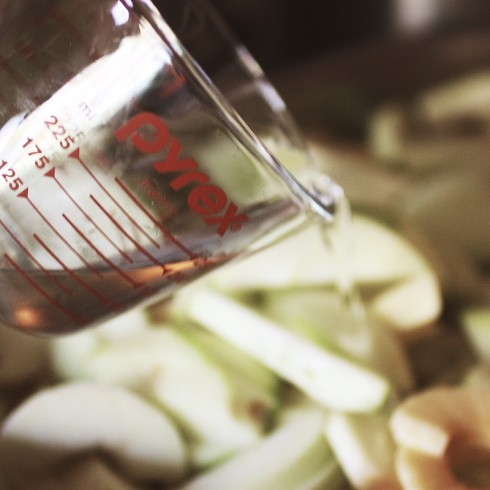 As I went through the process of making and canning the apple butter yesterday, I tried to take the time to show everyone what each step of the process looked like.  When there was a question as to whether 1/2 a cup of water was enough to turn the fruit from mere apples to applesauce (which is the first step in making apple butter), I explained that the water was really just to keep the apples from sticking before they released their own liquid.  When it came time to determine whether the apple butter was ready to be canned, I showed them how it mounds on the spoon and obtains a glossy appearance once it reaches the proper temperature and consistency.  We walked through the canning process together, washing jars and sterilizing them; filling them to the proper level and capping them with self-sealing lids and rings.  After the jars were subjected to their 5-minute boiling-water bath, we all listened for the tell-tale "ping" as a vacuum was created inside each jar and the lids sealed themselves, signifying safely preserved fruit.
It was a visual, aural and textural experience – one that was better demonstrated in person than on the page.  Sharing that experience with a multi-generational community was especially rewarding.  It almost makes up for what I missed out on with my own grandmothers before they passed.
If you are a keeper of time-honored food traditions, I encourage you to share them with your family, friends and neighbors.  It's a great way to reconnect with your community and pass your knowledge on to folks who might not otherwise have an opportunity to learn about traditional foodways.
A traditional seasonal recipe to share with your family and friends.
Ingredients
24 medium-sized apples, peeled, cored and thinly sliced
½ cup water
2 cups brown sugar
1½ cups sugar
1 teaspoon ground cinnamon
1 teaspoon freshly grated ginger
Instructions
Place water and apples in a wide, heavy-bottomed pan over medium heat
Cover and allow to come to a boil, checking and stirring periodically to make sure the apples aren't sticking
Once apples have softened, puree them using a stick blender or food processor
Add sugars, cinnamon and ginger, stirring to thoroughly combine
Cook, stirring regularly to avoid scorching, until the mixture becomes thick and glossy (should mound on a spoon). If you have a candy thermometer, it should be close to 220 degrees Fahrenheit at this point
At this point, the mixture can be preserved in canning jars using a boiling water bath*, or cooled and frozen in freezer bags or containers.
Notes
*If preserving in jars: -Thoroughly wash 18½-pint jars and rings in hot soapy water -Sterilize them in simmering water -Carefully spoon hot apple butter into hot jars -Place self-sealing lids on the jars and loosely screw the rings into place -Process jars in a boiling water bath canner for 5 minutes (adjust processing time for your altitude as needed) -Remove from canner and allow to cool on the counter. You should hear the lids "ping" as they seal. Any that don't properly seal should be stored in the refrigerator. -Sealed jars can be stored in a cool, dark place for up to a year.
Niki Fox
Niki Fox is a Southern food blogger and storyteller, using her experience growing up between Mississippi, Georgia and Virginia to explore the connections between people and food. She has a passion for preserving traditional cookery arts and for showcasing local and sustainable ingredients in everyday food. She believes that a good meal prepared with care can do more than nourish our bodies, it can also nourish our souls. Niki can also be found on her own blog: life, in recipes.