Ruby red trout fillets marinated in pomegranate juice and cooked on a skillet with their marinade, accompaigned by a bright red salad made with seasonal fruit and vegetables.
By Valeria Necchio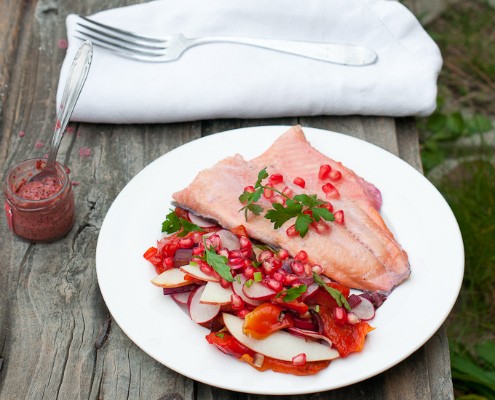 Red is the color of fall. Neither Christmas or summer, but fall.
I live in beautiful Langhe, a region that is especially know for great wines like Nebbiolo, Barbaresco and Barolo. Here, vines are the main cultivationan, and vinyards follow one another, creating a breathtaking landscape that in this particular time of the year is enriched by warm and fire-color nuances . Harvest has just finished, and ruby red juices from grapes are now resting in their vats before starting their maturation process into superb wines.
The local Friday market offers seasonal produce that ranges from the very last red bell peppers to the more autumnal apples and pomegranates. Winter greens and radishes are starting to appear, too, but what strikes me the most are those splashes of color, those bright red fruits that match so well with the nuances of the season. I put some radishes, a couple pomegranates, two red bell peppers and some red, juicy, new apples in my grocery basket and headed home, passing through the public park dressed with red, orange and yellow leaves. We are at the peak of foliage. It is gorgeous.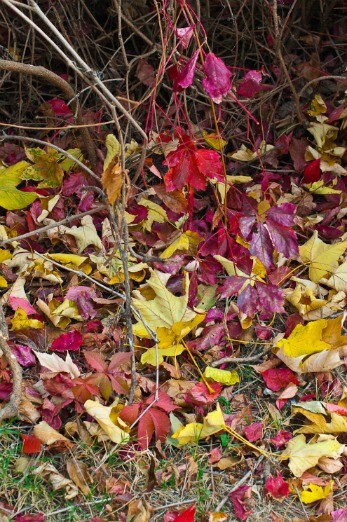 That Friday, I decided I was going to make a total red lunch to honoured this special time of the year. Friday is also fish day in Italy, and local freshwater fish farmers come to the market to sell their products. I purchased some fresh red trout fillets from "my trout guy" (as I call the trout farmer) and immediately started to think of how to make this red dish happen.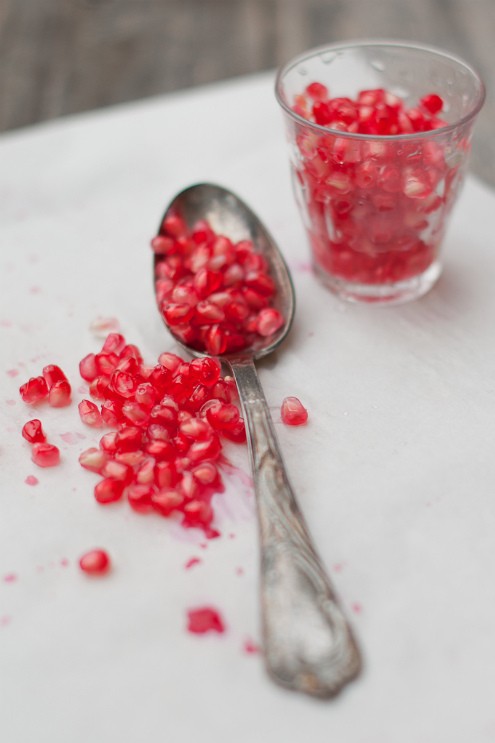 Pomegranate juice is well-known for being  a super-food, healthy and full of antioxidants. Here in Italy, it is often used to make marinades for meat and fish, or for making sauces to accompaign a main dish. I started from here, marinating my trout fillets in the bright magenta liquid I obtained by juicing a couple of fruits. In the meantime, I roasted a bell pepper, sliced a red apple and shaves some radishes. All seasonal food, and all red: success. Salad was seasoned while fish was cooking in its own juice and marinade on a skillet.
The table was set with red candles and leaves I collected at the park. Lunch was ready, colorful, tasty. Right what I needed in a cloudy fall day.

Pomegranate Infused Red Trout with Pomegranate, Apple and Red Pepper Salad.
Ruby red trout fillets marinated in pomegranate juice and cooked on a skillet with their marinade, accompaigned by a bright red salad made with seasonal fruit and vegetables.
Ingredients
2 ruby trout fillets with skin
2 medium-sized, ripe pomegranates, seeded
1 teaspoon / 8 grams kosher salt
For salad:
1 large red bell pepper
10 small radishes, shaved
1 medium-size red apple (I used Gala), thinly sliced
1 small Tropea red onion, chopped
¼ cup / 100 ml red wine
For salad dressing:
2 teaspoons (about 10 grams) cassis mustard
1 tablespoon/ 15ml olive oil
¼ teaspoon/ 2 grams kosher salt
Chopped fresh parsley for garnishing
Instructions
In a blender, juice ¾ of the pomegranate seeds with short bursts. Stain to remove kernels.
Pour juice in a medium-size bowl.
Cut trout fillets into two parts and place in the bowl with the juice.
Cover the bowl with a lid and let the fish marinade for at least half an hourand up to 2 hours.
Heat a large skillet oven medium fire and place trout fillets skin-sided.
Cook for two-three minutes, then pour the marinade on top, season with salt, cover and cook for 10 minutes or until cooked through (it depends on how thick your fillets are).
For the salad:
Turn the gas stove to medium-high.
Wrap the bell pepper in aluminum foil and place it directly on the flame.
Roast for 10 minutes, turning it on all sides using long tweezers.
Remove from the heat and let it cool slightly before unwrapping and removing seeds and skin using with a knife.
Cut bell pepper pulp lenghwise and set aside.
In a small skillet over medium-high flame, heat half olive oil and sauté onion for two minutes. Deglaze with red wine and let cook until all the liquid is absorbed.
Remove from heat and set aside.
In a large mixing bowl, stir together apple slices, radish slices, onion and bell pepper.
Dress with mustard, salt and the remaining olive oil.
Plating:
Divide salad between two plates, place the cooked trout fillet on top, and sprinke with fresh chopped parsley and the rest of the pomegranate seeds.
Valeria Necchio
Valeria Necchio graduated from the Unviersity of Gastronomic Sciences with a master's degree and immediately took off on a path connecting her passions of good food and photography. A true Italian, she likes to spend time at the weekly market, in the kitchen and behind the camera.