A delicious healthy patty made with beet root. Perfect with tea or even in a vegetable sandwich.
By Kankana Saxena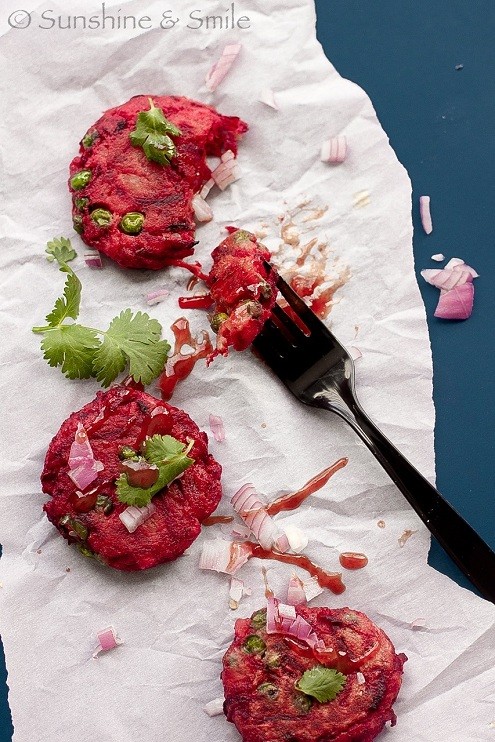 The word chop is usually related to meat, like pork chop or lamb chop but in this recipe, it means a deep-fried or pan-fried patty. In Kolkata (situated in east of India), chop is a very common roadside snack bite. These snacks are made with vegetables, fish or egg; mixed with boiled potatoes, some spice mix or herbs and then, either pan-fried or deep-fried.
It's one of those perfect, savory snacks that should be enjoyed with your loved ones over a cup of evening tea or coffee. It can also be served as a finger food in a cocktail party with some spicy dip of your choice.
Beet Chop/Beetroot Patty – My twist on a street food from Kolkata
A delicious healthy patty made with beet root. Perfect with tea or even in a vegetable sandwich
Recipe Type:
Appetiser, Snacks
Ingredients
2 medium size beetroots, grated
a bunch of chives, finely chopped (you can use 1 medium size onion as a substitute)
1 cup frozen peas
½ tsp pinch asafoetida (hing)
1 large onion, boiled and mashed
2 green chilies, finely chopped
1tbs all-purpose flour
1 egg (optional)
1 tbs panko bread crumbs (or any bread crumbs)
salt
oil, for pan fry
1 medium red onion, chopped (to serve with the chop)
1 medium cucumber, chopped (to serve with the chop)
Instructions
In a bowl, mix all the ingredients except oil, red onion and cucumber.
Make the patties from the mixture in whatever shape or size you like. This is the part where your hands will get all red and messy
Keep these in the refrigerator for about 15 minutes.
Pre-heat the oven to 350 F.
In a flat pan, heat 2 tbs oil and fry the patties in medium heat for about 4 minutes on each side.
Transfer the patties to a baking sheet and bake for about 15 minutes.
Serve hot with chopped red onions and cucumbers.
I am not sure what are the ingredients or method used by the roadside shops. So, I just improvised and added some of my own twist to it. It actually tastes pretty good and since it's so easy to make, it's one of our common evening snacks these days.
Kankana Saxena
Kankana Saxena shares culinary journey, travel stories and passion for photography in her blog 'Playful Cooking'. Her cooking style is mostly nutritional with little bit of indulgence here and there. She believes in the mantra 'homemade is happiness'! She is a native of India but currently resides in Santa Clara, California with her husband.