Salmon cooked in wine, olive oil, vinegar and pimentón, served on toast as a tapa – Berasategui style.
By Miriam Garcia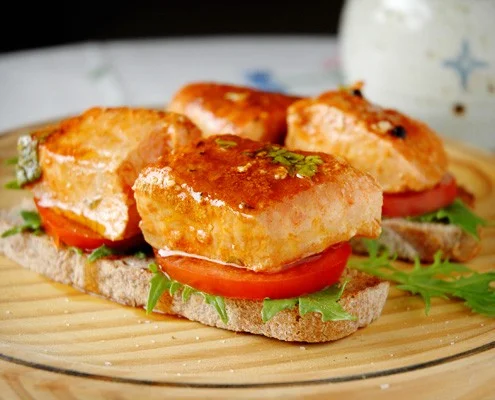 I've said it before, I'm a real fan of salmon. It's a flavorful fish and very versatile, either smoked or fresh. And besides it's an oily type of fish, brimming with healthy fatty acids. On the other hand, I love those dishes you can keep for several days and that get even better after some time, like escabeches, which by the way are incredibly easy to prepare. There are thousands of escabeche recipes, buy for salmon I always turn to the recipe by 3 Michelin starred Spanish chef Martín Berasategui, from his book Cocina en casa con Martín Berasategui. Of course it's tweaked a tiny bit… couldn't help myself. This escabeche is the type that includes sweet Spanish pimentón (similar to paprika, but not the same), like the recipe used for the ubiquitous canned mussels in escabeche, different from the one I use for tuna fish.

I like that this very old preservation method, said to originate in ancient Persia, from where it spread all over the Mediterranean to end up as a dish identified as genuinely Spanish, can help us to make refined tapas today. And as this salmon escabeche can be made in advance, it is perfect for a tapas party.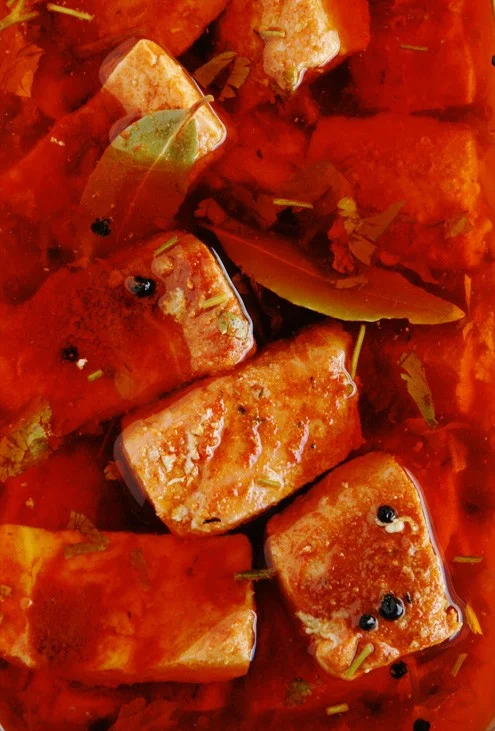 My dear Mr. Berasategui lacks restraint because he instructs to eat the salmon immediately, just after cooling. But I prefer to leave it to rest overnight, just because I have more self-control… ahem. Now seriously, I believe this type of dish needs some time for the flavors to soak into the fish. It easily keeps one week or even longer in the fridge. Escabeche is always eaten at ambient temperature, always let it warm up to ambient. This escabeche is simply delicious as a tapa or pincho on toast with some finely sliced tomato and some greens. It's also brilliant flaked on a salad, on top of boiled and sliced potatoes… just feel free to experiment!
Print
School of tapas: Salmon escabeche
Salmon cooked in wine, olive oil, vinegar and pimentón, served on toast as a tapa
Author:

Miriam García

Prep Time:

15 mins

Cook Time:

20 mins

Total Time:

35 minutes

Yield:

8

1

x
2

pounds (1kg) fresh salmon, cut into chunks

2 tbsp

coarse salt

1 tbsp

black pepper grains

4

bay leafs

10

sprigs parsley, chopped

2

sprigs thyme (I used plain dried leaves, a couple of pinches)

2

cloves

2 tbsp

sweet Spanish pimentón (I strongly recommend you to go for the real thing, the flavor is very distinct)

2 cups

(0.5l) virgin olive oil (please, don't use any. Other. Type. Of. Oil)

2/3 cup

(1.5dl) cider vinegar

0.4 cup

(1dl) good white wine (Berasategui doesn't include wine, but I like it!)
Instructions
Get yourself a good-looking and skinned piece of salmon. Cut the salmon into cubes (let's say 2″-3″ pieces) and lay them on a shallow pot, large enough to keep the salmon in one layer. Avoid metallic utensils when using vinegar, as it reacts with some metals. Sprinkle the salt first and then the rest of the herbs and spices. Toss the salmon lightly to distribute more evenly.
Pour all three liquids, wine, vinegar and oil and put the pot on the stove; turn the heat on. Bring slowly to a boil and turn the heat off immediately the moment the first bubble appears.
Cover with a lid, set aside and let the salmon cook in the remanent heat while releasing its juices.
Serve on a toast with some salad, pouring some of the cooking liquid. Enjoy!
Try another great Spanish recipe – Padron Peppers – here.
Miriam Garcia
Born in Madrid, Spain, Miriam lives in a small town North-West of Madrid with her family. Passionate foodie and amateur photographer, her liking for cooking originates mostly from her mother and her paternal grandmother. Miriam is the creator of the awarded Spanish food blog The Winter Guest.