Crab, Butternut Squash and Walnut Macaroni and Cheese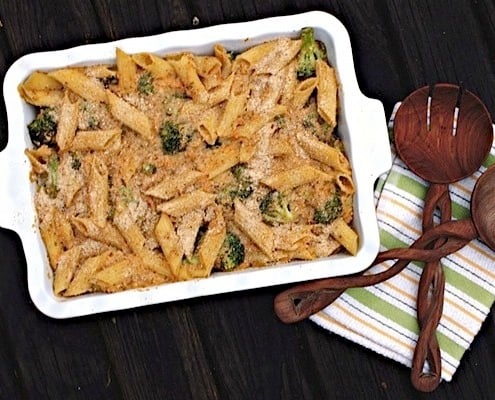 Try this out for dinner. Or lunch. Or heck, instead of your bacon and eggs in the morning. You won't regret it. Your boss won't regret it. And your in-laws will love you even more because of it.
By Emily Malloy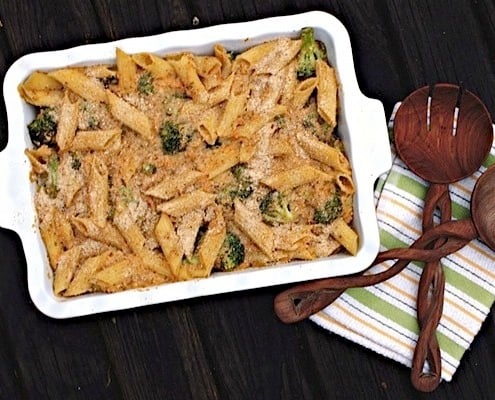 Macaroni and cheese is the ultimate comfort food, isn't it?
It doesn't matter what life throws your way, after sitting down to a bowl full of macaroni and cheese, all your troubles seem to melt away.
No, I am not condoning eating your feelings.
But, I am not condoning not eating your feelings, either.
Food has a way of bringing about comfort. And memories. And joy.
For me, macaroni and cheese has a way of bringing about all three of the above. It was my favorite food as a child and it still remains tops for me to this day!
But sometimes, you may feel a little guilty about just eating noodles with some whizzy type of cheese on top for dinner, or even a side dish. It's not the most fancy thing to eat. And you definitely won't impress your boss or in-laws with that kind of dish.
Until now.
With just the simplest additions of crab meat, pureed butternut squash, walnuts, and broccoli, macaroni and cheese just got a promotion. It woke up and put on its fancy pants.
Er, nevermind. Well, we'll just say macaroni and cheese just got kicked up a notch, or twelve.
Try this out for dinner. Or lunch. Or heck, instead of your bacon and eggs in the morning. You won't regret it. Your boss won't regret it. And your in-laws will love you even more because of it.
Crab, Butternut Squash and Walnut Macaroni and Cheese with Broccoli
Yields: 6 servings
Ingredients:
1 lb (454 grams) pasta- any kind will do! I used penne
3 cups (710 ml) shredded Parmesan cheese
1 cup (240 ml) milk
1/2 cup (120 ml) onions, chopped
1 cup (240 ml)broccoli, steamed
6 oz (168 grams) canned crab meat
1/2 cup (120 ml) walnuts, chopped
2 cups (470 ml) pureed butternut squash
1 TBS (15 ml) brown mustard
2 TBS (30 ml) fresh thyme, chopped
Salt and pepper to taste
Directions:
1. Preheat your oven to 350 degrees.
2. Cook the pasta according to the package's instructions. Drain, and put aside in a large bowl. And add broccoli and crab meat to pasta.
3. Heat olive oil in a sauce pan over medium heat. Add onions, cook until translucent (3-5 minutes).
4. Place milk into a food processor with the thyme, mustard, salt and pepper, walnuts, butternut squash. Process for about 30 seconds, until well combined.
5. Add milk mixture to onions in sauce pan. Whisk in cheese.
6. Pour the cheesy mixture over the pasta-broccoli-crab mixture. Stir until well-combined.
7. Pour into a casserole dish. Top with breadcrumbs.
8. Bake for 15 minutes.
Emily Malloy
Emily Malloy makes constant attempts to create meals from scratch that are full of love, as her mother and grandmothers have done. It is her dream to get back to the basics with the way we eat and show her readers that anybody can cook a great meal from scratch, even if you have a full-time job. Follow Emily on her little journey of getting back to basics with cooking. Because behind every great meal, is an even better story.