Gluten-Free Banana Oatmeal Bars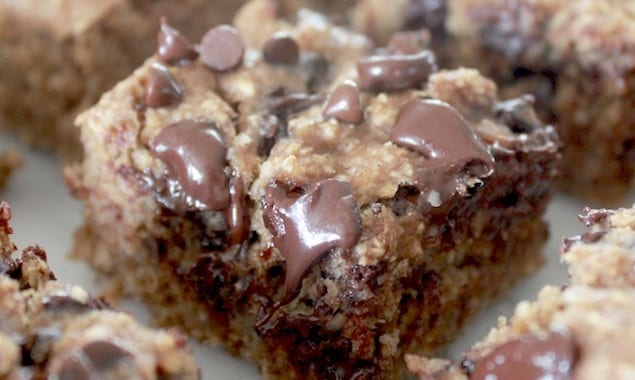 Vegan chocolate banana bars are made with ground gluten-free oats. With added protein and no refined sugars, you will feel great about this indulgent snack.
By Robin Runner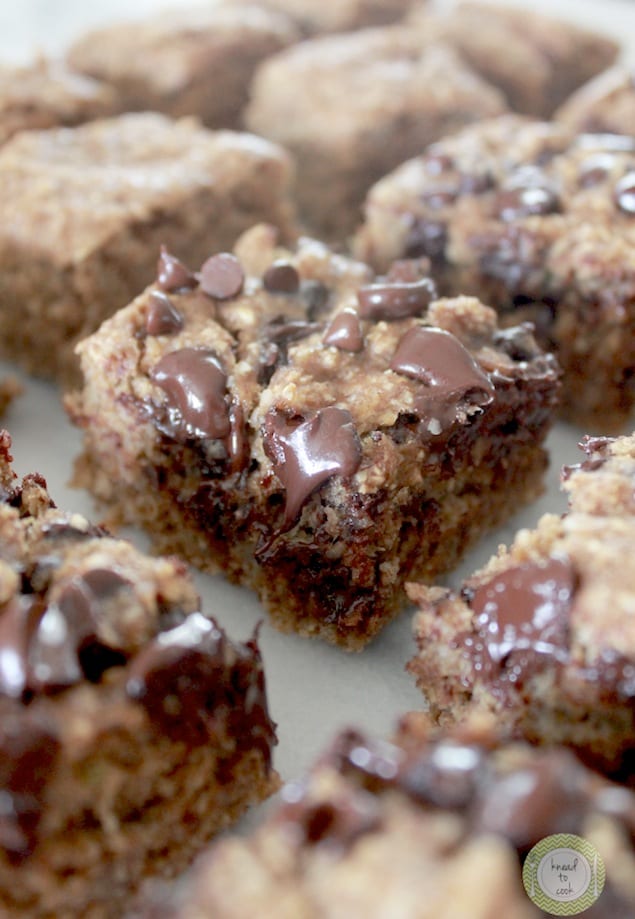 These changed over perfectly from a regular recipe to using gluten free oats for the flour (ground down) and Enjoy Life vegan chocolate chips. This recipe also has no added refined sugars. This is a snack you can totally feel great about. Plus I added some extra protein to these for building or repairing muscle after a workout.

Gluten-Free Banana Oatmeal Bars
Vegan chocolate banana bars are made with ground gluten-free oats. With added protein and no refined sugars, you will feel great about this indulgent snack.
Ingredients
2⅓ cups of gluten free oats (I used Bob's Red Mill rolled gluten free oats)
1 teaspoon ground cinnamon
½ teaspoon baking soda
½ teaspoon baking powder
½ teaspoon of salt
3-4 bananas (very ripe is best)
1 tablespoon of vanilla extract or paste
¼ cup of unsweetened applesauce
¼ cup of maple syrup, agave or honey (for vegetarian option)
¼ cup of hemp hearts (optional for extra protein)
¼-1/2 cup of vegan chocolate chips (I prefer Enjoy Life) – use as many as you prefer
Instructions
Preheat the oven to 350 degrees. Spray your 8×8 or 9×9 glass pan with baking spray with flour and set aside.
Into your Vitamix or food processor, add your oats and blend down until a fine powder
Then add the flour to a bowl along with your cinnamon, soda, powder and salt. Whisk to combine.
In your stand mixer, blend your bananas, vanilla, apple sauce and maple syrup.
Then add your flour mixture and hemp hearts (optional)
Blend to combine. If using chocolate chips, add them by hand.
Then pour into your prepared pan and bake 20 minutes or until a toothpick inserted comes out clean.
Let cool completely and slice. Cover in an airtight container until serving.
Robin Runner
Robin Runner is the blogger behind www.kneadtocook.com. She grew up around two of her greatest inspirations, her Italian grandmother and her aunt. Both believed in farm to table foods, purity in nature and love as the main ingredient for anything on their menu. Today, Robin is a strong advocate of farming and buying local ingredients, as well as composting to help repurpose food scraps into rich soil for our garden.