Crescia is a tall, golden Pecorino Romano Easter cheese bread hailing from Umbria.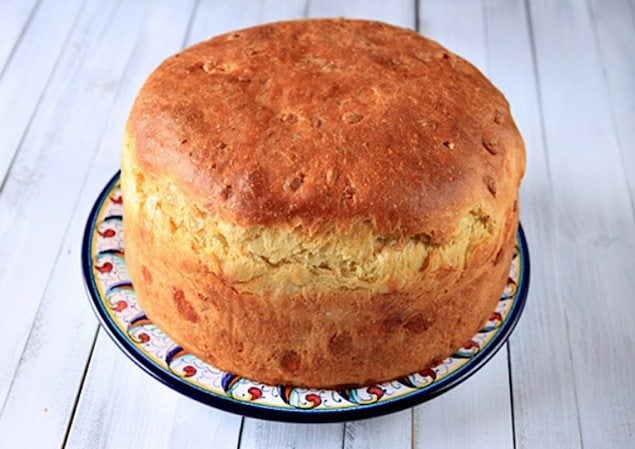 Crescia is a traditional Umbrian bread loaded with cheese that is typically made every Easter, although I have found this bread sold year round though in many bread shops and even some of our local grocery stores. This bread is very impressive to look at as it rises to a tall golden dome and is flecked with pieces of cheese.
Although I love the bread simply sliced and eaten as is, it is great toasted for breakfast with eggs, and goes really well with cured meats and salami.
Pecorino Romano, rather than Parmisiano Reggiano is the typical cheese used here in Umbria and is the cheese of choice used in this bread. Pecorino is a hard, salty cheese that is often used for grating. Pecorino is made out of sheep's milk, and pecora is the Italian name for sheep. For this traditional Umbrian bread, I combined both aged, grated pecorino, as well as some softer (younger) pecorino that I diced. I have made this recipe many times now, and found I preferred the diced cheese to be a little larger in size which creates nice little cheesy pockets that bake into the bread. Our eggs here in Italy have very dark yolks which creates a very golden yellow colored bread, but when I make this bread in the US, I found it turned out quite a bit lighter in color than what is shown in these photos. I have used both two small soufflé dishes, or one large soufflé dish with good results. Obviously, if you are using he smaller baking dishes, you will need to reduce the baking time by about ten minutes.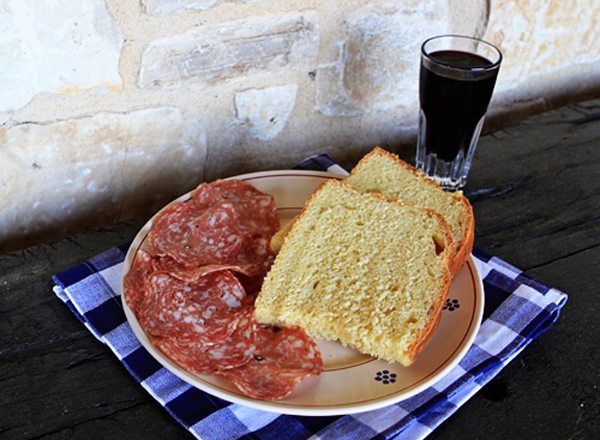 Print
Crescia: Easter Cheese Bread
A tall, golden Pecorino Romano cheese bread hailing from Umbria. Adapted From Mary Ann Esposito
Author:

Deborah Mele

Yield:

2

loaves

1

x
Category:

Baking, Bread, Pane

Cuisine:

Italian, Umbrian
1 3/4 Cup

Warm Water

1 Tablespoon

Active Dry Yeast

7

Large Eggs

1/2 Cup

Olive Oil

1 Tablespoon

Coarse Black Pepper

1 Tablespoon

Sea Salt

2 Cups

Grated Pecorino Cheese

8 Cups

All-purpose Flour (Or Tipo 0)

8 Ounces

Young Pecorino Cheese Cut Into 1/2 Inch Dice
Instructions
Spray one large, or two small soufflé dishes with oil, and using a strip of parchment paper, line the top of the dish adding an additional 2 to 3 inches of height.
Add the yeast to the water in a bowl and mix, and let sit 5 minutes until bubbly.
In another bowl, beat first the 7 eggs, then add the olive oil, salt, pepper, and grated cheese.
Add the yeast mixture to the egg mixture and stir until combined.
Add half the flour and stir.
Continue to add flour one cup at a time until you create a firm dough that is not too sticky.
Dump the dough onto a lightly floured surface, and knead by hand, folding in the diced cheese as you work the dough.
Knead for about 5 minutes or until the cheese has been incorporated into the dough, and the dough is smooth.
Lightly oil a large bowl with olive oil and let the dough rise until doubled, covered, in a warm spot.
Punch down the dough and form it into a ball and place it into the prepared soufflé dish.
Preheat oven to 375 degrees F. Cover the bread with a kitchen towel and let it rise for about 30 minutes.
Bake the bread for about 45 to 50 minutes (for large soufflé dish), or until it reaches an internal temperature of 180 degrees F.
Let the bread cool for 10 minutes, remove it from the baking dish and let cool to room temperature before cutting into it.
Deborah Mele
Deborah Mele is a self-taught cook whose passion for Italian cuisine began after living in Milan, Italy for 8 years. Although not Italian by birth, she became a true Italian by heart and palate. Deborah created her Italian recipe blog ItalianFoodForever.com 12 years ago to share her passion for Italian food. During her various travels throughout Italy, Deborah fell in love with the central Italian region of Umbria so when they retired, Deborah and her husband bought two farmhouses there where they now reside for six months a year and run a farmhouse rental for guests and give cooking classes.