Easter Egg and Bread Baskets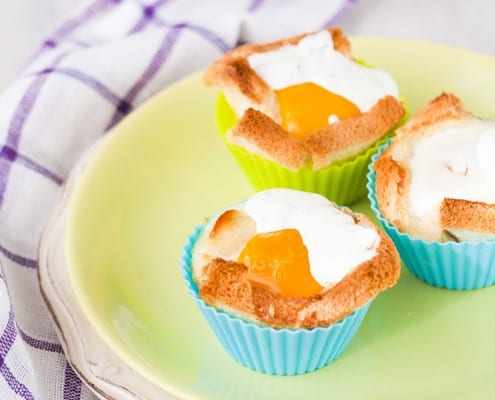 This is a cute way of serving eggs during Easter. You don't need to make dough for the baskets, just use regular bread toast.
By Tamara Novacoviç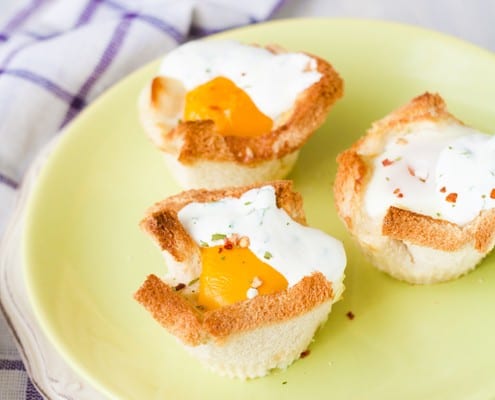 Great Easter breakfast or brunch!
Ingredients
8 pieces of toast bread
4 eggs
some thinly diced ham
4 tbsp grated cheese of your own choice
melted butter
4 tbsp sour cream
salt
pepper
fresh, chopped parsley or chives
Instructions
Remove crust from each bread piece. Pres it with your palms to make it thinner and squeeze each piece into muffin tin so you get baskets. Brush each with some melted butter.
Finely dice ham into thin, small cubes and press onto the bottom of each basket. Add 1 tbsp of grated cheese to each basket.
Break an egg into each basket.
Preheat oven to 356 F (180 C). Bake for about 20 minutes (until egg yolk is set).
Combine sour cream with salt, pepper and finely chopped parsley and / or chives. Put 1 tbsp on top of each basket and serve.
You can serve it warm or cold.
Tamara Novakoviç
Tamara Novakovic is a passionate self-taught cook, food blogger, freelance food writer and photographer behind bite-my-cake.blogspot.com. Her life journey has led her through Faculty of Humanities in Zagreb, Croatia to discovering passion for making cakes. She is currently a weekly food columnist for Croatian newspaper V magazine and food magazine Repete.