Easy Broiled Bass with Tomatoes and Olives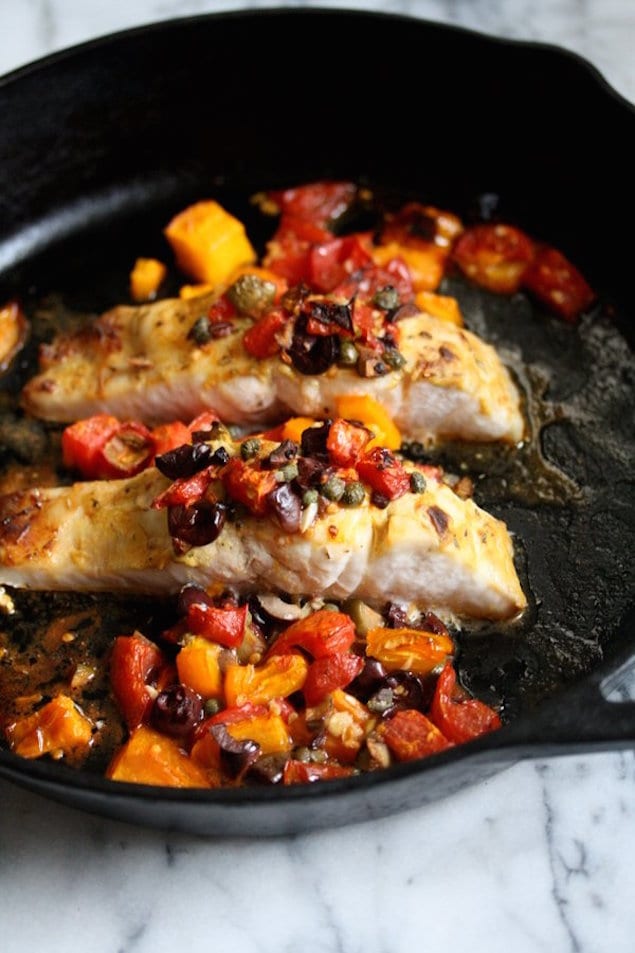 A simple, broiled striped bass is an quick weeknight fish to whip up. It's packed with Provencal flavor of tomatoes, olives, garlic and capers.
By Phoebe Lapine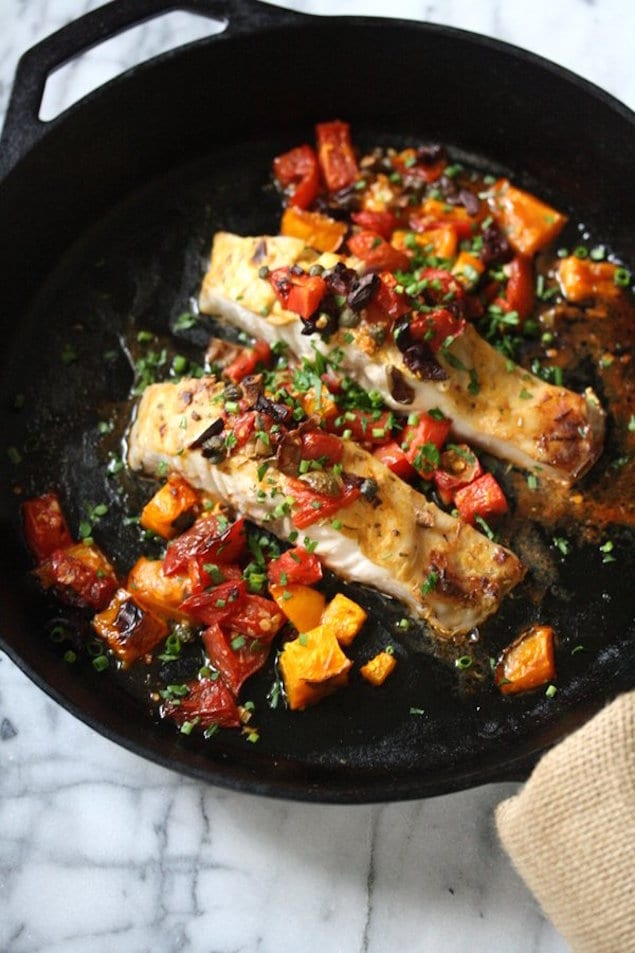 This simple broiled striped bass recipe isn't exactly outside of my usual weeknight wheelhouse. But it does involve two pantry items that I have a surplus of: Dijon mustard and capers.
For this fish, I used my mother's method of slathering the fillets with Dijon and then cooking it under the broiler until the top is golden brown and the fish below is juicy and tender. She usually does this for bluefish and adds a little mayo to the mustard mixture, but sadly that condiment is in scarcer supply. (I'm sure you're not surprised).
The tomatoes this time of year are usually so good it's sacrilege not to eat them raw with just a little sea salt. But I thought a very quick char under the broiler would find a happy medium between a cooked sauce and a Provencal-style salsa, with olives and, yes!, capers.
See Also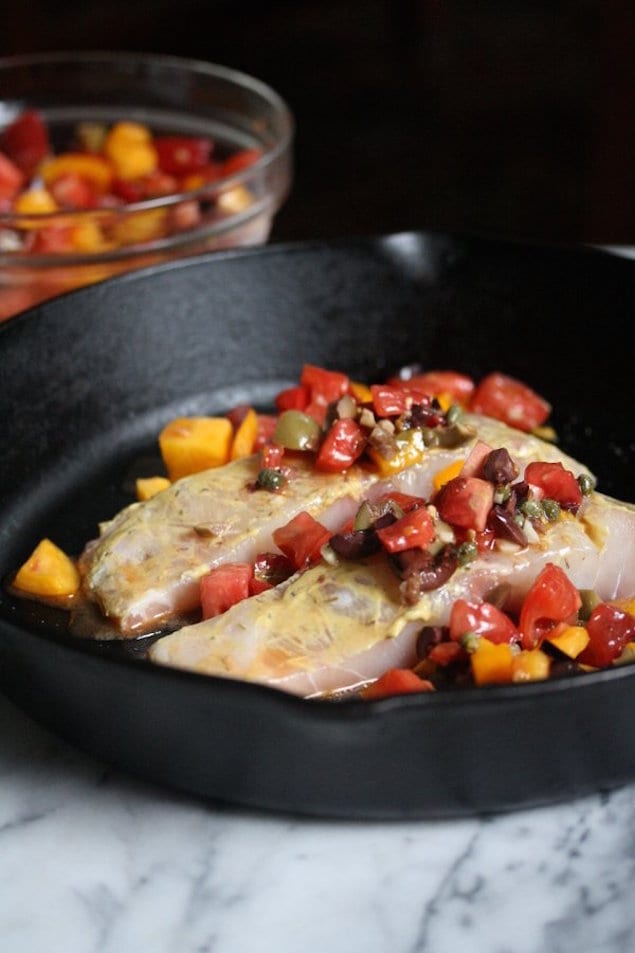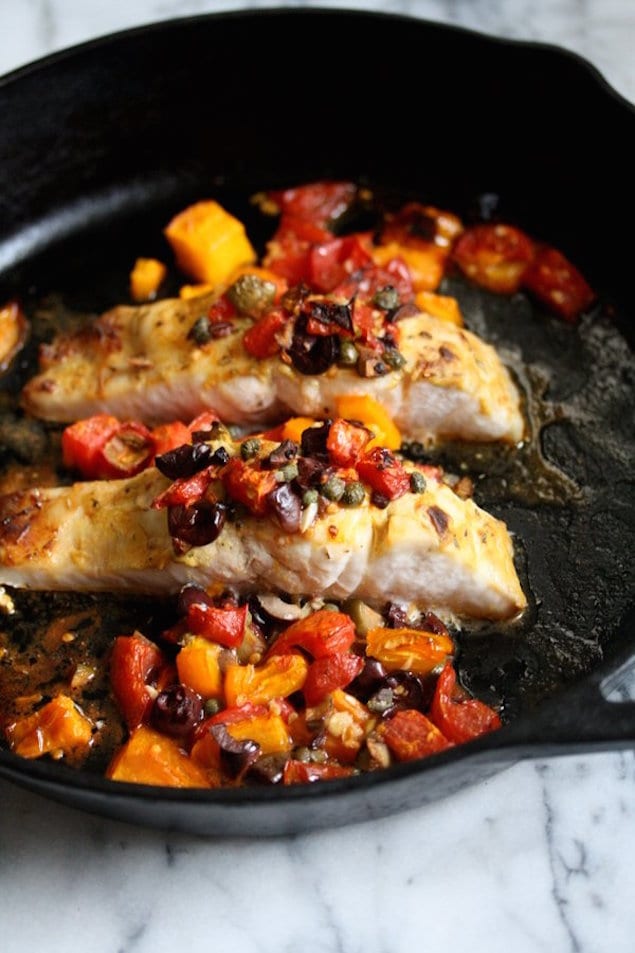 Easy Broiled Bass with Tomatoes and Olives
A simple, broiled striped bass is an quick weeknight fish to whip up. It's packed with Provencal flavor of tomatoes, olives, garlic and capers.
Ingredients
Four 6-ounce striped bass fillets, skin on (or other firm fish like, halibut, mahi mahi, or grouper)
Sea salt
Herbs de Provence (optional)
1 tablespoon Dijon mustard
3 medium heirloom tomatoes, diced
⅓ cup mixed pitted olives (nicoise work well), roughly chopped
1 tablespoon capers
1 clove garlic, minced
2 tablespoons olive oil
1 tablespoon white wine vinegar
Mixed chopped herbs (parsley, thyme, or chives), for garnish (optional)
Instructions
Preheat the broiler.
Rinse the fish fillets in cold water and pat dry with a paper towel. Place the fish on a baking sheet or oven-proof skillet. Season with salt and the herbs de Provence, if using. Slather the tops of the fillets with the Dijon mustard.
Combine the tomatoes, olives, capers, garlic, vinegar, and ½ teaspoon salt in a medium mixing bowl. Drizzle the tomato mixture over the fish.
Bake the fish under the broiler, rotating the pan halfway through for equal browning, for 10 minutes, or until the fish is cooked through and the tomatoes are slightly caramelized.
Top with the herbs and serve immediately.