The Heyward is a modern restaurant that takes classic southern comfort food, and creates an elevated aesthetic and flavor experience for it's customers. With all this Brooklyn hot-spot has to offer, be sure to indulge in their brunch. Just when you thought a breakfast sandwich couldn't get any better, we present to you the almighty French Toast Sandwich.
By Ashley Smith
From brunch to dinner to the raw bar, The Heyward is a classy spot where locals can escape the tourists, and still have great food. Located in Williamsburg at 258 Wythe Ave, the restaurant thrives in a bit of Brooklyn history. The Zebulon Cafe–an old music venue–closed back in 2012, and The Heyward was lucky enough to find such a great spot that would draw in Zebulon regulars as well as curious neighbors.
Since the restaurant opened last year, the space has been updated with dark wood floors and counters, a sleek bar, and plenty of seating near the sun. The aura is up-scale, but still laid back and relaxing. After getting to know what The Heyward is about, it's safe to say that the chefs there want to take you down south with nostalgic tastes, while giving you fresh meals that'll make you want to try the entire menu.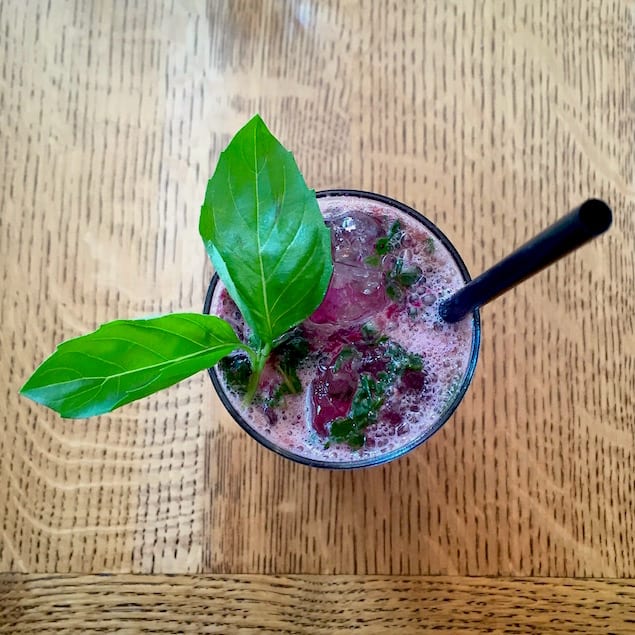 Before we get to the sandwich we've been dying to share with you, what's brunch without drinks? Make sure to try one of the most popular cocktails on the menu, the Lady Day. This drink is a slice of southern heaven with fresh basil, lemon, ginger, rhubarb bitters, seltzer, vodka, and a very unique ingredient, blueberry jam! We've never seen a cocktail like this before, but how have we survived this long without trying it? The fresh basil, lemon, and ginger are cool and refreshing, while the blueberry jam makes the drink just sweet enough. Any small chunks of jam that come through are a pleasant surprise as well.
The French Toast Sandwich is presented with such elegance, yet tastes like the best hangover food you could ask for. The sandwich is served between two crispy slices of brioche french toast. Cradled inside is thinly sliced country ham and eggs scrambled with cheese. On the side, the dish comes with maple syrup and a fig jam, and the sandwich is topped off with some powdered sugar. The Heyward chefs found the three best parts about a southern sandwich when this was created: meat, eggs, and something sweet. The sweet and savory flavors balance each other out perfectly in this meal. Who said you couldn't combine your favorite breakfast foods into one?
See Also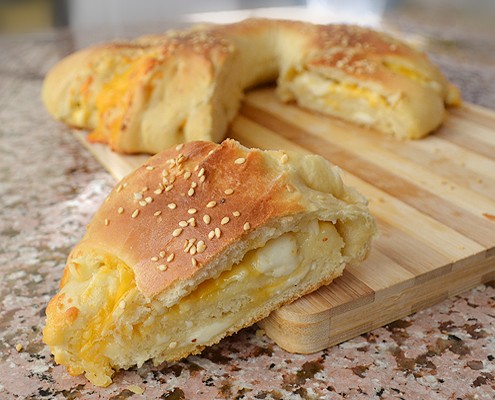 This combo made it's way onto the menu about a month ago, and it's no surprise that it's already the most popular brunch dish. The sandwich is a hit, and believe us, each menu has so much more to offer.
Tasting the Skillet Baked Mac & Cheese was another experience that was out of this world. Anything that comes in a skillet has got to taste amazing, right? We expected a creamy southern mac & cheese, and that is exactly what we got. The dish is the perfect size to split with a friend or enjoy all to yourself. A rich, velvety quality comes through thanks to gruyere, white cheddar, and ricotta cheeses; the perfect crumble on top can be attributed to fresh sourdough bread crumbs.
The Heyward truly lives up to it's desire to revive old southern foods. It's a great bar and restaurant to visit if you want to treat yourself, or spend time with family or friends. The Heyward is a place where you can go to have your favorite meals or drinks without the stress of tourists. In addition to the exciting dishes, there's always something new coming to the menu at least twice a year. We think this is a great spot where you'll want to become a regular.
Be sure to explore The Heyward's brunch, lunch, dinner, and raw bar options.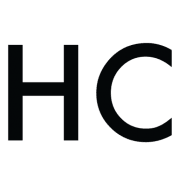 Ashley Smith
Ashley was raised on Guatemalan and West Indian cuisine; both backgrounds are filled with vibrant flavors and spices. Working at a French bakery in the past--and getting introduced to craft beers and cheeses during her time at the University of Vermont--has piqued her interest in experimenting with food.